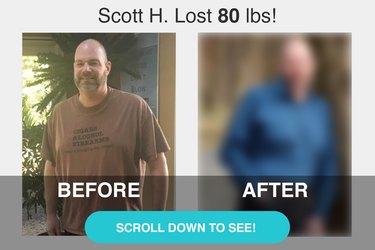 ​LIVESTRONG.COM Member since:​ 2017
​Age:​ 47 | ​Height:​ 6'3"
​BEFORE Weight:​ 275 | ​Pant Size:​ 42
​AFTER Weight:​ 195 | ​Pant Size:​ 34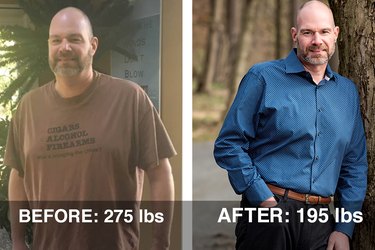 ​LIVESTRONG.COM: What was your life like before joining LIVESTRONG.COM?​
I am a retired police chief, currently employed as a restaurant manager for a major fast-casual restaurant. Growing up, I always struggled with my weight. I played football, basketball, baseball and was very active. But my weight crept up over the years due to poor diet and no exercise. I have been on diets before, but nothing ever really worked very well. I always regressed and put the weight right back on.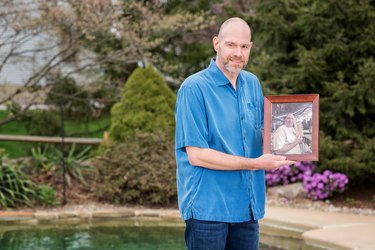 After I retired from police work, I went to work as a restaurant manager. Being in a professional kitchen with a variety of food at my disposal, I made very poor diet choices. I ate mostly fried and fat-laden foods and ballooned up to 275 pounds. I began drinking too much alcohol and binge-eating — sometimes full meals — late at night. I had high cholesterol, the beginning of fatty liver disease and high blood sugar, and my BMI fell in the morbidly obese category. I had a high risk of developing heart disease and diabetes, as both diseases run in my family.
​LIVESTRONG.COM: What was your inspiration for making a change?​
One day I looked at some recent pictures of myself, and I was disgusted by what I had become. Additionally, my sleep had become increasingly more disturbed over the years, and my wife said my snoring had gotten much worse. I feared I was developing sleep apnea from my weight gain. I was also on the verge of being medicated for health issues that I knew could be controlled by losing weight.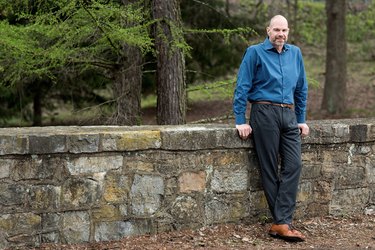 ​LIVESTRONG.COM: How did LIVESTRONG.COM help you lose weight?​
I enjoy trying the great recipes and reading all the fitness articles on LIVESTRONG.COM. The fitness section has so many articles on a variety of topics that have kept me interested and educated.
It has taken me about eight months to go from 275 pounds to 195 pounds. I set reasonable goal weights along the way. First 250, then 225, then under 200. I have not been under 200 pounds since I was about 15 years old. I am still losing body fat and gaining lean muscle. My final goal is to be at 185 pounds.
​LIVESTRONG.COM: What was your support system like?​
My wife, Lynne, was and still is my health coach and inspiration. She knows my heart and how to keep me motivated and focused on success. She did not need to lose any weight, but she ate the same meals I did and has been right beside me on this journey. I could never have done this without her.
​LIVESTRONG.COM:​ ​What's your favorite way to work out?​
I was never a runner. In fact, I absolutely hated running. I enjoyed weightlifting. Now, in addition to getting back in the gym, I have become an avid runner. I started out walking a mile or two several times a week. Now I can easily run five or six miles and feel fantastic. I actually look forward to my runs.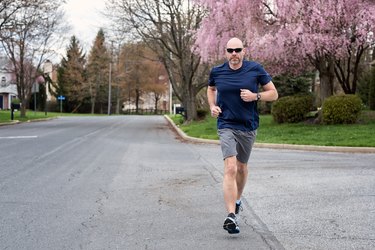 ​LIVESTRONG.COM:​ ​What's your weekly exercise schedule?​
I do not have a normal nine-to-five, Monday-through-Friday job, so my workout days vary every week. I am typically in the gym or doing strength training three days a week, and I run four to six miles three days a week.
​LIVESTRONG.COM:​ ​What's a typical day of meals and snacks?​
This weight-loss journey has taught me so many valuable lessons about food. I have learned to look at food as fuel for my body instead of as an indulgence. I appreciate and enjoy food, but I have learned to limit the extent of my indulgences. I typically eat three meals and two snacks a day.
My breakfasts generally consist of water-sauteed vegetables, egg whites and avocado. Sauteing in water is a spectacular substitute for sauteing in oil. Lunch is chicken or turkey over spinach and vegetables. Dinner is a six-ounce portion of shrimp, fish, chicken or lean beef and roasted vegetables. Snacks are protein bars, a banana or apple, almonds and Greek yogurt.
My two best tips on food are: 1. Remove fat and replace with seasonings. Use lean proteins and a lot of great spices. Be careful with premade spice blends because they usually have a lot of sugar. 2. Oven-roast your vegetables. Roasting brings out the natural sugars and flavors without adding fat and calories. LIVESTRONG.COM has some awesome recipes.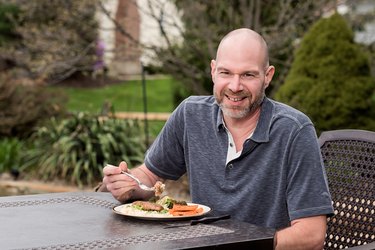 ​LIVESTRONG.COM: What's the range of calories you eat per day?​
I like to stay around 1,500 to 1,800 calories per day.
​LIVESTRONG.COM:​ ​What are the healthy staples that are always in your kitchen?​
My healthy staples are fresh vegetables, lean proteins and raw almonds.
​LIVESTRONG.COM:​ ​How do you strategize for meals?​
I plan at least a few days ahead, although a hectic schedule can sometimes make that tough. My wife and I prepare batches of roasted vegetables so that there is always a delicious and healthy go-to on hand. I accompany the vegetables with a lean protein for two to three of my meals.
My plate philosophy is that the protein is the condiment, and colorful vegetables are the main entree. We grocery shop once a week for our main staples and add a quick trip to our local produce market for fresh vegetables and fruits. I currently manage a restaurant, so I am around food all day long. Being tempted by working in a bakery is sometimes difficult, however, we do have many healthy options, so I can eat responsibly while at work. This is very important because I sometimes eat two meals each day while at work.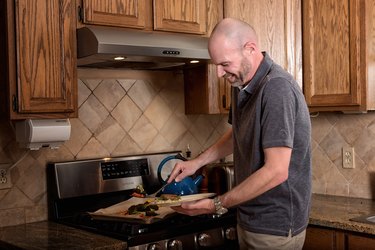 ​LIVESTRONG.COM: Were there any supplements that you took during your journey?​
I am not for or against supplements, but I do not use them. I do use protein powders in shakes and in lieu of flour in some recipes.
​LIVESTRONG.COM: What's the biggest challenge you faced?​
The first week is tough, but is usually one of the best weeks for weight loss. Not ingesting all the garbage I had been consuming for years, getting used to healthy food and releasing all the toxins was a challenge. I really felt better after that week and was able to see a difference in myself. Stay focused on your goals. It will get hard, but it is definitely worth the effort.
​LIVESTRONG.COM: What's your biggest secret to success that you want to share with others?​
You have to want to do this. One day something will just click in your head and you will say, "That's it. I am tired of this lifestyle." I was always the fat kid growing up. That I can hold my head up now and show everyone (most importantly, myself) that's not me anymore is an amazing feeling.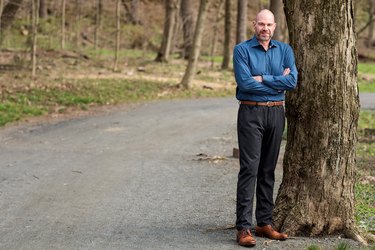 ​LIVESTRONG.COM: What's your life like now?​
I look forward to my workouts now. I enjoy running more that I ever thought I could. It is so freeing. I always appreciate the emails from LIVESTRONG.COM. They give me access to articles on healthy eating and exercise. It's great to be able to try new workouts and add on to the things I am currently doing. My self-esteem and confidence have skyrocketed. Most importantly, in the last wellness visit to my family doctor, he told me that since I changed my life and lost the weight, my BMI, blood pressure, sugar levels, cholesterol and liver tests are normal. Believe me, make the lifestyle change!
Do you have an inspiring Success Story to share? Did you use LIVESTRONG.COM to get healthy? Email us at support@livestrong.com for details on how to share. To get started on your fitness journey, join us today on LIVESTRONG.COM or by downloading the MyPlate app.