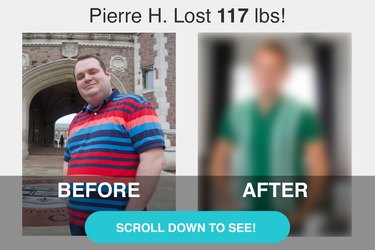 First Name and Initial of Last Name: Pierre H.
LIVESTRONG.COM Member since: May 26, 2016
BEFORE Weight: 287 pounds and 39 percent body fat | Pant Size: 42
AFTER Weight: 170 pounds and 15 percent body fat | Pant Size: 30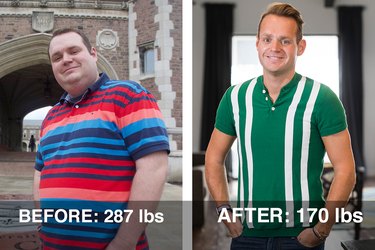 LIVESTRONG.COM: What was your life like before joining LIVESTRONG.COM?
I grew up in Brussels, Belgium, and moved to the United States in 2011 to start graduate school. During that time, I never really paid much attention to what I ate and did not exercise regularly. I was not going to the gym, and I had no interest in workout out. However, I always loved cooking, and it was a way for me to release stress after a long day of work. At that time, I really enjoyed my life and did not consider changing my lifestyle. I thought that I was too busy and did not have time to work out.
LIVESTRONG.COM: What was your inspiration for making a change?
My inspiration came just after my graduation in June 2016. I finally took a friend's advice and went to the gym with him to work out with a personal trainer. My friend had been working out with a personal trainer for several years and was always trying to convince me to join him. I always refused and told myself that I did not have time for it. I was too busy with lab work, research or dissertation writing. Looking back, I realize that those were just excuses. The reason I did not go to the gym was because I was worried and intimidated by the idea of being judged by other people training regularly there. But I was wrong.
After graduation, I realized that I had accomplished a major life goal. This was the end of a chapter in my life: I was not a student anymore. That opened my mind to new life opportunities. I really needed a change in my life, and my friend's advice came at the right time.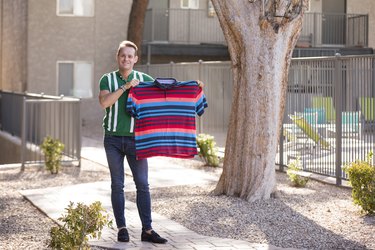 LIVESTRONG.COM: How did LIVESTRONG.COM help you lose weight?
I often read LIVESTRONG.COM articles and newsletters to obtain tips about weight loss, workouts and food. In particular, I learned a lot about HIIT (high-intensity interval training) workouts and weight-loss plateaus and how to avoid or overcome them while not losing motivation. I also learned how to balance my diet better and reduce my carbohydrate intake while still enjoying cooking and eating. I found useful tips on LIVESTRONG.COM, including articles about substituting carbs like pasta and rice with vegetables like zucchini noodles and riced cauliflower.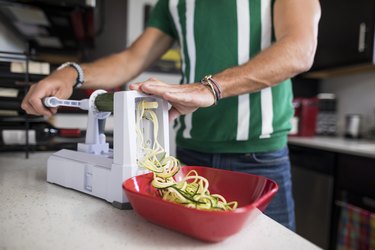 For about 13 months after May 2016 I used the MyPlate app daily to record my calorie intake. I tried to lose not more than five to 10 pounds per week. I bought a wireless body scale to record my weight and body fat percentage every morning. During this period I did not follow a specific diet and did not restrict myself from eating anything. I simply focused on portion control and limiting my calorie intake. I refused to do any extreme diet because my goal was not to lose weight rapidly, but rather to change my lifestyle and learn new eating habits while losing weight. I had heard so many stories of people who lost a lot of weight rapidly with extreme diets, but then gained it all back after the diet ended.
While using the MyPlate app, I was still cooking and eating all the things that I liked, but I learned to manage portion sizes and balance the daily ratio of my carbs, protein and fat macronutrients. My intake was about 30 percent fat, 30 percent carbs and 40 percent protein. I used a digital kitchen scale to weigh literally everything that I was cooking, so I could be certain I was staying within the recommended portions. For the first few weeks it was difficult to reduce portions and weigh and record everything in the app, but I got used to it. It became natural.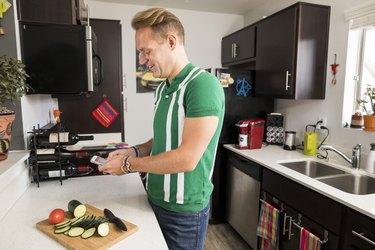 LIVESTRONG.COM: What was your support system like?
My personal trainer, family and friends (in particular, my best friend) all supported me through this time and always encouraged me to keep going. However, as important as a support system is, I found that for me it was really something that I was actually learning to enjoy doing. I was doing it for myself, not for anyone else.
LIVESTRONG.COM: What's your favorite way to work out?
Working with a personal trainer taught me that it is not necessary to have a favorite workout, but rather to vary the type of exercise that I do. I mix it up every day.
At first, I only worked with a personal trainer and did some cardio. I'd do 30 minutes on an elliptical or StairMaster three times a week. After trying a HIIT class, I started to meet my personal trainer only twice a week and do a HIIT group class two other days. I love HIIT classes because they can be adapted to many forms of exercise. They allow me to burn more calories and fat, and even continue burning calories for up to 24 hours after the workout.
When I moved to Tucson last year, I trained with a personal trainer only once a week and started participating in group HIIT classes four days a week. When I get a chance, I also like to try new types of workouts, such as CrossFit and SoulCycle.
LIVESTRONG.COM: What's your weekly exercise schedule?
My workout schedule has changed throughout the last year Nowadays, I mostly focus on HIIT training. In particular, I really enjoy working out at a new gym in Tucson. They offer a HIIT workout that combines treadmill and floor exercises using kettle bells, dumbbells and elastic bands.
My workout schedule varies from week to week, depending on my work schedule. A typical week looks something like this: Monday to Wednesday and Friday and Sunday I do a 50-minute HIIT class. Each day focuses on a different part of the body — upper body, lower body, abs and core or full body. Thursday morning I do a one-hour session with my personal trainer. Saturday is typically a rest day, and I either go biking or hiking around Tucson.
LIVESTRONG.COM: What's a typical day of meals and snacks?
Apart from a protein shake after my workout, I only eat three meals a day and avoid snacking as much as possible. I try to eat lean protein like turkey, chicken breast and shrimp. I eat vegetables most days and try to reduce my white carb intake as much as possible. I typically have an egg-white omelet or sandwich for breakfast, a salad for lunch and a light dinner. Once every two weeks I allow myself a cheat day. I eat foods that I would not typically eat, such as pasta, french fries or chocolates.
LIVESTRONG.COM: What's the range of calories you eat per day?
For the first seven months, I tried to limit myself to 1,500 to 2,000 calories per day. After losing my first 70 pounds, I limited myself to 1,200 calories per day for the following six months. Nowadays, I do not monitor my calorie intake as strictly as I used to, but I typically try to eat around 2,000 calories per day and limit my carb intake.
LIVESTRONG.COM: What are the healthy staples that are always in your kitchen?
I eat a lot of lean meat with high protein, such as turkey and chicken breast, so I typically have them available in my fridge. As a pasta lover who used to eat pasta almost every day, I learned to replace it with spiralized vegetables like zucchini and squash. I always try to have these vegetables available in my fridge. I also typically have unsalted mixed nuts like cashews, almonds and pistachios and some fruit available at home to be able to grab a handful when I need a snack. I also love spicy food, so I keep red and green chili powders on hand.
There are some foods that I avoid storing in my kitchen, such as cookies, sweets, chocolate, potato chips and other unhealthy snacks. It doesn't mean that I never eat them, but I avoid having them in my kitchen. Whenever I crave one of these snacks, I will buy an individual portion or small bag from the grocery store.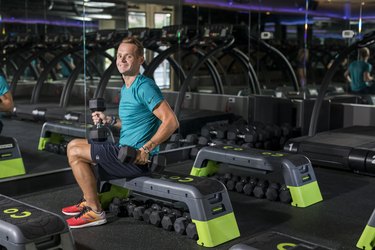 LIVESTRONG.COM: How do you strategize for meals?
I typically don't like to prepare my meals in advance because cooking every night is a way for me to relax. However, I sometimes prepare my breakfast in advance, as I sometimes go to the gym very early. I started making low-carb breakfast sandwiches with egg-white buns and turkey breast patties that I will prepare during the weekend and freeze individually.
However, I do like to plan my meals for the week. That way, I can go grocery shopping one day during the weekend and buy all that I need for the week.
LIVESTRONG.COM: Were there any supplements that you took during your journey?
When I started exercising, I made a point to avoid taking any supplements or vitamins and just focused on eating healthy. However, I still drink a protein shake directly after each workout session.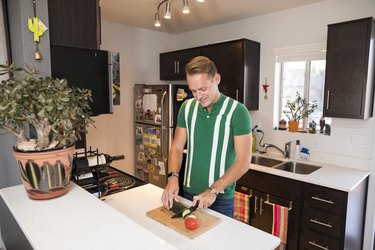 LIVESTRONG.COM: What's the biggest challenge you faced?
I don't think that I have faced any major obstacle or challenge. The only surprising thing for me was the time that it took to actually see the physical changes that I was going through. People would tell me that I looked different or even unrecognizable, but I did not see the difference at first. Of course, I was aware of the changes, as I could see my weight going down on the scale every day. Looking in the mirror, I felt like I looked the same.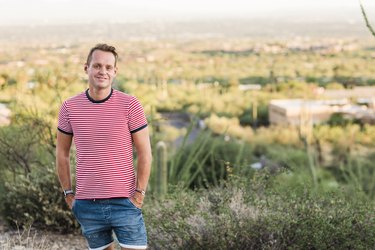 LIVESTRONG.COM: What's your biggest secret to success that you want to share with others?
For me, willpower was the important element that helped me stay motivated and overcome initial struggles when I started training and losing weight. During the first few weeks, I sometimes struggled with working out because I was tired or had muscle soreness. Working with a personal trainer helped me keep going and stay accountable. Not only did it teach me how to work out safely, it also helped me overcome my initial fear of going to the gym. Moreover, working with a trainer kept me on a regular and strict workout schedule. Whether I was busy at work, tired or if the weather was bad outside, I had to go meet my trainer because he was waiting for me and I had already paid for my training session.
Other important elements that help me stay motivated and go through my daily eating and workout routine were my kitchen scale for food portion control, my Apple Watch to track my daily exercise and my wireless body scale (automatically connected to my phone) to weigh myself every morning. I did not pay attention to my daily weight changes, but I focused on the weight-loss trends of weekly averages. They allowed me to track my progress every day, to be accountable and to make sure I was reaching my daily calorie and exercise goals.
The best advice that I can give to anyone who is looking for a lifestyle change and wants to lose weight is to be patient, stay motivated and cultivate willpower. This is especially true during the first few weeks and during weight-loss plateaus. It is not a sprint, it is a lifelong marathon. Starvation and extreme diet plans may sound like attractive options to lose weight rapidly, but they likely won't help you in the long run.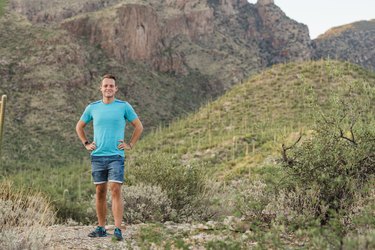 LIVESTRONG.COM: What's your life like now?
Currently, I feel great and I am much happier. In addition to 117 pounds, I have so much more energy and feel more confident. Despite spending one to two hours every day to work out, I am a lot more productive at work. Living in Tucson, Arizona, I feel in much better physical condition to go biking, hiking or trail running in the Saguaro desert and Mount Lemmon.
I also love to see my progress and how I can challenge myself every day to get better. I realized how much I actually enjoy working out. It is my time of the day when I can forget about all my worries and release stress. If you asked me before June 2016, I would have never imagined I'd say that, but now I look forward to working out every day and even miss it when I am not able to attend my HIIT class.
I no longer record all of my meals, but I am still paying attention to my dietary plan and making sure to keep my portions under control. I do not want to lose more weight at this point, but I am working to combine a low-carb diet with my workout routine to continue losing body fat and building strength and muscle.
Do you have an inspiring Success Story to share? Did you use LIVESTRONG.COM to get healthy? Email us at support@livestrong.com for details on how to share! To get started on your fitness journey, join us today on LIVESTRONG.COM or by downloading the MyPlate app.