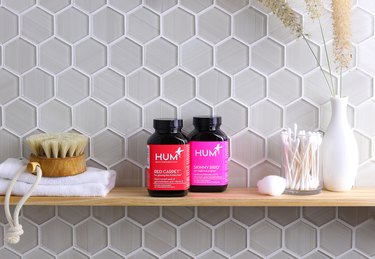 When it comes to achieving glowing, dewy skin, there are a number of factors that come into play. Sure, topical products can help, but what you're ingesting is just as important — if not more.
Of course, some basic dietary guidelines can do wonders for your complexion: drinking at least eight glasses of water per day; eating lots of leafy greens and veggies; and consuming minimal alcohol as well as processed dairy, gluten and sugar are just a few. But there are some vital beauty nutrients that we can't get from our diet — and without them our bodies are imbalanced, which can show through skin issues such as dullness, acne and premature aging.
Enter HUM Nutrition's targeted, beauty-boosting supplements: They work from the inside-out to support clear, glowing skin and shiny hair, reduce under-eye circles and, most important, improve your mood.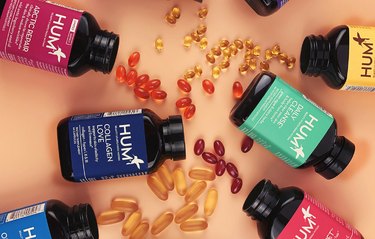 HUM has developed over 30 innovative beauty-boosting formulations, plus you can get evaluated by a RD nutritionist (via a quick online quiz via the HUM website) who can provide personalized product recommendations based on your goals and needs.
In the meantime, take a look at the guide below to learn more about the ingredients that can help you in your quest for flawless skin:
Blemish-Prone Skin
If you're dealing with consistent breakouts, it might be a sign that your system needs a flush. Chlorella, a blue-green algae, binds to heavy metals that can damage the skin and helps to remove them from the body.
HUM's Daily Cleanse contains a unique blend of organic herbs and minerals, including dandelion root, milk thistle, zinc and matcha green tea — all of which have great antibacterial and anti-inflammatory properties to help clear acne. And if that doesn't convince you, reviews like "My break outs are nearly gone and I haven't worn any foundation in the past week!" (c/o MissM on humnutrition.com) just might.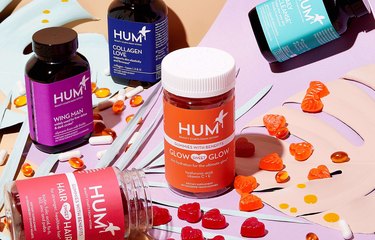 Dull Skin
If you're dealing with dullness, hyaluronic acid is your new best friend. It's a compound that can hold up to 1,000 times it's weight in water, which basically means that it can keep moisture locked into the skin. It's actually a naturally-occurring compound in the human body, but as we age, our body produces less.
HUM's Glow Sweet Glow tangerine-flavored gummies contain low molecular hyaluronic acid, vitamin C, Vitamin E and alma fruit, which help stimulate collagen production. A 2014 study found that ingested hyaluronic acid increased skin moisture and improved treatment outcomes for patients with dry skin. Win, win!
Loss of Firmness & Elasticity
When dealing with signs of aging, it can be easy to resort to quick-fix facial procedures like microneedling and chemical peels, but they aren't getting to the root of the issues. As we age, we lose the naturally-occurring building blocks of protein and amino acids in our bodies —called collagen.
Enter HUM's Collagen Love. It contains Collagen 1, 2 and 3, hyaluronic acid, vitamin C, red wine extract and grape seed extract for a powerhouse of moisturizing antioxidants that promote skin health. Collagen 1 and 3 are the most abundant for firmness of the skin, and Collagen 2 helps build cartilage found in connective tissues. A glowing review from Elizabeth on humnutrition.com reads, "Not only do you notice a difference in firmness and elasticity in your face, you notice it all over your body!" There you have it.
Want more? HUM recently launched their Collagen Pop, which delivers marine collagen, vitamin C and rose by way of a rose and lemon-infused tablet that dissolves into your water!
Get your personalized product recommendations here and take 20 percent off with the code LIVESTRONG20 at checkout.