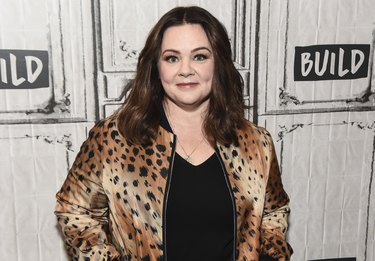 Despite the fact that she has lost a rumored 75 pounds in recent years, Melissa McCarthy doesn't think her weight is a big deal. In fact, she finds it is truly bizarre, and extremely sexiest, that people are so obsessed with the way she looks in the first place.
"I just find it dumb and boring. I really do," she told AARP. "No one's asking a man, how do you keep your legs in shape? Which I've been asked. I think every time we categorize people — by weight, by race, by gender — we put them in boxes and it's not a good thing for the world."
The star, who nabbed a Best Actress nominee at the 91st Academy Awards for her critically acclaimed role in "Can You Ever Forgive Me?" is truly a role model for women when it comes to body confidence, believing that self-love shouldn't be reliant on clothing size.
"There's an epidemic in our country of girls and women feeling bad about themselves based on what .5% of the human race looks like," she told Redbook in 2016. "It starts very young. My message is that as long as everybody's healthy, enjoy and embrace whatever body type you have."
Here is everything we know about Melissa McCarthy's approach to diet, fitness and self-love — including all of her secrets to living the best life ever.
Her Weight Struggles Began When She Was Young
McCarthy started obsessing about her weight early on in life. "I do think I worried about weight too soon, when it was only little-kid weight," she told Rolling Stone. "I thought I battled weight throughout high school, but I look back at pictures of me as a cheerleader, doing sprints, lifting weights, doing gymnastics, playing tennis, and while I wasn't reed-thin like some girls ... I was a size six the entire time. So what on Earth was I freaking out about?"
She ended up moving to Los Angeles to pursue a career in acting, confessing that an unhealthy lifestyle led her to pack on the pounds. "I stopped walking and ate shitty food. I was in good shape, then suddenly I gained 25 pounds," she revealed.
Her Weight Has Seriously Fluctuated
McCarthy, 48, has experienced serious weight fluctuations over the years. "I've been every size in the world, from a six to a 22," McCarthy told The Guardian in 2016.
However, she maintains that it really didn't matter, because she never felt she was thin enough. The actress explained to More magazine that during parts of her twenties, when she was her thinnest, she wasn't content. If I was a 6 or an 8, I thought, 'Why aren't I a 2 or a 4?'"
There's No "Secret" to Her Weight Loss
McCarthy has lost a significant amount of weight over the last few years, but not because of some trendy diet or intense workout regiment. "No trick, nothing to tell, just super-boring life," she told ExtraTV. "You bring it real down, you don't do anything fun, and you go to bed at 7:30—that's the trick."
However, she did tell Life & Style that when she "truly stopped worrying" about losing weight, the pounds did seem to shed. "I think there's something to kinda loosening up and not being so nervous and rigid about it that, bizarrely, has worked," she said.
Doesn't Obsess About Weight
McCarthy refuses to focus on the number on the scale. When asked about her weight loss by Refinery29, she maintained it was no big deal. "I have [lost weight], but I'll be back again," she confessed. "I'll be up, I'll be down, probably for the rest of my life. The thing is, if that is the most interesting thing about me, I need to go have a lavender farm in Minnesota and give this up. There has to be something more."
Starting the Day off With "Me Time"
McCarthy wakes up bright and early — at 4:30 am to be exact — and before she begins exercising or even checks her phone, she makes coffee and watches some reruns on television.
"I treat myself right," McCarthy, whose shows-of-choice include "Knight Rider" or "The Incredible Hulk," told The New York Times Magazine. After television time she will read The Los Angeles Times (in print) and the New York Times on her iPad before interacting with the outside wold.
After struggling with her weight for most of her life, McCarthy has shunned crash diets for good. She revealed to People that earlier in her career, during her "Gilmore Girls" years, she attempted a doctor-supervised all-liquid diet. Despite the fact she lost 70 pounds in four months, the experience was awful. "I'd never do that again," she confessed. "I felt starved half the time."
Melissa McCarthy, keep doing what you are doing! You are an inspiration to so many women.