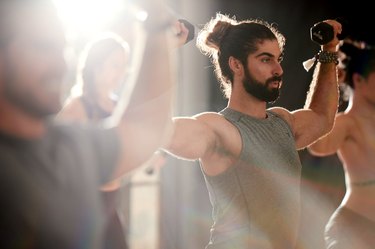 It used to be that you could find only one, maybe two, types of yoga classes, even if you lived in a big city like New York or Los Angeles. But now, there's a yoga-based workout for just about everyone. And with names like "Yogilates," "Glo-ga" (glow-in-the-dark yoga) and "Voga" (vogue yoga, apparently), it's no wonder people are curious to check out what's going on at their nearest studio.
One chain in particular has found its niche combining yoga with strength training — CorePower Yoga. Though you won't get as jacked as a CrossFitter, if you ever wished that your strength training workouts were a bit more mindful (or that your yoga workouts were a bit more intense), check out one of their classes. Before you sign up, though, here's the insider's guide to CorePower Yoga.
What Is CorePower Yoga?
Think of CorePower Yoga as a purposeful, intense physical workout, paired with the traditional mindfulness and flow of yoga. In fact, they claim that "our version of yoga is unlike any other." That said, if you're looking for traditional Hatha, Ashtanga or Iyengar yoga, know that you won't find it here.
Classes range from beginner-friendly to "yoga experience a plus," but stretching and strengthening your muscles is the goal of each session. Below is a breakdown of each of their four classes.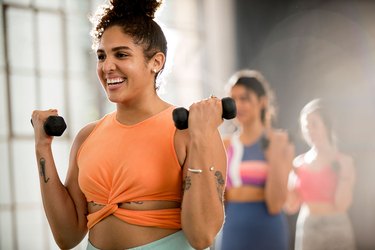 How Hard Are CorePower Yoga Classes?
Every class at CorePower Yoga is carefully curated and blends physicality with mindfulness, which allows students to choose how intense they make their experience, says Christie Klach, CorePower Yoga New York City area leader and master trainer.
CorePower Yoga 1: A beginner-friendly yoga class taught at a moderate pace. Klach says C1 is a foundational class with a set sequence that allows you to become confident with yoga poses thorough repetition.
CorePower Yoga 2: This is the brand's signature workout that centers around a more demanding Vinyasa structure. It's a heated class (95 to 98 degrees Fahrenheit) and builds on basic yoga postures while increasing the intensity.
Yoga Sculpt: This class adds free weights to CorePower 2 Yoga sequencing and cardio. It's a one-of-a-kind yoga experience, says Klach. Like CorePower Yoga 2, Yoga Sculpt is a "yoga experience a plus" level, so make sure you know your Down Dog from your Up Dog before reserving your mat.
Hot Power Fusion: Power yoga meets hot yoga in this beginner-friendly workout taught at 98 to 100 degrees Fahrenheit. With a focus on yoga poses that open the shoulders, hips and spine while strengthening your core and upper body, this class is appropriate for all fitness levels.
To get a better idea of both the intensity and mindfulness of CorePower Yoga, Klach recommends taking both Yoga Sculpt and CorePower Yoga 2 (as long as you already feel comfortable in a standard yoga class).
What to Expect in a CorePower Yoga Class
Each class is structured differently, but most run about 60 minutes in duration. Sizes vary, too, depending on the studio, but on average, Klach says they see about 20 to 35 students in each session.
Since the CorePower Yoga 1 class is an introduction to the method, you can expect to move at a slower pace, with a focus on connecting your breath to your movement. The instructor demonstrates the moves and gives hands-on adjustments as needed.
The CorePower Yoga 2 class builds on the poses you learn in the first level, with a few additions. Expect to challenge your yoga skills, as well as your core, as you move through various yoga sequences in a heated space.
In the CorePower Sculpt class, you can expect to do a combination of yoga poses, strength training exercises (think: lunges, push-ups, squats, triceps kickbacks, rows and biceps curls) and cardio drills like high-knees and single-leg kicks. It's a high-intensity session that combines cardio and strength training into a full-body workout, so be ready to sweat (and then be sore).
If you're in the mood for heat, the Hot Power Fusion class will definitely warm you up. The routine combines the power of Vinyasa postures with hot yoga to give you a challenging workout. Even though the class is accessible to students of all levels, the instructors recommend taking a few CorePower Yoga 1 classes before jumping into the heat. And if you're prone to lightheadedness or fainting, you may want to sit this one out.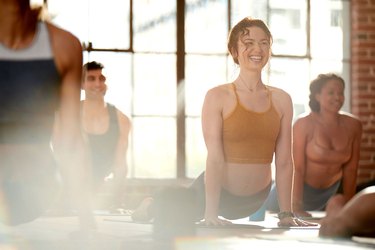 Tips for Your First CorePower Yoga Class
As trivial as it may seem, what you wear to CorePower Yoga makes a difference. Klach suggests wearing fitted, sweat-wicking workout clothes because whether you want to or not, you will sweat! And if you're taking one of the heated classes, make sure the clothing you choose allows you to feel comfortable in a heated space (i.e. you'll likely want to opt for shorts over full-length leggings).
One perk for newbies is that every studio offers a free yoga mat and towel on your first visit, and after that, you can either bring your own or rent from them for a fee. Don't forget your water bottle, either — but in case you do, you can always purchase one at the studio.
You don't need a reservation for a majority of CorePower studios, but if you want to catch a class during peak hours (think: early morning or after work), it's best to show up 10 to 15 minutes early. First timers should arrive 15 minutes before class to meet the instructor and ask questions.
Lastly, it's important to keep coming to class on a consistent basis. "The more you experience the CorePower Yoga community and get familiar with the yoga poses and intensity, the more you'll discover the magic that happens when you work your physical body and your mind," says Klach.
Find a CorePower Yoga Class Near You
Ready to give this unique yoga fitness experience a try? The CorePower Yoga website has a full list of their studios to help you find a location near you. With more than 200 studios nationwide, including locations in Arizona, California, Hawaii, Minnesota, New York, Tennessee, Washington and many more, you're likely to find a class that fits your needs and schedule.
Another first-timer perk is getting your first week free. Be sure to check each studio's website for its particular pricing structure, because the amount you pay per class varies by location. For example, a single class in Los Angeles will run you $27, while a studio in New York City charges $32 per workout.
Even if you're not close enough to access one of their studios, you can still get your sweat and Savasana on whenever, wherever with CorePower Yoga On Demand. Available on multiple devices including iPhone, Android and fireTV, the on-demand classes are just as great a workout as one live in the studio.
Plus, you can try a free week of unlimited classes, so you have nothing to lose. And if you decide to sign up, you'll have access to unlimited workouts for $19.99 per month or $199.99 per year, with the option to cancel anytime.