Often described as the love-child of ballet and Pilates, Pure Barre is a workout class that relies on controlled, precise movements to target and tone the muscles in your core, shoulders, thighs and butt you probably didn't know existed.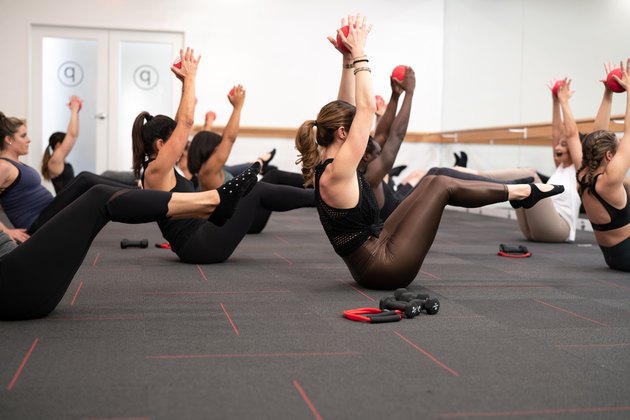 Curious about the low-impact workout that's loved nationwide? From what class is like and what to wear to how find a studio near you, here's everything you need to know about Pure Barre before leaving your shoes at the door and trying it for yourself.
What Is Pure Barre?
Pure Barre was founded in 2001 by dancer and choreographer Carrie Rezabek Dorr in Birmingham, Michigan, but it wasn't until it became a franchise in 2009 that it gained popularity. Now, with more than 500 studios in the U.S. and Canada (and plans for that number to grow and for locations to be added worldwide), Pure Barre is the largest chain of barre studios.
So, why is it so popular? It's not just one thing, says Katelyn DiGiorgio, vice president of training and technique. "It makes people of all fitness levels feel capable and stronger mentally and physically. It's effective and low-impact. And the environment is high-energy, fun and motivating."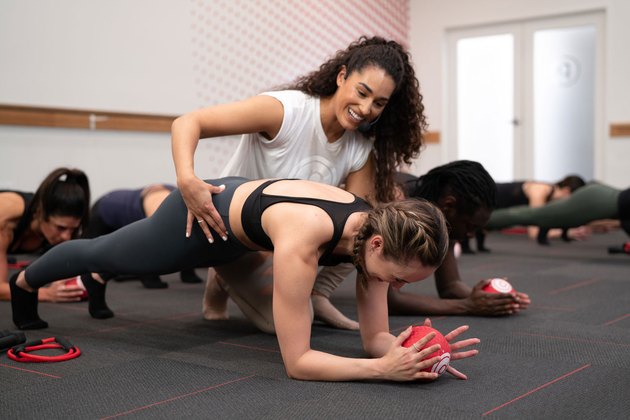 What to Expect From Your First Pure Barre Class
All classes are 45 to 50 minutes long, with about 18 to 25 participants, and are efficient and formulaic — every session follows the same structure. "This is the bread and butter of Pure Barre that has been honed over the last 15-plus years that make it so effective," says Rachelle Reed, manager of training development for Pure Barre.
That doesn't mean it's boring, though! "No two classes are the same," says DiGiorgio. "All the instructors can make the workouts their own." Pure Barre has roots in dance, after all, and thus features good tunes and motivating instructors.
Each Pure Barre class begins with a warm-up in the center of the room, usually consisting of knee taps, planks and a few other glute, core and shoulder openers. Once you're warm, you'll move to the arm-strengthening segment where you'll use two-, three- or five-pound dumbbells to perform high-rep sets of movements like biceps curls, shoulder presses and triceps kickbacks.
Then, you'll move onto the thigh- and booty-toning section, where you'll use the barre to complete a sequence of movements that might include arabesque pulses, lunges and/or plié squats. In addition to the dumbbells and barre, you might work with some unique equipment like a double-looped resistance band or a mini barre ball.
While you're targeting your lower body, this isn't your classic leg-day routine. Instead, you'll use very tiny, precise movements to target your hip adductors and abductors (muscles that open and close your legs) and the smaller muscles that support your glutes, quads and hamstrings. So don't be surprised if you hear your instructor say, "Up an inch, down an inch" or "Tiny up, tiny down" over and over again.
Next up is abs. "The goal of the ab exercises is to build core strength in the deep, deep part of the abdominals," says Reed. You might do Pilates roll ups, hollow holds, side-to-side twists, planks and/or leg raises.
Finally, you'll finish with a five-minute cooldown where you'll move through a sequence of stretches reminiscent of a restorative yoga class.
If that seems like a lot, don't worry: Your instructor is there to guide you through each segment. "They're coaching and teaching the whole time, walking around and adjusting form so that your body is properly aligned," Reed says. Typically, the instructor will demonstrate three to five repetitions of the move before making adjustments. "You'll really feel that personalized training vibe," she says.
Is Pure Barre an Effective Workout?
Pure Barre's signature is a series of low-impact, isometric or small-range-of-motion movements using lighter weights to strengthen and tone your body. According to physical therapist Grayson Wickham, founder of Movement Vault, a mobility and movement company, these types of movements do have value, but it's important to understand what barre can and cannot offer athletes.
"Isometric contractions are when you're literally just squeezing or flexing the muscle," says Wickham. This can help re-establish the ability to activate certain muscles after an injury and strengthen the muscle at the exact angle it's being flexed, but isometrics alone aren't going to increase muscle mass or carry over into real-life movements, he says. The slow and controlled eccentric and concentric movements (the "tiny up, tiny down"), on the other hand, are more functional.
Overall, though, Wickham says it's a good workout that can result in some strength gains, but it won't burn a ton of calories or improve your cardiovascular capacity very much. If boosted cardio is your goal, you might want to try Pure Empower, which is Pure Barre's higher intensity class. But if building strength is your main goal, stick with classes like Orangetheory, CrossFit or Barry's Bootcamp.
Who Is Pure Barre Best For?
Because it's lower intensity and lower impact, Pure Barre is best used as a compliment to higher intensity fitness classes like CrossFit, boxing or HIIT. "It can help athletes improve their mobility, become better at actually activating their muscles and it boosts the mind-body connection," says Wickham. All these elemental things are key for injury prevention.
But if you take one class and never want to leave, that's OK too. "It just comes down to your fitness goals," he says. If Pure Barre is a workout you'll actually stick with, that's an important factor. If you decide to only do Pure Barre, the brand recommends coming to a minimum of three classes a week to see results.
Pure Barre is also a great option for folks working through an injury or who have joint issues. "You'll get a great workout in without putting excessive stress on your joints," says Reed. During the workout, instructors are proactive about suggesting modifications for wrist, knee and shoulder pain. It also helps to show up 10 to 15 minutes early to talk to your instructor about any pre-existing injuries.
Depending on your fitness level, Pure Barre can be a safe exercise option for women during and after pregnancy. Of course, every woman (and every pregnancy) is different, so it's a good idea to consult with your doctor first. Once you get the all-clear, Pure Barre asks that you let your instructor know if you're pregnant. That way they can walk you through any modifications based on how far along you are.
Men can take classes too. While the majority of participants are women, Pure Barre is for everyone. Some studios even occasionally offer classes called Bring on the Men, which are geared specifically toward guys.
Who is it not for? If you love high-intensity interval training workouts where you leave drenched in sweat, this is not that. And while Reed says people have used the classes in their weight-loss journeys, Pure Barre alone isn't the best choice for those looking to lose weight.
What to Bring and Wear to Pure Barre
Leave the skimpy workout clothes at home. Pure Barre has a "no shorts, no crop top" rule. Instead, they recommend leggings or pants and any top that doesn't ride up. Likely, that means a slim-fitting shirt or tank. You'll also need to wear a pair of socks with anti-slip grips on the bottom. If you don't already have a pair, every Pure Barre studio sells them at the desk for $15 to $18 (which is relatively inexpensive as far as sticky socks go).
You won't need much else besides a water bottle. While you'll be working hard, you likely won't need a sweat towel, and if you do, they're available. Most Pure Barre studios don't have locker rooms, and the bathroom (often times single-stall) is usually only stocked with dry shampoo and deodorant. If you have somewhere to be after class, bring your own toiletries.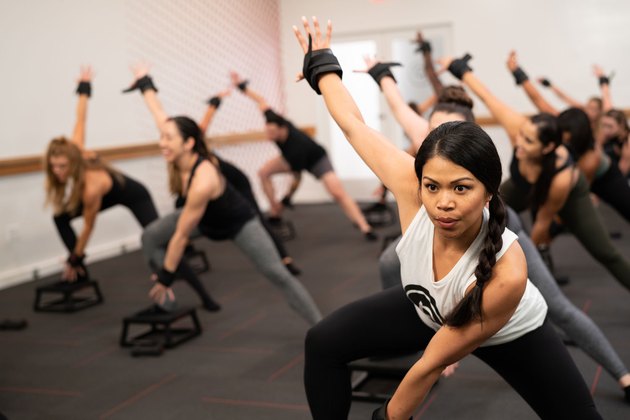 Tips for Your Best Pure Barre Workout
To maximize your Pure Barre experience, be patient for your first few visits. "I like to say it takes five classes to feel really comfortable with and become addicted to barre," says Feeney. Reed adds: "There's a bit of a learning curve, but after that you'll feel confident coming to class."
During those first few workouts, DiGiorgio says, "Keep an open mind and try to absorb as many cues as you can. Pure Barre has its own lingo, but you'll hear it all repeated through class so you'll catch on if you're listening." You can also check out the Pure Barre dictionary ahead of time if that makes you feel more prepared, but it's not necessary.
Whether you're a newbie or Pure Barre devotee, Reed reiterates how valuable the teacher is. "Look at the instructor, let the instructor re-adjust you and correct your form and ask them questions about what you can do to improve." Some locations occasionally offer a workshop called Breaking Down the Barre for those who want to delve deeper into barre techniques.
Finally, don't worry if your muscles start shaking. "There's a lot of high-repetition work, so if your muscles start shaking, that's normal," says DiGiorgio.
Find a Pure Barre Location Near You