If you've watched the iconic Footloose warehouse scene and found yourself tempted to throw on a white tank and break into angry, passionate dance moves, you're not alone. With the advice of some professional dancers and the right DVD, you can integrate dance into your regular workout routine at home.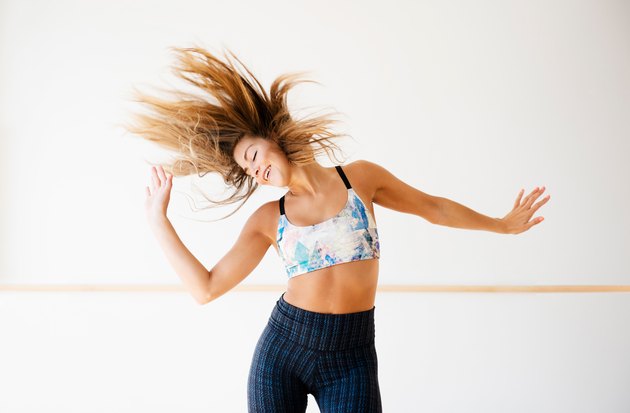 How to Do Dance Workouts at Home
Especially for newbies, walking into a dance class can be intimidating. Learning a new routine is challenging, but luckily, busting a move at home is a great first step before hitting the studio. You won't need much equipment, just a carefully selected video and positive mindset!
A few feet of space are really all you need to complete a dance workout at home, says Amanda Kloots, former Broadway dancer and Radio City Rockette. In her own cardio dance workouts, which you can find on her website, Kloots uses little equipment, instructing the viewer to focus on the feel of the body as you move up, down and side-to-side. However, depending on your dance workout of choice, it may require a mat or light hand weights.
When selecting a video, Sassy Gregson-Williams, ballerina and founder of workout studio and app Naturally Sassy, says to choose wisely. Many dance workouts require precise alignment and technique, which can be challenging to replicate at home, she says. Read some reviews online and select a program that walks you through each of the dance postures and cardio exercises.
Lastly, your mindset is key to a successful at-home dance workout. Coordinating steps, rhythm, body movement, all while trying to loosen up is a challenge for anyone, not just new dancers. But your form and grasp of the routines will only improve each time you practice, says Kloots. Don't get caught up in the details.
"You don't have to be perfect at any workout when you start," Kloots says. "In fact, it's good to be bad at a workout in the beginning, because then you have a goal to work toward. You see yourself get better and grow! How inspiring is that?"
As you practice at home and gradually grow more comfortable in your new dancing shoes, so to speak, consider graduating to a real studio. According to Gregson-Williams, there's nothing quite like the community and endorphin rush of a group class.
"Dance can completely shift how we feel and our mindset, we can feel lighter, freer, and have more clarity," Gregson-Williams says. "When we workout together, the feeling of endorphins releasing, paired with community and connection can lift your mood even higher."
The Best Dance Videos for Beginners
Just as you may prefer different genres of music, there are different forms of dance to choose from. Hip-hop, Zumba, belly dancing, ballet/barre and even specialty forms of dance are styles that are sure to get your heart rate bumping.
Best Hip-Hop Dance Videos
Best Zumba & Latin Dance Videos
Best Belly Dancing Videos
Best Barre & Ballet Videos
Best Hula Dance Video
The Hula Workout for Beginners: This dance video breaks down Hawaii's story-dance tradition into easy and understandable steps, while combining hula and cardio exercises to spike your heart rate and burn calories. Kili, the instructor, simplifies each movement to ensure you activate your core correctly with each hip swivel.
Best 10-Minute Dance Workout Video
10-Minute Solution: Dance Off Belly Fat: Consistent with its title, this DVD of five 10-minute workouts focuses on your abs. With styles from aerobic to Latin to ballet, the DVD offers something for every taste. If you're really strapped for time, opt for just one workout. But when you have more availability, blast through them all in one session. If you don't like the order or want to skip one or two workouts, you can use the DVD's menu to create a customized playlist.