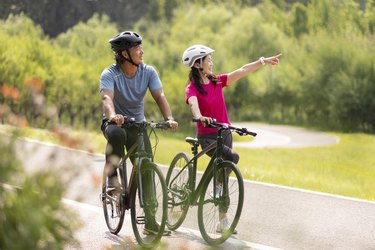 If you already love cycling to a weekend farmers' market or cruising your local bike path, a hybrid bike may be the perfect way for you to take your workouts outdoors.
As the name suggests, hybrids are all about versatility. For most everyday cyclists, they are the best wheels to buy.
A hybrid bike, sometimes called a fitness bike, is a jack-of-all-trades set of wheels you can ride in all sorts of situations (unlike mountain, road and gravel bikes, which are meant for specific terrains and types of rides). These all-purpose bikes are great for commuting, running errands, cycling workouts, keeping up with your kids and other non-competitive uses.
Disc brakes, which are more reliable in wet weather and offer more control
Flat handlebars and a more upright position, so you can sit with a straight back

Tires in the range of 28 to 32 millimeters — wider than a road bike but narrower than a mountain bike
"It's a sidewalk bike that can be used for family, fun and fitness," Yvette Sanborn, a Trek ambassador and the owner of David's World Cycle in Florida, says. "Whether you want to roll around town or get in a quick workout, a fitness hybrid does the trick. To reduce your reliance on cars, put a storage basket or bag on the frame. If you want to go farther, faster, try an e-bike hybrid.
Fitness bikes are typically marketed as either unisex or for a specific gender. But the model's fit — determined largely by your height — is more important than its gender label.
We chatted with cyclists and industry experts about their seven favorite hybrid bikes — and how to choose the best one for you, based on the following criteria:
Price
Versatility
Comfort
Bike frame and size
1. Best Electric: Trek Allant+ 7
‌Electric motor ‌
‌Battery requires charging‌
‌Unisex‌
‌$$$‌
For task-focused rides, consider the Allant+ 7 from Trek. This unisex electric bike is both powerful and lightweight, so it makes a solid commuter. With a road-smoothing suspension fork, Bosch drive system and a comfy saddle with plenty of airflow, this pick can help you tackle everything on your to-do list.
"The Allant is a great way to go further, faster — never letting anyone see you sweat if you don't want," Sanborn says.
E-bikes are pricey, but often replace commutes done by cars. It's worth considering if you'll get gas-saving use out of an e-bike and figure that into the overall cost.
2. Best for Off-Roading: Trek FX Sport Carbon 4
‌Versatile‌
‌Lightweight‌
‌Unisex‌
‌$$‌
The best hybrid bikes come equipped with all the bells and whistles you need to get in a good workout while still being efficient. Enter the FX Sport 4, a unisex carbon-fiber Trek fitness bike that's great for group rides and solo workouts, says Garret Seacat, CSCS, a cyclist, coach and certified strength and conditioning specialist.
Its IsoSpeed seat tube smooths out the bumps when riding on dirt and grass. It also has a simple shifting system to give you "the best of the mountain and road bike, all in one," he says.
3. Best Value: Cannondale Quick 5
‌Versatile‌
‌Lightweight‌
‌$ (on sale)‌
This ride is one of the best deals on a hybrid bike. With its bump-absorbing SAVE micro-suspension, and a riding position that's upright for comfort, yet forward enough for some speed, it's designed for riding anywhere you feel like taking it.
"Right now as model years change out in the cycling world, you can find incredible deals on a variety of bikes," Seacat says. "One of the best for a hybrid has to be the Cannondale Quick 5. You are getting a ton of value for a bike with a 2x Shimano drivetrain, ergonomic grips and saddle and a frame that has reflective tape built in already."
4. Best for Easy Maintenance: Tommaso La Forma
‌Upright riding‌
‌Lightweight‌
‌Unisex‌
‌$$‌
This speedy unisex fitness bike from Tommaso can tackle any terrain you want to ride, thanks to its lightweight aluminum frame, grippy tires, gel handlebars and a vibration-dampening design. You'll have no trouble at all transitioning from the road (or a paved path) to the trails, says certified personal trainer John Fawkes, CPT.
"Aluminum alloy makes up its über-light frame — the bike weighs 25 pounds," he says. "What's more, it's fast — and an excellent option for both urban areas and trails."
5. Best for Limited Mobility: Fuji Absolute 1.9 ST
‌Easy to mount and dismount‌
‌Upright riding‌
‌Unisex‌
‌$‌
Never heard of step-through bikes before? Their design lets you more easily step over the frame to mount and dismount, while keeping you in the most upright riding position possible.
"This bike from Fuji is easy to ride up and down hills and puts less stress on the body," says Jessica Mazzucco, CPT, a certified fitness trainer based in New York City.
A unisex model, it's both speedy and durable and works on and off of pavement. It has a lightweight aluminum frame, stable design and handy rack mounts for anything you need to bring with you.
6. Best Cruiser: Brooklyn Bicycle Co. Dutch Willow 3 Speed
‌Vintage-style cruiser ‌
‌Unisex‌
‌$$‌
This bike features a step-through alloy frame, 3 speeds and a springy leather seat for commuting or cruising around town. Plus, its unique design puts riders in an upright, heads-up position that makes it easy to stop and start as you ride.
Brooklyn Bicycle Co. is known for its customer service. "Its whole range of Dutch bikes are uprights and are super cool," KJ Kroetch, CPT, USAT Certified Coach, says. Shipping and professional assembly are covered by the company, so you can feel comfortable you're getting a safe ride.
Want more stopping power? Upgrade to the Willow 7i Disc. "Disc brakes can give you more stopping power compared to rim brakes," Kroetch says.
7. Best Basic Pick: Schwinn GTX 3
‌Smooth ride‌
‌Editor's pick‌
‌$‌
This zippy bike from Schwinn is ideal for training rides, commuting and cruising.
"It's the best bike I've ever purchased," Bojana Galic, LIVETSRONG.com's Associate Fitness Editor, says. "It has an aluminum frame and thin tires that are so incredibly light. I can zip to beach volleyball and carry my bike in the sand, no problem." (Read her entire review of the Schwinn GTX 3 here.)
The GTX 3 is built for comfort ‌and‌ performance and features easy-to-use breaks, an upright handlebar with an adjustable stem and 21-speed grip shifters.
What to Consider When Shopping for Your New Bike
The most important factor to consider when buying a bike is comfort. If you don't feel happy and relaxed, you just won't ride, plain and simple.
"Must-haves for a hybrid are definitely a comfortable saddle and handgrips," Sanborn says.
When buying online, make sure the company's return policy lets you get in some test rides.
Fit makes a big difference in keeping things comfy and reducing your risk of cycling injuries, Sanborn says. When you start shopping for bikes, you'll notice they typically come in standard sizes like extra-small, small, medium, large and extra-large.
Your height is what determines your bike size. Check out the brand's size chart to find your best fit.
The best hybrid bikes for the money are those that can help you save cash you'd typically spend on gas or public transit fares. So pay attention to user-friendly features.
Because you might be riding around town for pleasure or to run errands, look for fenders that will help keep you clean and dry, even during rainy weather. Also look for gear racks, which make it easy to attach bags and baskets, Sanborn says.