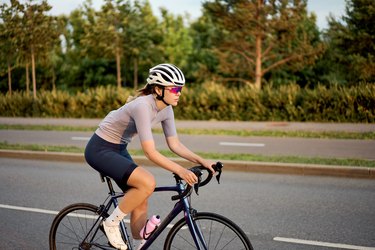 This is not surprising, as some high-end road bikes can cost well beyond $10,000. If you're looking for a quality, durable road bike that won't break the bank, not all hope is lost. We've compiled a list of the five best affordable road bikes, according to a bike mechanic.
We spoke with Fiona Beltram, a veteran bike mechanic at BFF Bikes in Chicago. Beltram frequently works on affordable road bikes, maintaining them for cyclists of all abilities. BFF Bikes also sells a variety of entry- to mid-level road bikes that retail for under $3,000.
Beltram explained that the following criteria should be used to evaluate an affordable road bike:
‌Brand name:‌ While having a recognizable name doesn't necessarily mean a bike is high quality, it's important to mainly refer to well-known brands when shopping for a bike. An unfamiliar brand from a big box retailer like Amazon may be cutting corners to achieve their low price.
‌Components:‌ Bike components can be thought of as the parts of the bike that allow it to move forward and come to a stop, like the gear cassette, front chainrings, bottom bracket, shifters and brakes. There are different quality components on the market, and affordable bikes usually use lower-quality components. However, there are still options for good components on an affordable road bike if you know what to look for.
‌Surface:‌ Road bikes often have the ability to be used both on a paved road or on a smooth dirt road. It's likely you'll want to invest in an affordable road bike that isn't just limited to paved bike paths and roadways.
‌Frame material:‌ While carbon bikes are all the rage, they can often be expensive. Looking for an affordable road bike with an aluminum alloy frame or a mix of aluminum and carbon used across the frame will net you a sturdy and affordable road bike.
"Investing in an affordable, yet well constructed, road bike is going to get you a lot more bang for your buck than simply reaching for the cheapest option on the market," Beltram says. "Always opting for the no-name cheapest option may result in you actually spending more than planned because the bike will need constant maintenance and repairs due to poor construction."
Beltram shares her picks for a variety of affordable road bikes, along with shopping tips you should know before buying.
1. Best Long-Term Investment: Liv Langma Advanced Disc 2
The Liv Langma Advanced Disc 2 comes with Shimano 105 components, which are considered solid-quality components in the cycling industry, as well as disc brakes, which means the bike uses hydraulic disc brake rotors to stop the bike, making its stop time and power very good.
The bike also has a "relaxed geometry," according to Beltram, which means the rider is not crammed into an unnecessarily tight or overly aerodynamic position, allowing for comfort over many miles. Beltram describes the bike as being well constructed and can grow with the rider as their goals change.
"This bike is definitely for someone who knows how to ride a bike and is looking to invest in something that's going to get them through the next 5 to 10 years of cycling," Beltram says.
Liv markets itself as a women-specific brand, but Beltram notes that their bikes can be for anyone.
"Women-specific bikes mean that the brand has made a couple of tweaks to the bike frame's geometry," Beltram says. "The distance from the seat post to the handlebars may be a bit shorter to accommodate a typical female's anatomical measurements. There is no reason a Liv bike can't work for a male as well."
2. Best Entry Level: Trek FX Sport 5
The Trek FX Sport 5 combines what you love about a recreational cruiser with the tech of a road bike. Its frame is made of carbon, making the bike light and durable. The FX Sport 5's handlebars are flat, optimizing them for comfort and solid grip. The bike also has what is known as a "1x drivetrain," meaning it only has one chainring in the front of the bike near the pedals, making shifting easy and uncomplicated.
Last, this bike has hydraulic disc brakes, making stopping and controlling speed a breeze. This bike is perfect for someone who is moving from recreational riding to social rides or even day-long rides on local roads.
3. Most Versatile: Liv Avail Advanced 2
Beltram recommends the Liv Avail Advanced 2 for those who are looking for the "do-it-all" affordable road bike.
"The Avail Advanced 2 is great for people who want to do their first triathlon but still have a comfortable road bike for cruising around town," Beltram says. "The bike is also meant to walk the line between on-road and off-road, so if you want to put off-road tires on it, you absolutely can."
The Liv Avail Advanced 2 is an aluminum frame but comes with the option to get a lighter carbon fork for an additional cost. Beltram explains that the Advanced 2 comes with Shimano 105 components, which are well-regarded in the cycling world, and its frame geometry is relaxed enough to allow for comfort when riding off-road, but not so relaxed as to cause riders to lose their ability to ride fast in a race or on paved road.
4. Best Endurance Build: Canyon Endurace 8 Disc
An endurance road bike is designed to help you ride many miles in one go while keeping you comfortable. Unlike racing road bikes, which are designed to tuck you into a more aerodynamic position, an endurance road bike will keep you slightly more upright and aim to distribute your weight evenly over the bike seat and handlebars.
The Canyon Endurance 8 Disc comes with Shimano 105 components and DT Swiss wheels. DT Swiss is a respected wheel manufacturer in the cycling industry and makes wheels that are designed to last a long time without wearing out. The bike itself is aluminum and has mechanical shifting (which means there is no battery powering the gears to shift into place) as well as hydraulic disc brakes. The handlebars are Canyon's "Ergospeed Gel" model, which are designed to keep your hands comfortable even after many hours on the bike.
Canyon is a highly reputable bike manufacturer known for creating high-class bikes of nearly every kind: road, triathlon, gravel and mountain. Investing in an affordable Canyon endurance bike is an excellent foray into the road bike world.
5. Best for People in Larger Bodies: Cannondale Synapse Sora
Marley Blonsky is a cycling activist who aims to make the biking industry and community more inclusive for those in larger bodies. Blonsky rides a Cannondale Synapse Sora, which has a weight capacity of 330 pounds, while many other road bikes top out at weight capacities of about 250 pounds.
The Synapse Sora is an aluminum alloy frame with a carbon fork and comes with Shimano Sora components, which are a level "below" the Shimano 105 components, but are still solid quality as they are made by Shimano. This bike is a nine-speed bike, which could be considered a drawback by some who ride a 10-, 11- or 12-speed road bike, but the Sora's price point is hard to argue with.
Plus, the Sora is equipped to be used either on paved roads or on a gravel trail, giving you options in terms of where you can ride.
Tips for Buying an Affordable Road Bike
Before swiping your credit card on an affordable road bike, be sure to follow these tips in order to make an informed purchase.
Bikes come in a variety of frame sizes, ranging from XS to XXXL. It can be difficult to return a bike if it doesn't fit you, so check the size charts that are available on all bike manufacturer's websites to hone in on your size. If you aren't sure how to read the size chart, ask your local bike shop.
2. Consider the Types of Rides You'll Do
"If your goal is to enjoy riding and get out on the road with friends, you may not need to buy the latest, most flashy bike," Beltram says. "You want to own a bike with technology that you're comfortable with, such that you could change a flat tire on the bike alone without being confused by how to remove the tire, how to get the wheel back on, etc."
Consider the type of riding you'll be doing, how much you'll be doing and on what types of terrain you'll be riding on. You likely don't need a top-of-the-line road bike — a bike with the basics that gets you from point A to point B may be exactly what fits your lifestyle.
Chat with a bike mechanic or someone at your local bike shop to get an idea of what affordable road bike fits your needs and technology know-how.
3. Avoid Craigslist and Unverified Resellers
While there are some verified bike resellers available, Beltram strongly suggests avoiding places like Craigslist and Facebook when looking to purchase an affordable road bike.
"One of the risks of buying an unverified used bike is that the price it's listed for may not reflect the total amount you're going to end up spending on the bike," Beltram says. "You're trusting someone else's assessment of the bike, which may not be entirely accurate."
Even if it means ponying up a bit of extra cash for a brand new affordable road bike, this is the best way to ensure you are getting a safe, high-quality road bike that will serve you well for miles to come.