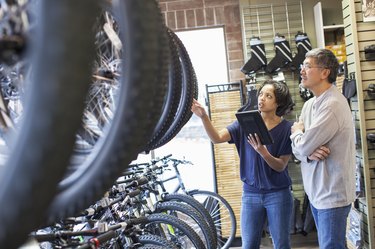 There is little that feels as carefree as cruising down an open road on a bike on a beautiful day. Bikes allow us to experience the world in a way cars don't: interacting with the open air, using our physical abilities to power us to new places, and staying in the present moment for both safety and enjoyment.
But just like cars, bikes depreciate in monetary value the moment you ride them for the first time. This does not mean that a bike is a bad investment, especially if you use it frequently, but it does mean that it is highly unlikely you will sell a bike for more than you originally purchased it.
When the time comes to sell your bike, whether your hobbies have changed or you are upgrading your ride, there are key things to know before listing it as available for purchase.
The Pro's Closet (which recently rebranded as TPC) is a bike reselling company that was founded in 2006 and services and assists in reselling more than 14,000 bikes per year. TPC has a 141-point inspection process to determine if the used bikes that arrive at their warehouse are safe to resell.
Chris Blick, head of quality at TPC and a former bike mechanic, notes that the average person does not need to go through such a lengthy methodology in order to sell their old bike.
Blick suggests checking the following before listing your bike:
Check metal frames for dings, dents or rust (your bike may have a sticker on the frame that says if it is made of a metal alloy or carbon).
Check carbon frames for cracks or chips.
Assess your bike tires for punctures, cracks and general wear and tear.
If your bike is a mountain bike or cruiser bike, it may have a suspension on the front and/or rear forks, where the wheels attach to the frame. Check the suspension for rust or corrosion.
Ensure the brakes work. This can be tested by compressing the front and rear brake levers and ensuring the wheels do not move when the levers are compressed.
Assess the shifting. The shifters should accurately and easily shift to the next gear(s) without grinding, pausing or getting stuck.
These are all basic safety factors that are important to look into prior to listing your bike for sale. This protects your integrity as a seller and sets up the buyer for a safe first ride.
If you notice anything is broken or amiss, you have options. You can:
Take the bike to a bike mechanic to fix the issues (and foot the bill) before listing it for sale
List the bike as-is but clearly detail the safety and quality issues of the bike and further decrease the list price
Use a third-party reseller. Some, like TPC, will make minor fixes to an otherwise-functional bike and sell the bike for you, but will take a percentage of the sale price
Calculating the Cost of a Used Bike
There is no single formula to calculate the cost of a used bike; there are too many dynamic factors to have one tried-and-true way of determining the resale price of every bike.
If you're not sure where to start when figuring out the sale price of your used bike, begin with the classic depreciation calculation called the "straight line method." The straight line method involves taking the purchase price of an item and dividing that price by the number of years the item can be used. You can apply this to determine at what price to sell your used bike.
For example, if you purchased a bike for $1,000 and assume it will last you 10 years, the bike will depreciate at a rate of about $100 per year.
If you've owned the bike for five years and then sell it, you should subtract $500 from the purchase price, which leaves you with a proposed list price of $500 for the bike's supposed five years left of use.
However, straight line depreciation isn't the only factor to consider when pricing a used bike.
Making some minor upgrades to your bike can increase its resale value. JP Gage, director of operations at TPC, says that there are a few things bike owners can do to increase their bike's value.
"Upgrades can make a lot of difference [in the resale value] of the bike," Gage says. "If you are a competitive cyclist and have race wheels or a power [or cadence, or speed] meter on the bike, you should take that into account."
Even if you aren't a competitive cyclist with ritzy upgrades on your bike, things like having had the bike recently serviced by a trained mechanic, putting on a new bike seat, installing a new chain or selling the bike with a bike computer or water bottle holders can all increase the bike's resale list price.
There are resources that can help you determine how much you should list your bike for. Gage and Blick recommend spending some time on the following sites to get your bearings about bike pricing:
Pink Bike: a website that focuses on buying and selling mountain bike parts
eBay: use the "sold" filter to see what bikes similar to yours have sold for recently
Bicycle Blue Book: a third party reseller who also lists bike resale price suggestions
TPC: a third party reseller who provides resale quotes via bike photo submissions and assessments done by trained mechanics
You can use any of those resources to find a bike similar to yours and see what its suggested list price is. You could even use some of the reseller sites to get a non-committal quote to better understand your bike's value.
Where to Sell Your Used Bike
After you've assessed your bike for safety and determined the list price for it, now it's time to actually sell your used bike. All of the resources above (Pink Bike, eBay, Bicycle Blue Book and TPC) are legitimate places to consider listing your bike.
Outside of those options, you can also look into your local Craigslist and create a listing online, but be aware of safety precautions when selling on Craigslist. Always meet in public to discuss the object for sale.
If getting a pretty penny for your old bike isn't important to you (or the bike is broken, rusted or beyond repair), you may consider using a company like 1-800-GOT-JUNK? to get the bike out of your garage and into the recycling process. 1-800-GOT-JUNK? will recycle as much of the metal and rubber from your ride as possible. This service does cost money, but the company provides free estimates.
You could also consider donating your bike if it is in working order to a nonprofit like Goodwill or a local organization. In some cases, donating a bike may qualify as a tax-deductible donation.
There may be some leg work to be done before listing your bike for sale. Going the extra mile to ensure your bike is safe for use and researching its value before selling it may net you extra bucks and will give you peace of mind knowing that the buyer is getting a safe, fair deal, too.