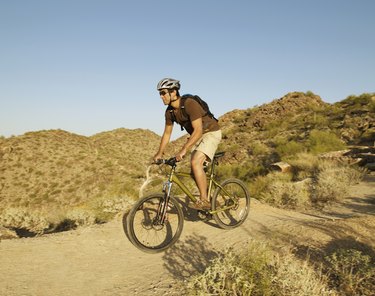 In reference to bicycle frames, "alloy" means aluminum alloy, unless the description includes another type of material. Alloys are metals with other elements added to improve properties like strength or stiffness. Alloy frames are a relatively recent introduction to the world of bicycling. While models of aluminum bikes date from as far back as the 1890s, issues with mass production and joining aluminum tubing safely prevented their mass production until 1983.
Components
Alloy frames do not rust, but they can corrode. Manufacturers combine the aluminum with elements including magnesium, titanium, iron, copper, chromium, zinc, manganese and silicon, but these elements typically comprise less than 10 percent of the frame's weight. The alloyed elements can improve the strength, corrosion resistance or joining capability or reduce the cost of frame production.
Weight
In its raw state, aluminum weighs one-third as much as steel of the same volume. A well-made alloy frame may weigh less than a steel frame, but this is not always the case. Mid-to-high-end steel frame bikes can weigh less than 25 lbs., while a low-end alloy frame bike might weigh 35 lbs. The potential difference is due in part to the engineering requirements of alloy frames, which when combined with the desire to build a low-cost bike, yields a heavier bike than steel would.
Riding Qualities
Aluminum has one-third the strength of steel when built to the same specifications as a steel frame. To compensate for this, manufacturers build aluminum tubes with thicker walls and larger diameters than steel tubes. Alloy frames have the same stiffness regardless of the type of alloy that's used. They are typically stiffer than steel frames, according to the online bike information site Brightspoke, even though aluminum has a lower stiffness, because the frame is built with a greater volume of aluminum. This stiffness, depending on design, may translate to a harsher or rougher ride.
Durability
Alloy frames, regardless of construction style, are more susceptible to riding stresses than steel frames, though they may still last several years. Aluminum parts, such as stems, cranks and handlebars, are commonly used on steel bikes instead of steel parts to reduce weight and prevent rusting. In addition, alloy frames are harder to repair than steel frames, and repair facilities may not be available in remote areas.