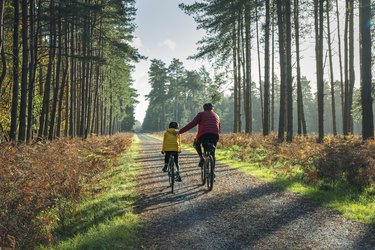 You may have heard of gravel biking in recent years described as the trendy new type of cycling. These types of bikes are a hybrid between a mountain bike and a road bike and work best on a mix of road, packed-gravel and dirt trails. Simply put, they offer the agility of a lighter road bike with the durability of a mountain bike.
In fact, gravel bike sales went up 109 percent from 2019 to 2021, according to the NPD Group, a New York-based market research company. Plus, events like Unbound Gravel, a gravel bike race in Emporia, Kansas, grew from 2,600 participants in 2021 to more than 4,000 in 2022, according to the ‌New York Times‌.
To join in on the fun, we've created a list of the best gravel bikes on the market right now that won't break the bank.
We spoke with Michael Gavagan, who owns the Gav the Mechanic bike service shop in Boulder, Colorado. Gavagan has been a mechanic for more than 20 years, servicing bikes for professional teams across Europe, Asia, South America and Australia.
We chose our top affordable gravel bike picks based on his recommendations and criteria, including:
‌Frame material:‌ A gravel bike may be made of steel, aluminum, titanium or carbon. Look for a frame built with one or more of those materials for a durable and quality bike.
‌Tire clearance:‌ Gravel bikes come with bigger, "knobbier" tires than road bikes, which usually have thin, slick tires on them. Look for a gravel bike that has enough clearance for at least a 38 millimeter tire, which is the bike industry's current go-to for gravel bike tire size.
‌Gearing:‌ The gears on the back wheel of a bike, collectively called a cassette, can give you a sense of the range of the bike's gearing abilities. The bigger the cassette, the more gears you have to choose from on varied terrain. Gavagan advises looking for a gravel bike that has 10-, 11- or 12-speed gearing, which means you have either 10, 11 or 12 gears to shift into. This gives you a wide range of "hard" or "easy" gears to pick from when riding on potentially hilly or technical gravel routes.
1. Most Durable: State Bicycle 4130 All-Road XPLR AXS
"State Bicycle's bikes are unbeatable," Gavagan says. "If I have a friend who doesn't want to spend a ton of money to get into gravel riding, I immediately recommend a State Bicycle because they're pretty 'bombproof' and the company stands behind their products."
The 4130 All-Road XPLR AXS features wireless shifting, which is considered by many to be more accurate, faster and easier to use as a rider than mechanical shifting.
The bike frame is made of steel, which means it's heavier than its carbon-framed counterparts, but that also means the bike is not easily damaged and extremely long-lasting.
2. Best for Beginners: Poseidon Flatbar Redwood
While gravel riding provides an opportunity to avoid cars on the road and explore nature, there can be some hesitation around whizzing downhill with trees and rocks lining the gravel path.
For those who may be used to a fitness bike or hybrid bike, the Poseidon Flatbar Redwood provides an easy and stable introduction to the world of off-road riding. The flat handlebars mean more stability, and for many, more comfort during their rides.
The Flatbar Redwood has an aluminum frame that comes with a lifetime warranty as well. The tires on it are closer to mountain bike tires in terms of the knobs on the tires and the width of the tires, which makes it easy to ride over rocks and roots without losing stability. It is a 10-speed bike, but for less than $1,000, it may be worth it for your budget to sacrifice one extra gear for the thousands you will save.
3. Best for Intermediate Riders: Canyon Grizl CF SL 6
If you've spent some time on a road bike or mountain bike, are familiar with bike-handling skills and basic bike maintenance and are ready to hit the gravel, Gavagan recommends the Canyon Grizl CF SL 6.
"The Canyon Grizl CF SL 6 has a carbon frame for an affordable price," Gavagan says. "This is ideal for riders looking to save on weight in their bike frame."
One of the highlights of the Canyon Grizl CF SL 6 is that it has 50mm of tire clearance, meaning that riders could put on up to a size 50mm tire (which is getting into the realm of mountain bike-sized tires) on this bike with no problem. A bigger tire means you're able to take the bike on bumpier trails with rockier or more technical terrain as you will have more contact with the ground via the tires. For those who want to ride a mix of packed gravel and more rugged terrain, this is ideal.
The Grizl CF SL 6 is also a 10-speed bike, which Gavagan recommends to help riders navigate multiple types of grade across their rides. Plus, the Grizl CF SL 6 has numerous options to mount water bottles, bike-packing bags and more on multiple parts of its frame. If you're looking to extend your ride into a multi-day adventure, the Grizl CF SL 6 is up to the challenge.
4. Best for Overall Comfort: Specialized Diverge Sport Carbon
Just like how cars have a suspension to mitigate feeling every bump in the road, bikes can have a suspension to help dampen vibrations, too. Typically, suspensions can be found on mountain bikes because mountain bikes careen over rough, rocky environments.
The Specialized Diverge Sport Carbon retains everything cyclists love about gravel bikes — their agility and and ruggedness — and adds a front suspension for comfort across your miles.
The Diverge Sport Carbon is, as the name suggests, made of carbon, which means it's also on the lighter end weight-wise. If you plan on doing significant amounts of climbing on hilly routes, a lighter frame may be helpful.
Specialized also offers a generous return policy. Unridden and unused bikes may be returned at any time for a full refund. Used bikes must be returned within 30 days of delivery. For a pricier (yet still affordable) gravel bike, this policy should give riders peace of mind when ordering, knowing they have options if the bike ends up not being what they imagined.
5. Best for People in Larger Bodies: Cannondale Topstone 2
The Cannondale Topstone 2 is the perfect bike for people in larger bodies. The Topstone 2 has a max weight limit of 305 pounds, whereas other gravel bikes top out at around 250 pounds.
The Topstone 2's frame is made of an aluminum alloy, but it has a carbon fork, which offsets some of the weight of the bike. It also features disc brakes, which come standard on most gravel bikes and are ideal for accurate stopping and quick stop times.
In addition, the Topstone 2 has clearance for up to 47mm tires, meaning you can put mountain bike-like tires on this bike for backcountry adventures with no problem. The Topstone 2 takes more notes from the mountain bike world by being able to accommodate a dropper post, which is a special type of seat post that can change height quickly with the press of a button to help the rider navigate all sorts of trails and bumps along the way.
Tips for Buying a Gravel Bike
1. Test Your Bike Before You Buy It
Gavagan's top recommendation is to test the gravel bike before you buy it, when possible. "If you have the opportunity to test ride a gravel bike, even around the block, do it," Gavagan says. "Sometimes bikes are like clothes — they look good but just don't fit you quite right. Fit is important to know before investing in a bike."
2. Know the Type of Riding You Plan to Do
Will you be exclusively riding on packed dirt trails or do you plan on mixing it up with some paved road or even an off-the-beaten-path bike-packing trip? Having a sense of the types of riding you want to do with this bike can help to narrow your choices.
3. Learn Your Bike Measurements
Just like Gavagan's comment about clothes, bikes come in many sizes and measurements, and it is critical you purchase a bike that fits your unique body. There are many resources online to help you measure at home, or you can stop by your local bike shop and a trained bike mechanic can assist.