Exercise bikes let you pedal your way to a fitter you faster than you can say, "Look Ma, no hands!" And indoor cycling isn't only a calorie-burning cardio workout; you'll also get some mega muscle-boosting perks.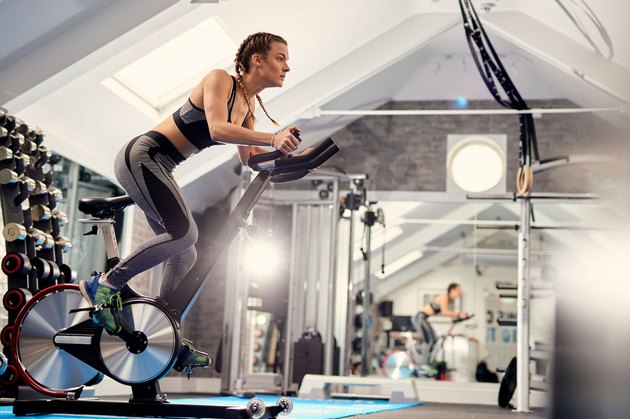 "From quads and hamstrings to calves and glutes, cycling is a great way to target the muscles in the lower body," says exercise physiologist and certified strength and conditioning specialist Tom Holland, author of Beat the Gym. "It's also a lower-impact option than something like running, making it suitable for people of all ages and fitness levels."
To reap these benefits, though, you have to actually get on that bike. And that's where purchasing an at-home option comes in. "For new parents, folks who work long hours, people who don't thrive in a gym environment and people who don't have access to a boutique cycling studio or whose local spot doesn't have a convenient schedule, owning your own bike is a really practical way to cycle consistently and comfortably," says Alex Lyons, stadium cycling and precision training instructor with Flywheel Sports. It's also a great way to hush any excuses for not getting in a quick sweat, because, well, the bike is right there!
Of course, having your own indoor cycling bike requires buying one. And admittedly, that's a big purchase — both in terms of space and cost. If you're feeling overwhelmed by the options, check out this guide to purchasing the best exercise bike for your budget, below.
Shopping for a Stationary Exercise Bike
Indoor cycling bikes typically fall into one of two categories: bikes that give you the option to stream pre-recorded or live cycling classes, and bikes that do not. "If you can self-motivate, you probably don't need a bike with a screen," says Karen Maxwell, senior master instructor for cycling studio franchise CycleBar. "But if you enjoy taking classes or need to be pushed and motivated by an instructor, an on-demand bike is ideal."
Typically, the fewer bells and whistles, the less expensive an exercise bike will be; bikes with high-tech streaming features can be three to four (or more) times as expensive as more traditional options, she says. If you're on a budget, you'll also want to keep in mind that many of the options with screens also charge a monthly subscription fee.
Best Under $500
Sunny Health and Fitness Belt Drive Indoor Cycling Bike
This classic stationary exercise bike is a great option for weekend warriors who enjoy a self-motivated ride without an instructor at the front of the room.
The bike may not offer tons of special features, but it delivers exactly what you need to feel like you're riding outdoors: an easy-to-adjust resistance knob, a water-bottle holder, a 40-pound chrome flywheel and an adjustable seat and handlebars. That last point is especially noteworthy: Both the handlebars and seat move up, down, forward and back — so while the bike is relatively inexpensive, it'll fit you more like a luxury pick would.
Another major perk? This bike offers a completely silent ride; the only sounds you'll hear are your own huffs and puffs, meaning you can sneak in a quick ride without interrupting a sleeping kid or working partner nearby.
Schwinn IC3 Indoor Cycling Bike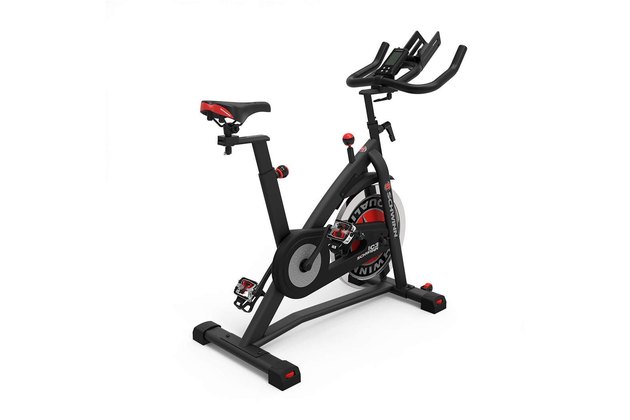 The Schwinn IC3 Indoor Cycling Bike offers infinite levels of resistance, a console equipped with all your standard metrics (time, distance, calories, RPMs) and even the option to track your heart rate wirelessly. "This bike is pretty similar to what you'll find in a group cycling studio, and it's also very reasonably priced — two reasons I think it's a great add-on to a home gym," says Holland.
Unlike the Sunny, the Schwinn handlebars don't adjust, but the seat can be moved horizontally and vertically. And that seat? It's ventilated for less sweat and race-style, so you can train your tush for longer rides. Plus, the IC3's dual pedals mean you can either clip in while wearing your cycling shoes, or throw on your sneaks and fit your foot into the toe cages.
Best Under $1,000
Bladez Fitness Master GS Indoor Cycle Trainer
Love the fluid ride you get on the bike at your local cycling studio? Try the Bladez, which not only has the coolest name of any bike on this list, but also offers one of the smoothest (and quietest!) rides. That's because the 44-pound flywheel makes you feel like you're riding on a well-paved, pebble-free road.
You can adjust the seat horizontally and vertically to vary your distance from the display and handlebars. And while the display itself is pretty basic, you can definitely use the pace, distance, resistance and calories-burned metrics to push yourself to work harder. (Of course, you can always cover up that info with a towel for a numbers-free ride.)
The biggest draw of this bike is its quality. For a middle-grade price, the Bladez frame is amazingly sturdy and long-lasting. Even when you pedal out of the saddle, you'll feel secure and supported — a major win for folks who get sore in the seat.
Echelon Smart Connect Bike Ex1
The Echelon grants you access to professional, live-streamed classes through a downloadable app at a more budget-friendly price than bikes from more recognized brands like Flywheel or Peloton. To ride, you'll open the app on your phone or tablet, pick one of hundreds of classes of various lengths and intensities, prop the device up in Echelon's adjustable device holder and get coasting.
The app — which costs $39.99 a month — also gives you access to a range of non-cycling workouts including yoga, Pilates, strength training, kickboxing, Zumba and more. "Both the cycling and non-cycling classes give you the feel that you're working out with your own personal trainer," says Nancy McCaffrey, a cycling instructor and Echelon's director of content. "The trainer will guide you through the workout, offering motivation and even calling out your name." There's also a robust online community of more than 10,000 riders, so you get the support of a gym buddy without the noises (or, ahem, smells) of a crowded studio.
Another selling feature? The frame is smaller than other options, making it a great solution for apartment living.
Best Over $1,000
NordicTrack S22i Studio Cycle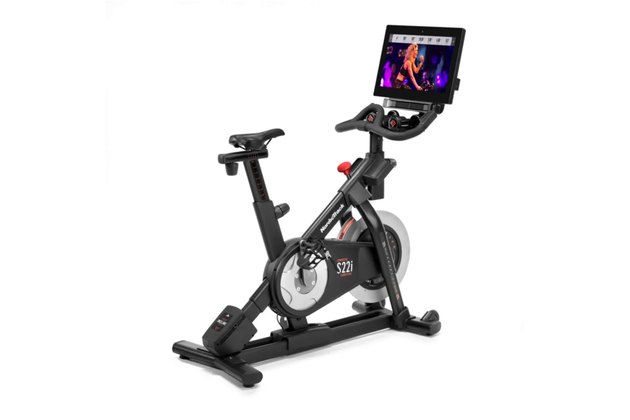 Imagine this: You're cycling at home, following along with the instructor on your exercise bike's built-in screen, when suddenly your incline and resistance increase, seemingly on their own. Wild, right?
With NordicTrack's S22i Studio Cycle, the elite-level instructor on your screen can literally adjust your personal workout — digitally, of course. Whenever you want, you can stream an on-demand cycling class onto your 22-inch interactive screen and start sweating while the coach holds you accountable.
Mecayla Froerer, a certified personal trainer with iFit, is a huge fan of the fact that the S22i can be adjusted for incline, a feature most indoor cycling bikes don't offer. "Varying your incline and decline strengthens your leg muscles in a different way and better conditions you for outdoor cycling," she says.
Membership to the streaming service is included for a year after you buy the bike, and then you'll pay $39 per month. That subscription also includes non-cycling offerings like yoga and full-body bootcamps that you can follow comfortably by rotating the bike's screen to face away from the seat.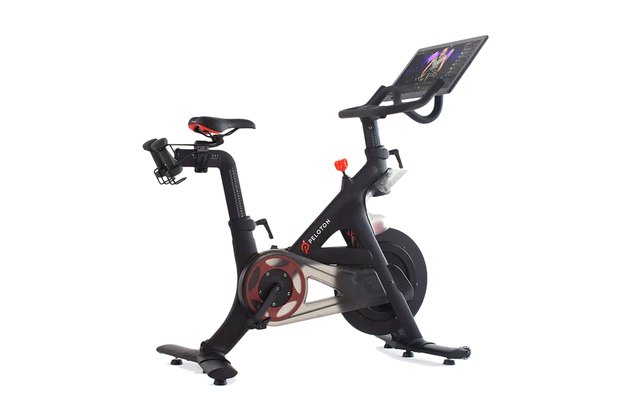 One of the original players in the at-home indoor cycling game, the Peloton bike was literally created to offer riders 24/7 access to high-intensity classes. Here's how it works: You turn on the luxury device, select one of the 10,000+ workouts led by the motivational instructors Peloton is known for, clip in and then get riding. If data is your jam, you can even keep tabs on your performance with real-time metrics.
If you're someone who enjoys the feel and camaraderie of an in-person workout but can't consistently make it to a studio, you can even stream one of the 20 live studio classes offered each day. Peloton instructor Christine D'Ercole says this option makes the ride "a socially connected experience, because there's an instructor and a community of people riding with you, cheering you on every step of the way. It gives you the feeling that when you ride it, you're not alone."
The $39 monthly subscription to the Peloton App also lets you stream yoga, strength training and even outdoor workouts from anywhere. Because let's face it, there's probably only so many times a week your rear can handle seated exercise anyway!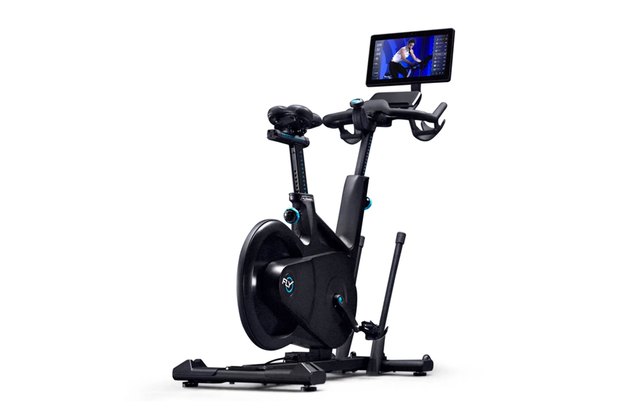 If you've ever taken a signature Flywheel studio cycling class, you know 45 minutes of intervals will leave your buns and quads burning, your leggings sweat-soaked and your mind high on feel-good endorphins. But if you don't live in or near one of the 19 cities where Flywheel is currently located, it's still possible to get in on the challenging, metric-based ride with this bike, which allows you to stream thousands of expert-led classes right from your living room.
If you like a little healthy competition, you'll love having access to the motivating features that are staples of every Flywheel class, including your Power Score (a measure of your energy output based on your speed and resistance), the class leaderboard and Race Mode, a timed sprint to test your limits, Lyons explains.
The monthly subscription (which costs the same as Peloton's) also includes off-bike cross-training and recovery classes. You'll find a variety of lengths, including 20, 30, 44 and 60 minutes, so you can get in a quickie if that's all your schedule allows.