If you think of rows of grunting men in camo performing endless pushups when you think of boot camp, you're a little behind the times. While early boot camps were often grueling tests of physical and mental fortitude used to reform prisoners and train soldiers, most boot camps these days are similar to any other mainstream high-intensity fitness workout.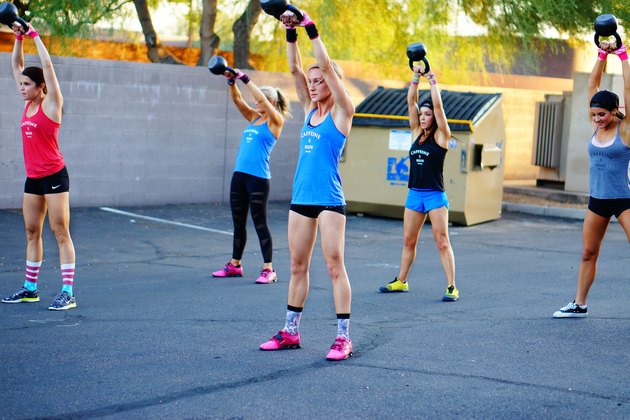 Combining cardio and strength exercises in one total-body workout, boot camps are often taught in gyms, parks and even pools. You can take an indoor or outdoor boot camp, find a boot camp that supports a cause you care about, or take boot camp classes in your living room. There are also some more extreme options for those who want to take it to the next level.
Read on to find out more about your options, then decide which one you'd like to try. Ultimately, the best boot camp for you is one that gets you excited about exercising so you keep coming back class after class.
Indoor Boot Camp
Indoor boot camps are typically offered in gyms and standalone studios that specialize in this fitness concept. The benefit of indoor boot camps is that they usually come with all the bells and whistles — lockers, showers, towels, and lots of different types of equipment. Atlanta-based True Fitness Boot Camp's classes utilize TRX suspension systems, battle ropes, plyo boxes, medicine balls, power wheels, gliders, agility ladders, bands and stability balls.
Fitness boot camp pioneer Barry's Boot Camp uses treadmills along with strength training equipment for that extra calorie burn from running intervals. Indoor boot camps are a good choice for you if you like a lot of variety and having a roof over your head.
Outdoor Boot Camp
More outdoorsy types may enjoy boot camps held outside the four walls of the gym. These classes don't provide as much equipment — sometimes no equipment at all. You'll do a lot of good old calisthenic exercises, and take in the sights on some short cross-country runs (jogs or run-walks are OK too).
These classes may not be held year-round depending on the climate you live in. When they are in season, you can expect variable weather conditions — rainy in spring, hot and humid in summer. If you like the variety of changing weather and terrain, and you want to feel like a kid on the playground again, an outdoor boot camp is a good choice.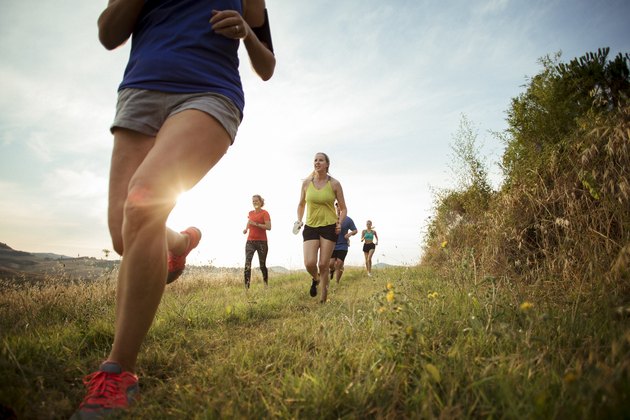 Aqua Boot Camp
The tougher step-brother of water aerobics, water-based boot camps are harder to find, but if you live in a major city you just might have this option. Working out in water provides added resistance but less impact than working out on land. If you have joint problems or you're rehabbing an injury, but you still want to get a challenging workout, you should check out this boot camp varietal.
Midwest gym chain Genesis Health Club's aqua boot camp is a tough one-hour intermediate to advanced water workout. As such, this particular class might not be a good choice for beginners, but other aqua boot camps may welcome newbies. Or, you can build up a base of fitness on land, then make your way into the water.
Online Boot Camp
You basically don't have to leave your house anymore, for anything, including boot camp. Studio Sweat on Demand offers 20 (as of publication) bootcamp workouts from "Butt-Kicking Bootcamp" to "Unicorn Unilateral Ucandoit Bootcamp!." Whatever that last one is, it's worth checking out just for fun. While you don't need an actual unicorn, you will need some equipment including dumbbells and an exercise mat. If you don't have equipment, don't sweat it. You can try this 30-minute no-equipment-needed boot camp workout with celebrity trainer Adam Rosante.
Military Boot Camp
You don't have to enlist in the army to train like a soldier. Military-style bootcamps for civilians provide training that is just as tough as the kind you might receive before going off to war. (It's not free like actual military training, but you don't have to go to war afterwards, which is a bonus.)
Northern Firearms Training Academy in Vanderbilt, MI, claims to be "The best, most realistic military training you can get without enlisting." Its level 1 program includes a 24-hour endurance course called "Hell Night," based on the Navy SEAL "hell week" training, as well as rappelling/climbing and fastrope, a survival course, defensive hand-to-hand combat and first aid training. Courses are taught by veteran military and advanced law enforcement combat training instructors.
Prison-style Boot Camp
Created by ex-con Coss Marte, ConBody is modeled after the workout Marte did while in prison, which he executed in a 9-by-6-foot prison cell using no equipment. Conducted in a slightly larger space (but not by much), classes include a mix of cardio and bodyweight strength training exercises that promise to toughen you up.
The prison-style decor and the sound of an iron gate slamming shut played at the beginning of each class add to the tough guy (or girl) vibe. Classes are taught by ex-cons, and you can even get a mug shot photo after class. Marte's goal is to not only get you in fighting shape with his trend-setting concept, but also to raise awareness of the difficulties ex-cons experience trying to get back on their feet after incarceration.
Work Out Like Your Dog
When we say there's a boot camp for everyone, we mean it. An outdoor boot camp put on by Blue Cross for Pets has participants perform exercises normally reserved for dogs. The 45-minute cardio and strength workout includes human versions of your dog's favorite activities, such as rollover, fetch, frisbee and tug-o-war. While the concept is a bit silly, the cause is not — Blue Cross for Pets hopes to raise awareness about the importance of exercise for a dog's health and happiness.
Bootcamp for a Cause
Workout not only your body but also your altruistic nature at boot camps that give back to charity and promote good causes. Many of these are like any other boot camp — a good way to work up a sweat and meet your fitness goals, as well as meet new people who are also interested in giving back.
Boot Camp With a Cause in Largo, FL, raises money for local charities serving families, kids and the needy with ongoing bootcamp workouts that are free to those who donate money, supplies or clothing. Other organizations offer repeating or single event boot camps to support causes such as lyme disease or mental health awareness.