Ready to learn why? Keep reading to learn everything you need to know before trying out Barry's Bootcamp for yourself — from what class is like, to what to wear, to how much it costs.
What Is Barry's Bootcamp?
Started in 1998 in West Hollywood by Barry Jay and partners John and Rachel Mumford, Barry's Bootcamp is a chain of workout studios that offer high-intensity interval classes that combine treadmill work and strength training led by motivational instructors.
Each class has the energy and vibe of a nightclub, complete with dance-worthy pop hits and sexy red lighting. "Every Barry's class around the globe is held in a dimly lit red room that allows participants to lose themselves in the thump of the playlist and concentrate only on the workout," says Jordan Gluck, Barry's Bootcamp instructor and manager of the curriculum for West Coast locations.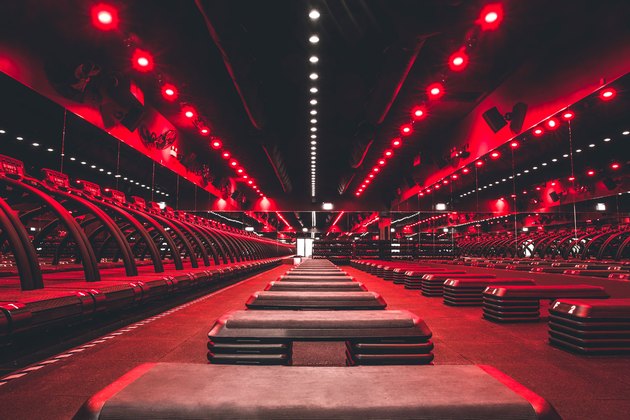 What to Expect From Your First Barry's Bootcamp Class
Most classes are 60 minutes long and host between 45 to 60 people, depending on the location. Because the class gets divided up into two groups — half start on the treadmills, while the other half begin at a weightlifting station — the density of exercisers feels motivating rather than packed.
That hour of class is used as efficiently as the space itself, with treadmills and strength stations organized into neat rows. The second the doors to the room close, the workout begins. While the first few minutes of class will be at slightly lower intensity to prep your body for the work to come, there's no designated warm-up, so you may want to do some dynamic stretching on your own before class.
Both groups will spend the same amount of time on each station, but exactly how much time spent on the floor versus the treadmill varies. You may swap stations every three, 10 or 15 minutes, depending on the workout.
Don't worry, though: Your coach will guide you through each section of class, letting you know when to dial up or back off the intensity, and when to move from strength station to treadmill and back again. So leave the earbuds at home; you're going to want to make sure you can hear them. And while you may be sharing stations with another participant, this isn't a partner workout.
The strength circuits vary based on the specific muscle group you're working that day, which is pre-determined by a rotating schedule. For instance, Mondays might be abs and arms, Tuesdays full-body and Wednesdays chest, back and abs. "Each day focuses on a different muscle group, which ensures the body gets a balanced workout and proper time to recover," Gluck says.
You can expect to rotate through a mix of dumbbell, resistance-band and body-weight exercises, including burpees, lunges, shoulder presses, dumbbell snatches, planks, squats and triceps extensions.
For the treadmill portion, your instructor will guide you through a mix of paces and inclines from sprints to recovery jogs to endurance pushes. While exactly how far you run is up to you, most participants log somewhere between 2.5 and 3.5 total miles over the course of a class.
While Barry's uses Woodway treadmills, which are designed to be lower-impact than traditional treadmills, there's good news for folks who can't or simply don't like to run: "There's a Double Floor option that you can specify when you sign up for class which will give you double the strength training and none of the treadmill," says Gluck.
Finally, the last three to five minutes of each class include a cooldown where you'll do stretches like downward dog and standing forward fold to help bring your heart rate back down.
How Many Calories Does Barry's Bootcamp Burn?
Barry's boasts that people can burn up to 1,000 calories per class. And according to Steve Washuta, corrective exercise and weight specialist, it's not just talk. "Your body expends a lot of energy anytime the body goes from a very high heart rate to a less high heart rate."
Thanks to a physiological effect known as excess post-exercise oxygen consumption (EPOC), you'll burn calories even after you finish class, Gluck says. Ultimately, though, exactly how many calories you burn during class comes down to a variety of factors like sex, age, weight, fitness level, genetics and how much effort you put in.
Who Is Barry's Best For?
If Barry's sounds intense, that's because it is. But the intensity is relative to your fitness level. "Your instructor will motivate you to be the best you can be and will guide you through the class, but it's up to you to pick the pace and weights that feel right for your body on that particular day," says Gluck.
Still, if you leave class sweat-free and your heart rate didn't sky-rocket, you didn't go hard enough. It's supposed to be intense; after all, Barry's is definitely not a Hatha yoga or barre class.
Don't let that scare you away, though. According to Washuta, Barry's is a great class for anyone who's looking to improve their overall fitness level and build strength. "Because it mixes high-intensity training with strength and cardio, it's great for your average young professional who only has time to exercise three or four times a week."
If that sounds like a big commitment, note that while Barry's recommends three to four classes a week to see results, Gluck says, "How often you go needs to depend on your current fitness level and how your body feels. If your muscles are super, super sore, you want to give them time to repair."
It's also a great option for folks who want to lose weight or who are just starting to get back into fitness. "Barry's has motivational instructors and a camaraderie component that make it appealing and keep folks coming back," says Washuta.
"We welcome anyone who wants to work out hard somewhere with a motivating community," Gluck says. "As we say, people come for the workout but return for the community."
So who isn't it for? "It isn't ideal for bodybuilders, powerlifters or Olympic weightlifters who need to put on strength, or anyone who has specific muscle-building strength goals," Washuta says.
It's also not a great option for folks with injuries, says Washuta. "Even though Barry's uses lower-impact treadmills, there are some people with lower-body injuries that still can't run."
Because classes are so big and there's only one instructor on the floor, you also won't be able to get much advice on modifications. While the instructors are available before class to offer suggestions, "during class, the instructors are there more for motivation than for form help," says Washuta.
What to Bring and Wear to Barry's
When it comes to wardrobe, show up in whatever workout clothes and sneakers you'll be the most comfortable to run, burpee, shoulder press, squat and plank in. Likely, that means something moisture-wicking, fitted, lightweight and not see-through.
Keep in mind that there's quite a bit of running, so women will want to wear a sports bra made for high-impact workouts. As for sneakers, invest in some solid cross-training or running shoes. And don't forget your water bottle — staying hydrated will keep you feeling and performing your best.
But you won't need much else. "Every Barry's has towels and fully stocked locker rooms with amenities," Gluck says. Each studio also has a Fuel Bar where you can buy a post-workout recovery smoothies.
Tips for Getting the Most Out of Barry's Bootcamp Workouts
In order to maximize your Barry's Bootcamp experience, Gluck and Washuta have a few tips. If it's your first class, Gluck suggests arriving 15 minutes early to get acquainted with your instructor, who'll explain the format of class and show you where the equipment is.
He also suggests getting there early if you have any injuries or physical limitations so you can figure out any modifications beforehand. And even if you're neither new nor injured, you need to get there at least five minutes ahead of time. Otherwise, the studio can give your spot to someone on the waitlist.
While you'll no doubt want to give it your all, it's important not to overdo it. "Walking into a club-like room with loud music and red lights is going to boost your adrenaline," Washuta says. "But you don't want to go out so hot the first third of the class that you don't have enough energy to properly execute form in the rest of class."
Similarly, if you're just getting back into working out, Washuta says, "Don't go zero to 60." It's harder to stay consistent with your weekly workouts if you're sore or injured, he says. During class, your instructor will give suggestions for speed and weight, but don't feel the need to go as fast or as heavy as you can.
Finally, try to go to at least two classes before deciding whether or not Barry's is a good fit for you. Because half the class is doing one thing while the other half is doing another, the instructor makes a ton of verbal cues. If you feel a little lost the first time, that's totally normal. After that, you should hopefully get the hang of it, and the exercises will begin to look and feel familiar.
Find a Barry's Bootcamp Near You
Over the last 20 years, this OG group fitness studio has expanded within the United States and globally to 11 other countries, including Australia, France, Qatar, Singapore and Sweden. There are about 60 studios total worldwide, and if you live in a major city, chances are there's a location near you. (If you live in a smaller city, you may need to save Barry's for your next vacation workout.)
Though the exact price of each class varies by location, generally, a single drop-in class costs about $30. As for memberships, you can become either a Star member (12 classes a month), Icon member (16 classes a month) or a Legend member (30 classes a month). You can also purchase packages of five (about $150), 10 (about $300), 25 (about $700) or 50 classes (about $1,300), which expire after a year.
Head to the Barry's Bootcamp website to find the location closest to you and book your spot — because classes fill up fast and you know you're going to want to join in on the fun.