Few pieces of gear are more essential for a female athlete than a sports bra. Whether your go-to activity is running, boxing or Pilates, you need a bra that will stick with you. Here's our guide to picking the right sports bra for your workout — plus a couple of great options for every activity.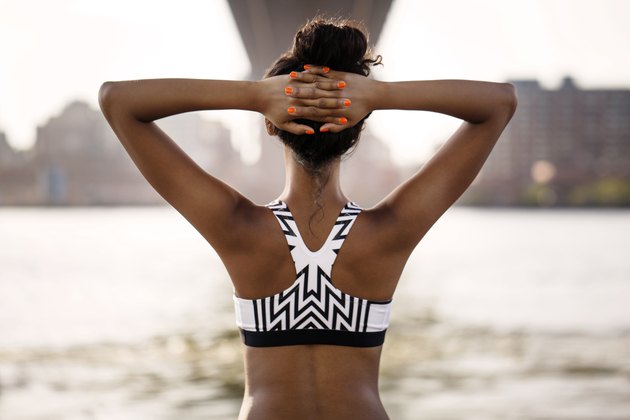 Sports Bras for High-Impact Workouts
For high-impact activities, you need a sports bra with a few key features: maximum support, moisture-wicking technology and no-slip straps.
Best Sports Bras for Running
When shopping for a running bra, look for one that will keep bouncing to a minimum. Depending on your size and personal preferences, you can get your support via underwire, molded cups and/or targeted compression (common for smaller cup sizes).
Salomon Women's Medium High-Impact Bra: Ideal for women with smaller cup sizes who need support, but also comfort and breathability. You'll get compression without restriction.
Shefit Ultimate Flex Sports Bra: Featuring molded, seam-free cups and thick straps, this option offers comfort and high-impact control. A zip-front closure makes it a snap to put on and take off.
Best Sports Bras for HIIT
As with running bras, your HIIT sports bras should keep your ladies under control — especially when your workouts call for high-impact moves like jumping jacks, jump squats and sprints.
Enell Women's High-Impact Sports Bra: Made for women with larger breasts, the Enell sports bra features wide straps and a fullback, cross-strap design. It's made with a nylon and lycra blend that wicks moisture during intense exercise.
Champion The Show-Off Sports Bra: This sports bra offers coverage, as well as smooth, molded cups and moisture-wicking performance mesh to see you through the toughest HIIT sessions.
Best Sports Bras for Dancing Workouts
You need a sports bra that will keep up with your every move — without weighing you down. Seek a bra that offers motion control, breathability and coverage.
Brooks Women's Juno Cross Back Adjustable High-Impact Sports Bra: Featuring a perforated, uni-cup design, this bra offers support, shape and coverage all in one. Plus, the straps are adjustable from the front, so you can easily customize the fit mid-workout.
Berlei Women's Sf3 High-Impact Underwire: This fits like a regular bra, but it's made with sweat-wicking material and offers maximum support for high-impact exercise, like dancing.
Best Sports Bras for Boxing
The last thing you want to think about while sparring is spillage. Find a bra that will keep you covered — and with straps that won't slip when you jab.
Zensah Seamless Running Sports Bra: Though advertised as a running sports bra, this option is perfect for high-intensity boxing workouts. Its moisture-wicking, anti-odor material will keep you dry and fresh through every round, while its seamless design will ensure zero chafing. Plus, it comes in a variety of colors, from basic black to neon green.
Under Armour Eclipse High-Impact Zip Sports Bra: With a next-to-skin fit and super-soft feel, this bra will keep you comfy and supported throughout your workout. A zip-front design makes it a cinch to remove once you're done.
Sports Bras for Low- and Medium-Impact Workouts
Though you probably won't need as much support for your low- and medium-impact workouts as you do for high-impact activities like running and boxing, you'll likely want some support and coverage. Not to mention, straps that stay put.
Best Sports Bras for Strength Training
Seek bras that wick sweat and keep you covered during squats, deadlifts and everything in between.
Champion Women's The Camo Strappy Bra: This budget-friendly sports bra offers lightweight comfort, along with moisture-wicking technology to keep you dry. It also includes removable soft cups for added shape and coverage.
Under Armour Women's Armour Mid Sports Bra: Super-soft with a next-to-skin feel, this Under Armour bra also features four-way stretch material that wicks sweat. Plus, it comes in a variety of fun colors, from lime to magenta.
Best Sports Bras for Cycling
When it comes to sports bras for your cycling workouts (whether indoor or outdoor), look for sports bras that are highly breathable and moisture-wicking. If possible, opt for cross-back straps, as these will offer easier movement in the arms and shoulders while riding.
Castelli Rosso Corsa Light Bra: This bra was made with cyclists in mind. It has thick, cross-back straps, as well as stretchy, supportive fabric to keep you dry and comfortable for the duration of your ride.
CW-X Women's High-Impact Racerback Xtra Support III Sports Bra: Featuring four-way stretch fabric, compression support and quick-dry technology, the CW-X bra will give you lasting comfort and control.
Best Sports Bras for TRX Workouts
Brooks Fast Forward Crossback Sports Bra: Get support through compression, plus a moderate neckline for coverage. A mesh upper offers a stylish touch.
Outdoor Voices Zip Bra: Style meets function with this zip-front bra. Honeycomb mesh in the back offers high breathability, while molded cups provide support without restriction.
Best Sports Bras for Pilates
No need to look for any fancy materials or features while shopping for your Pilates bra. Feel free to prioritize fashion over function here.
Athleta Renewal Bra: This bra is both stylish and comfortable. With a lower cut neckline and wireless support, this option is best for smaller cup sizes.
CRZ Yoga Women's Light Support Cross Back Sports Bra: Though advertised as a yoga bra, this option is great Pilates as well. It has light support, removable cups and stylish criss-cross straps.
Best Sports Bras for Yoga
Look for bras that offer coverage. The last thing you want when transitioning from Downward Dog to Upward Dog is to worry about popping out of your gear. If your yoga class of choice is intense (think: Bikram or Vinyasa), make sure your bra has moisture-wicking technology.
New Balance Women's The Shockingly Unshocking Sports Bra: With interior molded cups and a double knit spacer, this New Balance bra offers both coverage and support. Breathable mesh panels keep you cool all through your class.
GapFit Breathe Low Support Strappy Sports Bra: Featuring breathable, moisture-wicking performance fabric and a supportive microfiber band, this Gap bra is perfect for your low-impact — yet sweaty — yoga sessions.