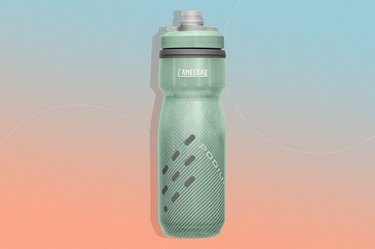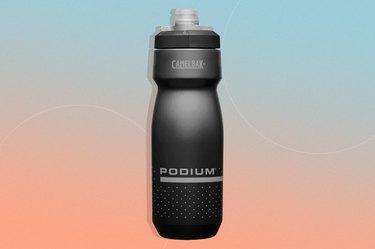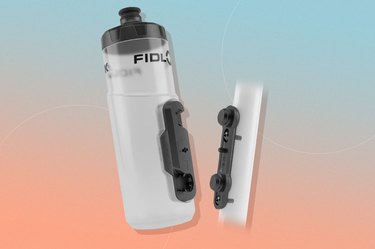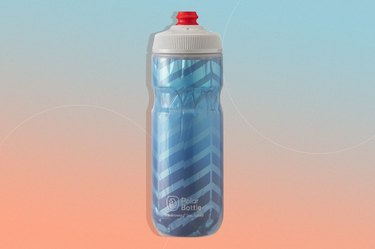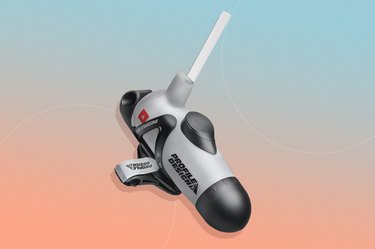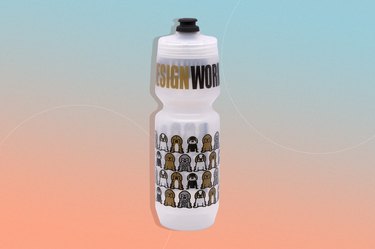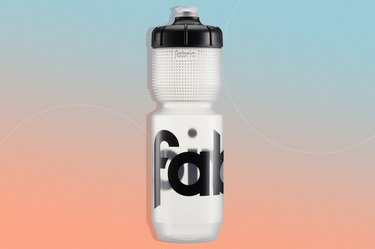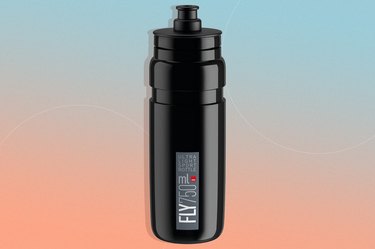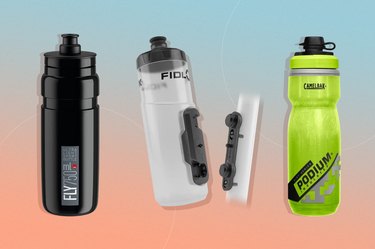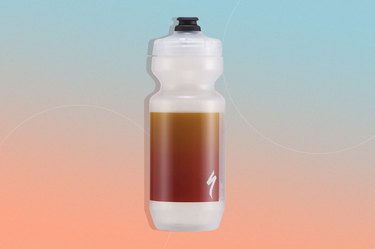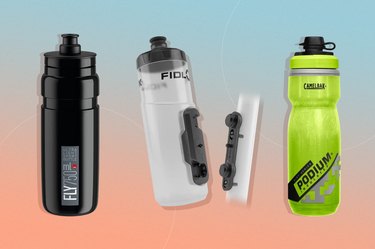 Water is essential for any successful bike ride. But even if you understand the importance of proper hydration, it's not always easy to drink up when you're cycling — and even harder to find a quality water bottle.
Sub-par bike water bottles can be leaky, hard to open and make your water taste.... well, funky. So, to help you leave these issues in the dust, we created the definitive list of the best bike water bottles — plus the shopping tips you need to make the right purchase for you and your ride.
The Best Bike Water Bottles
We talked to competitive cyclists, coaches and industry experts about which bike water bottles they love and what features to look for in the best bottles. Along with our own testing, we made these picks based on criteria including:
Size
Material
Lid type
Insulation
Look
1. Best Overall: Camelbak Podium Chill Bike Bottle
Camelbak's Podium Bike Bottle series is considered the best bike water bottle by many experts. "I've owned dozens of bottles over the years, but I always keep coming back to the Podium Chill," says Ellen Spann, a cycling industry professional at Kozy's Cyclery in Chicago.
She loves this bike's self-sealing nozzle, which prevents leaks, and the fact that it can be easily tossed in a bag without fear of spills. The nozzle can also be completely disassembled for easy cleaning.
Michelle Stratton, CSCS, owner and head coach for sTrive Human Performance, also loves the Podium Chill. "It easily glides in and out of most standard cages and has an insulated later that maintains the temperature of your water, sport drink or pre-made mixture," she says.
2. Best Budget: Camelbak Podium Bike Bottle
It seems like everything having to do with bikes is pricey, and if you don't want your water bottles to be, this is the choice for you.
This is the non-insulated version of Camelbak's Podium Bike Bottle. Spann says this as a good option if you're looking for a cheaper bottle and aren't concerned with keeping beverages cold.
Like other Podium Series bottles, this non-insulated version features a self-sealing nozzle and a squeezable design that makes it easy to gulp down water on the go. It fits in all standard bottle racks, or cages.
3. Best Secure Top: Fidlock TWIST Bottle 600 + Bike Base
Bumpy roads and trails can cause water bottles to bounce out of their cages, says Jen Kates, CPT, performance coach at Shift Human Performance. That's a big concern for urban commuters, gravel cyclists and mountain bikers.
Kates, an avid mountain biker, loves the Fidlock system, because it uses a magnetic snap case to lock your bottle into place and prevent it from going rogue. To use this system, you'll need to purchase both the TWIST bottle and the magnetic base that attaches to your bike frame. This set includes them both.
4. Best Insulated: Polar Bottle Breakaway Insulated Bolt
Insulated bottles keep your water cool and refreshing, which is important when you're breaking a sweat in high temperatures. And when it comes to insulation, Kates is all about Colorado-based company Polar Bottle.
Polar Bottle's Breakaway Bottle combines insulated technology with a self-sealing cap to prevent leaks and spills on your ride. Bonus: The cap on this best insulated bike water bottle disassembles to allow for easy cleaning.
5. Best for Mountain Bikers: Camelbak Podium Dirt Series Chill Bike Bottle
The Camelbak Podium Dirt Series Chill Bike Bottle includes all the standard Podium Series features, as well as a removable nozzle cap to keep dirt and grime out while you ride. Spann recommends this feature for mountain bikers or commuters who often bike on dusty terrain.
Bumpy, rooty and rocky terrain can also pose a risk for unsecure tops or small bottles, but this one has proven time and again to stay put and keep your water or sports drink cool.
6. Best for Taste: Specialized Purist MoFlo
The Specialized Purist MoFlo combines a few features our experts love in a bike bottle: It uses a nozzle that's leak-proof and easy to open, reducing the effort it takes to drink while riding. And the bottle is shaped so that it's easy to grab from its cage.
Additionally, this BPA-free bottle uses Purist technology to keep the inside of your bottle clean and free of mold, odor and plastic taste. This is a great feature for riders who are particular about the taste of their water.
7. Best for Racing: Profile Design Aero HC System
Most bike water bottles are designed to fit in a standard cage that's mounted on your bike frame. However, if you're a competitive triathlete or road racer riding with attached aero bars (which help riders say low and reduce drag), most bottles won't work for you.
Instead, look for an aero-mounted bottle. Stratton recommends the Profile Design Aero HC System, because "it allows riders to stay low in aero position while simply sipping through a straw that can be set to an adjustable height."
The Profile Design Aero HC System comes with a both a cage and bottle. This pairing is more affordable than other aero mounts, without sacrificing quality.
8. Best for Charity: Portland Design Works Very Good Dog Purist Bottle
Looking for a unique hydration bottle that helps you stand out on the road or trails? Spann loves the cute dog design from Portland Design Works. PDW makes high-quality bottles that support a good cause. The company donates a percentage of sales to local animal shelters and community organizations.
This BPA-free water bottle features Purist technology, which coats the inside of the bottle to prevent odor, mold and unpleasant plastic taste. A high-flow nozzle combined with an easy-to-grip bottle shape means you can easily gulp down water without interrupting your ride.
9. Best Grip: Charge Bikes Fabric Gripper Water Bottle
If you regularly ride in inclement weather (or tend to get sweaty hands), you may want a bottle that's especially easy to grip. This highly textured Fabric Gripper Bottle won't slip out of your hands no matter how wet it gets.
The textured exterior doesn't prevent the bottle from being easily squeezable, either, and it's BPA-free. It's both easier to hold on to and easier to pull out of the cage.
10. Best Lightweight: Elite Fly
"Saving ounces where you can is definitely an advantage at an elite level," Stratton says. "Anything can help over the course of longer distance races, even if it's a small difference."
The Elite Fly is one of the lightest bike water bottles on the market (the brand says it's 30 percent lighter than your standard bottle). The bottle is designed to make it easy to quickly extract from a cage and hold onto while riding at high speeds. It also uses special odor-resistant plastic and can be disassembled for easy cleaning.
4 Things to Consider When Shopping for Bike Water Bottles
1. Bottle Size and Weight
Bike water bottles come in different sizes, ranging from 16 to 32 ounces (that's 473 to 926 milliliters). And the longer or harder your rides, the more water you'll need. Most bottles of all sizes easily fit in standard bike water bottle holders, or cages.
Casual riders don't need to worry about the weight of this bike accessory, but if you compete at a higher level, you may want to use a product that's as light as possible.
Nozzle style affects how easy it is to suck water out of the bottle while you're on the go. Ideally, you want a nozzle that's easy to open with your teeth. Some nozzles contain sealing technologies like locks or flow valves to prevent leaks and spills during your ride.
If you're biking on trails or gravel roads, you may want a bottle with a nozzle cap to keep dust and dirt out of your bottle. Nozzles and caps that can be fully disassembled are easier to clean.
You want to be able to easily retrieve your bottle from the cage while riding. Some are designed with special grips so they won't slip out of your hands.
‌Plastic:‌ When shopping for plastic bike water bottles, make sure they're BPA-free. Also, some plastic picks are designed to protect against bad taste, odor and mold.
‌Stainless Steel:‌ If you go this route, make sure the bottle fits in your cage. These types aren't easy to open while you're on the bike, so plan extra hydration stops into your ride.
‌Insulated:‌ You can find insulated bottles made from both plastic and stainless steel.