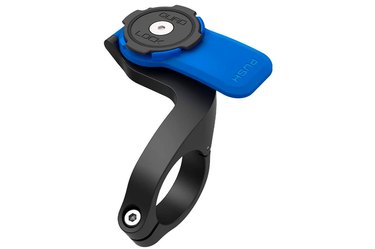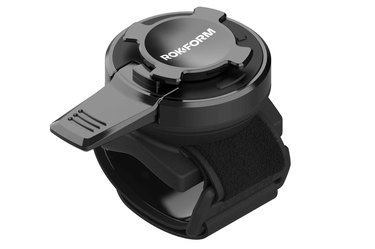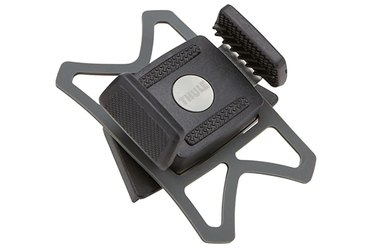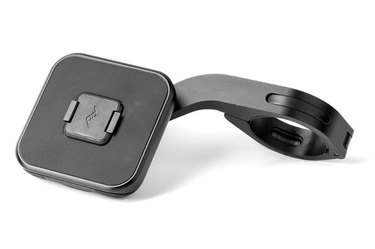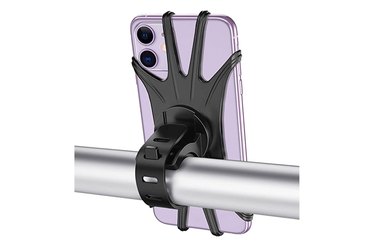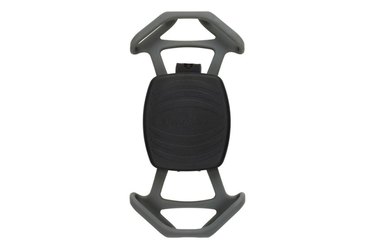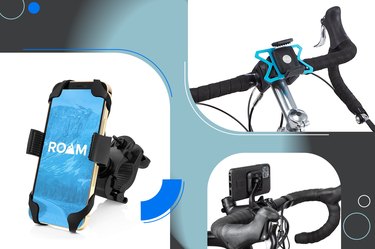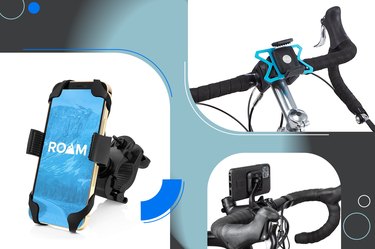 If you're a cyclist with a smart phone, you need a bike phone mount. It's just that simple.
"Having a phone in the line of sight [on a bike] helps riders keep their eyes on the road or trail ahead, which eliminates the risk of taking hands off the handlebars to reach for a mobile phone in a pocket or look away at a smartwatch," Peter Ballin, a professional mountain bike mechanic and former international mountain biking racer, tells LIVESTRONG.com.
Bottom line: Having a bike phone mount can increase your safety if you're using your phone to navigate, track stats or check another app frequently throughout your bike ride. Latch your phone securely to your bike — and keep your eyes peeled on the path in front of you — with our picks for the best bike phone mounts of 2024.
Warning
Just because your phone is accessible during your ride doesn't mean you should be looking down at it the whole time. Always keep your eyes on the road — trail, path, etc. — when you're biking, and only look at your phone when it's safe to do so.
We asked two cycling experts what to look when shopping for the best phone holder for your bike. They also shared some of their favorites. We chose the below products based on criteria including:
Ease of mount and unmount
Sturdiness
Reliability
Smartphone compatibility
1. Quad Lock Out Front Bike Mount
‌Mount Type: ‌Screw-on
‌Fits Handlebar Sizes:‌ 35mm, 31.8mm, 25.4mm, 22mm
For Ballin, the Quad Lock Out Front Bike Mount is a top choice for both road and mountain biking for a few reasons.
"This mounting system secures your phone well, and is effortless to take on and off your bike," he explains. "At $40, it's not the cheapest option on the market, but it's reliable, lightweight and fits the most common handlebar sizes."
Another feature that makes it ideal for all types of riding: The mount has a "twist and lock" feature, so removing your phone is seamless. Our tester also reports that using their phone on rides is easy and safe.
The downside: You'll need to buy a case from Quad Lock or an adaptor to get your current case to lock into this mount. It's more than worth it, though, if you'll be using it a lot.
2. Rokform Sports Series Bike Phone Mount
‌Mount Type:‌ Velcro strap
‌Fits Handlebar Sizes:‌ Most sizes
"The Rokform Sport Series Bike Phone Mount is really compact and keeps your phone close to the bars and stem, so it doesn't protrude while you are riding," Paul Johnson, founder of Complete Tri, tells LIVESTRONG.com. In other words, no branch-snagging through tight trails.
"This is a favorite with people who do more mountain biking or rough riding because it is so sturdy and rugged," he adds.
3. Thule Smartphone Bike Mount
‌Mount Type: ‌Screw-on
‌Fits Handlebar Sizes: ‌Most sizes
Texturized side clamps and a rubberized webbing on the Thule Smartphone Bike Mount ensure your phone stays snug for long, fast-paced sprints, but is still easily removable when you take a break — making it one of Johnson's favorites for road biking.
"The only negative about it is that for many bikes, the phone will be right below your forehead so you might have issues with sweating on your phone," he says.
But, as Johnson adds, unless you're dripping sweat profusely, this shouldn't be too much of an issue. (And that's why they make phones waterproof now, right?)
4. Peak Design Out Front Bike Mount
‌Mount Type: ‌Screw-on
‌Fits Handlebar Sizes: ‌22.2 mm, 25.4 mm and 31.8 mm
If your style of cycling is a little more leisurely — you're in it for the joy ride — the Peak Design Out Front Bike Phone Mount might be the best phone mount for you, says Johnson.
"This easy clip-on design from Peak Design is a favorite [of mine]," he says. "It works great, is universally rugged and goes on and off [the bike] with ease." One big reason for this: The mount comes with the brand's proprietary "SlimLink" locking technology that relies on a magnet to keep the phone in place, so no major prying is necessary to get the phone out for frequent picture breaks on scenic roads.
This mount does require a Peak Design phone case or adapter for your current case.
‌Mount Type:‌ Silicone strap
‌Fits Handlebar Sizes:‌ Most sizes
While careening down a narrow mountain trail probably isn't the best activity to do with the VUP Silicone Mount, if your style of biking is generally softer and smoother, this mount may be all you need, says Johnson.
"[The VUP Silicone Mount] is a good option for not much money, with a nice, direct mount to the handlebars," he explains. "I might not recommend it for a rugged, rocky ride, but for riding on roads and paved paths, it [works] great."
This mount uses a 360-degree swivel and stretchy (but tough) silicone bands to hold your phone in place, and has 4.4 stars over 5,600 ratings.
6. Nite Ize Wraptor Rotating Smartphone Bar Mount
‌Mount Type:‌ Silicone strap
‌Fits Handlebar Sizes:‌ Most sizes
Because Android phones tend to be slightly thicker than iPhones, the Nite Ize Wraptor Rotating Smartphone Bar Mount is a good choice.
"Nite Ize tends to work well because it can handle a thicker phone, given its design," Johnson says. It features a silicone harness that slips over each of the four corners and stretches to fit a wide variety of device sizes.
7. Roam Handlebar Bike Phone Mount
‌Mount Type: ‌Screw-on
‌Fits Handlebar Sizes:‌ Most sizes
If you're worried about your iPhone's volume going up and down, or worse, shutting off entirely (thanks to the way that some mounts press on the sides of the phone where the controls are) the Roam Handlebar Bike Phone Mount is a solid choice, says Johnson.
This model wins for best bike iPhone mount because it doesn't cover the sides of the phone entirely — or the main home button in older iPhone models.
"It also is less expensive than other models, for those who might be on a budget," he adds.
4 Things to Look for in a Bike Mount
According to Ballin, one of the biggest factors to consider when purchasing this bike accessory is where you want it to sit on your bike — which can be on either handlebar or the top tube of the frame (so directly beneath your chest):
‌Handlebar:‌ "I'd say most riders tend to prefer a handlebar mount," he says. That's because handlebar phone mounts tend to be the sturdiest and least likely to move around.
‌Tube Top:‌ "Some cycle tourers like to use a top-tube mounting system for extra protection against water and dirt," he says. Tube mounts also often have some extra storage, which can be helpful if you need to carry a spare inner tube or another piece of small equipment on your ride. The big caveat to a top-tube mount is that these can sometimes move around when it gets bumpy.
2. Length and Shape of Handlebars
"It is important to pick a mount that works not only with your bar size, but also the style of bar," Johnson says. "Some bars have angled parts instead of round, making mounting an issue. Other bars leave very little open space between other components, meaning you may need a certain type of mount."
Always measure your handlebar length and width and know how much available space you have for a mount before buying.
This one's a no-brainer, but we're going to mention it anyway:
"When looking for a mounting system, there are so many different styles and options available, but the most important thing is that it needs to be fixed securely to your bike when hitting bumps," Ballin says.
Mounts that lock securely into the back of a phone case tend to be the most effective, in his personal riding experience.
4. Phone Case Compatibility
Most standard-size smartphones will fit a range of bike phone mount brands, but extra-large models may not. "Occasionally, the very large phones [like the iPhone 12 Pro Max] will max out the ability of a mount to hold it securely," Johnson says.
More important than the phone is your case. "If you have an odd-sized phone case, this may require some fine-tuning when you put your phone to the mount," he says. That being said, Johnson adds, many bike phone mounts come with their own cases, which can eliminate that problem entirely. Some require you to buy a compatible phone case separately, so make sure to check that when you purchase your mount.
More of the Best Biking Accessories