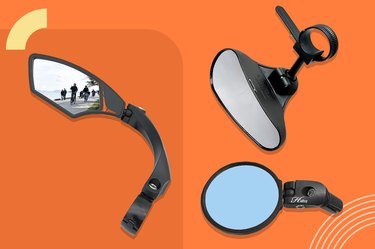 Saddle height, bar positioning, the types of roads and trails you ride on — there's a slew of things to consider when setting up a new bike. One of those is whether or not you want a bike mirror.
Configuring a mirror onto your ride might not be at the top of your to-do list, but it's a smart thing to consider if you're looking for ways to stay safe.
"Not having to look backward to check for traffic, especially when riding on a road shoulder, can help you avoid taking your eyes off the road," Paul Johnson, founder of Complete Tri, tells LIVESTRONG.com.
It makes sense: A car has rearview mirrors, so why shouldn't a bike, which often traverses the same types of roads? But Johnson notes mirrors are just as valuable on a trail, too. And they can be especially useful for more novice riders.
"Slower riders [can] use mirrors to see faster cyclists coming up behind them," Johnson says. "They can then move over to the side of the trail proactively."
The bottom line: Having a mirror fixed to your bike can ensure a safer, smoother ride.
We spoke with three cycling experts to learn what exactly to look for when purchasing a bike mirror, in addition to their favorite product picks. Here are a few of the major features we considered while putting together our list. You can learn more about how we cover products here.
Placement on bike or helmet
Adjustability
Quality of design
Below, you'll find the four best bike mirrors on the market right now.
1. Best for Road Bikes: Hafny New Handlebar Bike Mirror
‌Mirror Mount Location: ‌Bar ends
‌Mount Type: ‌Clamp/screw-on
So long as you're not jostling down bumpy terrain, the Hafny New Handlebar Bike Mirror is one of Johnson's favorites, ideal for road biking.
"It has good visibility and adjustability," he says. "It's probably not what we would want for a rugged trail, but it works on tame surfaces."
The mirror is crafted with the company's "anti-glare blue lens," something you typically see in automotive vehicles — so your view won't be obstructed on especially bright, sunny days.
2. Best for Mountain Bikes: D+D Oberlauda UltraLite Bike Mirror
‌Mirror Mount Location: ‌Bar ends
‌Mount Type: ‌Clamp
The D+D Oberlauda UltraLite Bike Mirror is Johnson's favorite for traversing tight, rocky trails.
"This is a really good mirror that hangs off the end of your handlebar and swivels so you can get the angle just right," he says. "Because there are not as many points of adjustability, it tends to hold up better on bumpy terrain."
And at a mere 2 ounces, the mirror is particularly light, too — meaning there's a reduced chance it'll feel clunky and weigh you down on tough terrain.
3. Best for Bike Helmets: Bell Sports Helmet Bike Mirror
‌Mirror Mount Location: ‌Helmet
‌Mount Type: ‌Clamp
The Bell Sports Helmet Bike Mirror is crafted by a company that specializes in making bike helmets — which means it's optimized for safety and visibility.
Johnson tends to prefer helmet mirrors in general because "they allow for quicker glances at the mirror without having to turn your head, which is nice when you are riding near where cars are zooming by." Plus, he adds, this model fits well on most bike helmets.
4. Best for Bar Ends: Hafny Bar End Bike Mirror
‌Mirror Mount Location: ‌Bar ends
‌Mount Type: ‌Screw-on
Hafny makes some of the best and most robust bike mirrors on the market, according to Peter Ballin, a professional mountain bike mechanic and former international mountain bike racer.
"If you are looking for a bar end-mounted mirror, the Bar End Bike Mirror is a great option, as it is made from tough, polished steel, and has a wide-angle convex lens, which offers a great rear view," he tells LIVESTRONG.com.
4 Things to Consider When Buying a Bike Mirror
For the most part, a bike mirror will mount on one of two places: the handlebars (either on flat or drop style bars) or your helmet. Johnson says he almost always recommends helmet mirrors over handlebar mirrors.
"Helmet-mounted mirrors sometimes take some getting used to, but are just a lot more practical," he explains. He adds that, because the mirror is already fixed in your line of view, there's no need to turn your head mid-ride (making it much more efficient and safe on all types of trails).
Although Johnson ‌does‌ endorse some mirrors on handlebars (like the D+D Oberlauda UltraLite Bike Mirror above), he doesn't recommend mirrors on drop handlebars.
"When you go in drop position, your positioning is very different and you might actually have your head in front of the bars," he says. "Looking down or back at this point would be very dangerous. Helmet mirrors are better."
However, it's common for riders to still have their hands on top of their handlebars even if they're riding a bike with drop bars. This is a less aggressive and more comfortable hand position that would allow you to use a drop bar mirror (like this one from Trek) effectively and safely. Use your best judgement and practice caution if using a drop bar mirror.
2. Goldilocks Adjustability
Like a car, a mirror on a bike should have some maneuverability. After all, no two bicycles or cyclists are the same size. But ‌too‌ much swivel can be unproductive, Johnson says.
"Try to minimize the points of swivel or adjustability," he says. "Yes, you need some [movement], but the more you have, the more points of failure there are if you go over a rough patch of trail."
Ideally, you want to be able to adjust the mirror, but then set it in place so it's not adjusting on its own throughout your ride.
3. Compatibility With Your Bike or Helmet
This might seem like a no-brainer, but it's worth mentioning: According to Johnson, some high-end handlebars (both drop and flat) aren't able to handle screw-on mirror attachments. In that case, you'll need a helmet mirror or a clamp-on mirror.
When searching for a bike mirror, former competitive cyclist Mikhail Giller tells LIVESTRONG.com there's a term you need to keep an eye out for when it comes to quality: convex.
Essentially, a convex mirror just means it's curved with a reflecting surface, which provides wider visibility.
"A [good bike mirror] should have a wide view with a convex mirror to provide the best view of objects behind the rider," he says.
Other quality factors to consider are anti-glare and shatter-resistant mirrors. Having an anti-glare mirror can come in handy on bright, sunny days and having a shatter-resistant mirror can protect against shards of glass going everywhere in the event of a crash.