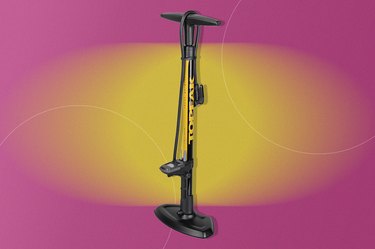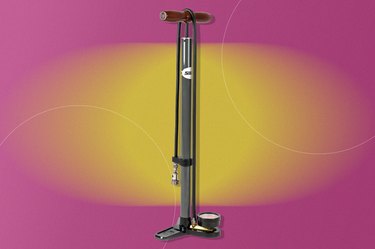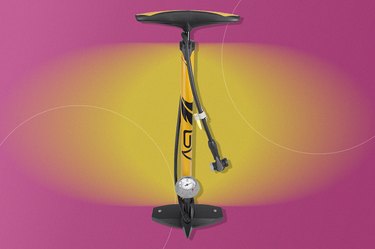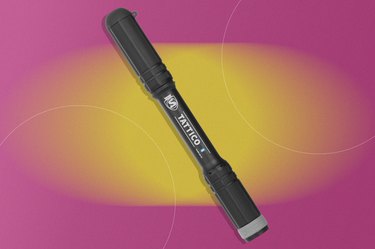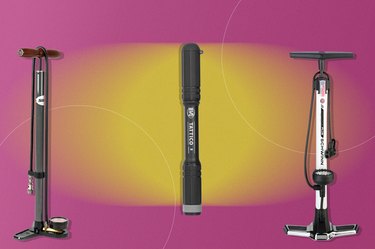 Nothing puts a damper on a scenic cruise or intense bike ride like a flat tire. That's why you shouldn't underestimate the value of a good bike pump.
Problem is, many cyclists purchase pumps without giving them much thought or shopping around, says cycling coach Garret Seacat, CSCS. "Most often they buy something that does not fit their needs."
Not you! Learn how to find the best pump for your bike and choose from some of the best products right now.
1. Best Overall: Topeak JoeBlow Sport III
For use on various objects
Suitable for all ages
Quick to use
High volume that's ideal for mountain bikes
For an overall reliable steel bike pump, Seacat recommends the JoeBlow Sport III. After using his own for more than 8 years, he loves the versatility you can get with this affordable pick.
"The reason I love this pump is the dual head, which makes it easy to switch between airing up my tires and my children's tires quickly," he says. "And the locking head also means my kids can use it without fail."
This high volume (more on that below) options works for more than just bicycles. Seacat uses his on stability balls and basket balls, too.
2. Best in Durability: SILCA Pista Plus Floor Pump
Quality materials
Replacement parts available
Warranty available
High pressure that's best for road bikes
"When it comes to high quality that will last a lifetime, SILCA is the name you want and the Pista floor pump is the pump you need," Seacat says.
Whereas most picks use plastic pieces that tend to fall apart over the years, this floor pump is all steel, brass, leather and wood, guaranteeing plenty years of use, he says.
Plus, the manufacturer even offers several levels of warranty (available at purchase) and replacement parts in case you happen to have any issues with the product.
3. Best for New Cyclists: BV Bicycle Ergonomic Bike Floor Pump
Easy-to-read gauge
Wide handle and base for stability
High pressure that's ideal for road bikes
With an easy-to-read pressure gauge, BV's product is one of the best bike air pumps for new cyclists. This steel pump has a wide handle and stable base, making it simple to use (even for first-timers).
Plus, this device's pressure reaches up to 160 pounds per square inch (PSI), a high pressure needed for some road bike tires, according to Seacat. The higher the PSI, the less air you move move per stroke. This helps prevent tires from exploding at higher pressure levels. And since road bike tires tend to be slim (and more likely to pop), that's important.
4. Best in Tech: SILCA Tattico Bluetooth Mini Pump
Bluetooth compatible
Accurate tire-pressure measurement
Portable size
High volume that's ideal for mountain bikes
One of the best bike mini pumps on the market, SILCA's Bluetooth-compatible product makes inflating up your tires as simple as ever. This alloy metal model connects to SILCA's app on your phone, allowing you to see your tires' pressure as you fill them up — no more guesswork needed.
The 9.5-inch size makes this one of the best portable bike pumps. Seacat also loves the quality of this company's products and the product's 25-year warranty.
3 Tips to Find Your Best Bike Pump
Here, price is a pretty good indication of quality, Seacat says. Although you can definitely get a good deal on a solid bike pump (like the BV one above), the best products typically cost somewhere around $40.
Take a closer look at the parts and materials used. "The most important thing you should look at when buying a pump is the quality of the unit," he says. "When you pick it up does it feel solid or like the parts are barely held together?"
Pro tip: Opt for steel- or brass-based products over plastic ones when possible.
Most tools are labeled as either high volume (HV) or high pressure (HP), Seacat says.
​High volume:​ Best for thick mountain bike or gravel tires. They move more air into the tire per stroke to get the job done quick.
​High pressure:​ Best for thin road bike tires. They move less are into the tire per stroke to help prevent more delicate tires from bursting.
If you can't find any indication on your device, that means it's a combination of both. You can use it for any style bike.