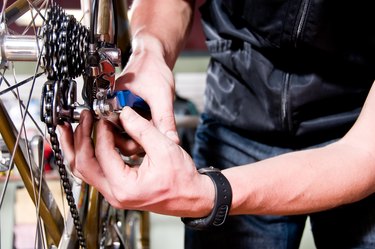 With all the different brands and styles out there, finding the best bike lube is kind of like hunting for a new ice cream flavor. In a word: overwhelming.
But you can skip all the exhaustive research. Here's everything you need to know to find the best bike grease substitute for you— including four of the top expert-recommended products.
1. Best Dry Lube: Rock-N-Roll Absolute Dry LV
Cycling coach Garret Seacat, CSCS, loves Rock-N-Roll's Absolute Dry LV chain lube for its easy, clean application.
Ideal for road bikes, this dry lube unfortunately requires regular touch-ups, Seacat says. But because it's a powder, doesn't drip and picks up little dirt on the road, application is a breeze. Plus, it comes in a package of three so you don't have to restock very often.
2. Best Wet Lube: Finish Line Wet
Available in a variety of sizes and bottle styles (from small squeeze bottles to gallon containers), Finish Line's wet lube is perfect for long-distance, puddle-filled rides.
"Finish Line has been around for a long time and the wet lube is one of the best bicycle greases for longer endurance events, or any ride you will be doing with water crossings and rain," Seacat says.
3. Best Ceramic Lube: Muc-Off C3
Certified kinesiologist Jacob Harcoff, CSCS, likes to use Muc-Off lubricant products for his bike chains. This ceramic dry chain lube is ideal for dry and dusty weather, and works well with road and mountain bikes. It even glows under UV light, so you can double-check you've covered your chain completely.
If you love riding in hot weather or by the beach, this is the best bicycle grease for you.
4. Best Wax Lube: Speedmaster
Ideal for dry conditions, Speedmaster's chain lube stays clean and in place for at least 400 miles. But on rough or rainy trails, you get about 200 miles out of a single application.
Wax is a little more challenging to use (more on that below) and will generally need to be reapplied more often than wet lubricant, according to Seacat.
What Type of Bike Chain Lube Is Best for You?
Each bike grease substitute has a different texture and application process. So, you want to find the best bike lube for your cycling style. Wet lube is a liquid, dry is a powder, wax is melted and ceramic is between a liquid and cream.
Those who don't have a ton of time to spend greasing their bike may want to steer clear of wax lubricants and opt for dry or ceramic ones. You need to melt wax over a pot of boiling water before applying it. Then, before you ride off, it has to cool.
Different products work their best in different riding conditions, too. Dry, ceramic and wax lubricants are ideal for drier, dusty conditions, whereas wet lube will protect your bike from water and rust, according to Harcoff.
Take a look at the table below to find the bike lube that's best for your needs.
| | ​Texture​ | ​Application​ | ​Riding Conditions​ |
| --- | --- | --- | --- |
| ​Dry ​ | Powder | Easy | Dry |
| ​Wet​ | Liquid | Easy | Wet |
| ​Ceramic​ | Creamy | Easy | Dry |
| ​Wax​ | Hard | Hard | Dry |
How to Find Your Best Bike Chain Lube
Consider How Often You're Riding
Bike lubes come in all shapes and sizes, so think about the style and size bottle that's most convenient for you. In general, you'll need to reapply the product every 100 miles or as soon as you start to hear the chain clanking on your bike, according to Seacat.
If you plan to be biking more than that each week, investing in a larger bottle is more cost-effective — buying small bottles gets pricey pretty quick.
Since there are so many different brands out there, ask a more experienced cyclist.
"The best way to find out what chain lube to use is to go into your local bike shop or if you are going to be traveling to an event call shop in that town, and simply asking what they use," Seacat says. "The staff there sees bikes all day and can tell you what works well for the region and best practices for applying it too!"