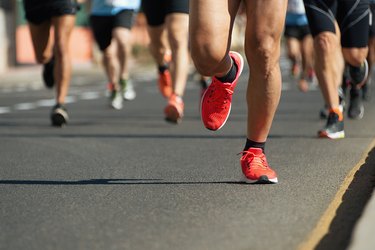 Running a marathon is a fun way to test your fitness, connect with other runners and challenge yourself to do something new. But your first race of that distance can be intimidating, and you may doubt whether you'll have enough time to finish.
If 4.5 hours doesn't seem like enough time, don't sweat it. There are races that have longer time limits to ensure you get that medal.
Why Are There Course Time Limits?
Course time limits are in place at most road races to ensure safety for runners, volunteers and the local community. A 26.2 mile route throughout a city takes major planning — months of organizing go into blocking off roads and detouring traffic so that runners, spectators and volunteers have a positive experience. Being limited to a certain amount of time to run a marathon (or any race in general) may seem restrictive, but it's in the best interest of everyone involved to get runners across the finish line in one piece.
The bright side of races with long time limits is allowing people with slower paces feel comfortable to jog slowly or walk their way to a finisher's medal. Extended cut off times embrace diversity of the sport, and acknowledge that not everyone will be running fast paces.
The 8 Best Marathons With Long Time Limits
Say "aloha" to one of the most scenic races you could ever do. The Honolulu Marathon is the fourth largest marathon in the United States. There is no cutoff time, so everyone who crosses the start line can get to the finish line at whatever pace they'd like and be guaranteed a medal.
‌Race Website: ‌HonoluluMarathon.org
‌Location: ‌Honolulu, Hawaii
‌Date:‌ December 10, 2023
‌Entry Fee: ‌$148 (March 15 to May 31); $185 (June 1 to September 6); $225 (September 6 to October 17); $245 (October 17 to November 30); $400 (late entry at race expo)
If you'd like to train for a spring race, the Los Angeles Marathon happens every March and will give you a full 26.2 mile tour of the city of angels. This race allows 6.5 hours to get to the finish line. A 6.5-hour marathon finish time equates to about 15 minutes per mile.
If you're unable to complete it within that time, the good news is you can continue running. Once the 6.5-hour time limit is up, runners are allowed to keep going but will be asked to run on the sidewalk. Unfortunately, an official finish time is not guaranteed and aid stations will begin to close. Bring your own fuel to ensure you can stay hydrated and energized.
‌Race Website: ‌LAMarathon.com
‌Location: ‌Los Angeles, California
‌Date: ‌March 17, 2024
‌Entry Fee: ‌$200
The City of Brotherly Love allows 7 hours to complete the Philadelphia Marathon. Known for its flat and fast terrain, a 7-hour time limit allows for a pace of 16 minutes per mile. If 26.2 miles is no longer your preferred distance, the Philadelphia Marathon offers a half-marathon option (13.1 miles) as well.
‌Race Website: ‌PhiladelphiaMarathon.com
‌Location: ‌Philadelphia, Pennsylvania
‌Date: ‌November 19, 2023
‌Entry Fee: ‌$110 (price goes up after April 14)
Be a part of fall marathon season in the Rose City aka Portland, Oregon, where you'll run through downtown Portland and past historic landmarks. This race has a 6.5-hour time limit, which is about 15 minutes per mile.
Runners who are behind the minimum pace will be moved off of the road after the cutoff time, but will be allowed to keep running on the sidewalk. All race participants who arrive at the finish line will receive a medal.
‌Race Website:‌ PortlandMarathon.com
‌Location: ‌Portland, Oregon
‌Date:‌ October 1, 2023
‌Entry Fee:‌ $145 (until May 2); $160 (May 3 to June 27); $170 (June 28 to August 29); $180 (August 30 to October 1)
5. New York City Marathon
The New York City Marathon is officially the largest marathon in the world with up to 50,000 runners participating each year. It's also one of the World Major Marathons, so it can be tricky to get in because of the competitive lottery system. (Note: The application period already took place in February 2023 and the lottery drawing for accepted entries took place in March 2023.)
If you do get accepted, the race allows for 8.5 hours to cross the finish line.You'll run through all five boroughs of New York City with energetic crowds of spectators cheering the whole time. This race has designated pace groups with the slowest running at 14 minutes per mile.
‌Race Website: ‌NYRR.org
‌Location: ‌New York, New York
‌Date: ‌November 5, 2023
‌Entry Fee: ‌$255 (NYRR members); $295 (non-NYRR members)
6. Walt Disney World Marathon
Known as the happiest place on earth, Disney World hosts an annual marathon weekend that's sure to enchant you. Every mile will be magical as you run throughout the theme park, passing popular Disney characters (costumes are welcome!). Runners need to run at least a 16-minute mile and finish within 7 hours. If you are behind the pace requirement, you'll be safely shuttled to the course pickup tent.
‌Race Website: ‌RunDisney.com
‌Location: ‌Orlando, Florida
‌Date: ‌January 7, 2024
‌Entry Fee: ‌$221 (April 11 to October 16); $231 (October 17 to January 7)
7. Rock 'n' Roll Marathons
Designed to keep you moving and grooving, the Rock 'n' Roll Marathon series has races across the United States and internationally. Course time limits depend on the city, but many allow for 7 hours to finish 26.2 miles. The various locations give you plenty of options to choose from:
Check the individual race websites (linked above) for each city's specific race dates and entry fees.
The Flying Pig Marathon weekend is the largest weekend celebration in Cincinnati with around 40,000 runners participating in various race distances. Runners need to keep a minimum pace of 16 minutes per mile or they risk being moved to the sidewalk as traffic reopens. For runner safety purposes, any participants who do not reach a checkpoint between miles 17 and 18 by noon will be bussed to the Eastern Avenue section of the course.
How to Prepare for a Marathon
Aside from the marathon training plan you'll need to follow, you can prepare for your race by researching time limits and mapping out your pacing plans for race day. If you don't think you'll finish within a cutoff time, don't stress. Volunteers will be in place to get you to where you need to go or support you to finish in a safe manner.
Regardless of race time limits, it's a good idea to carry your own race day fuel — water or a sports drink and energy gels. This way, you have some control over the day and can keep yourself from running on empty.
In the event you're pulled off a race course, have a plan for how you'll reunite with family or friends. And if you ever don't feel well enough to continue, notify a volunteer or head to a medical tent immediately. Running a marathon should be an overall enjoyable experience (though we know it might not seem it at times!) and the most important part of race day is remaining safe.