Glycogen is the storage form of carbohydrates and is found in the liver and muscles. It is readily converted to glucose to be used as an immediate energy source, especially during vigorous or continuous exercise, such as a marathon. Sinse glycogen is such an important fuel source for the body, depleting muscle glycogen stores can have detrimental effects on performance.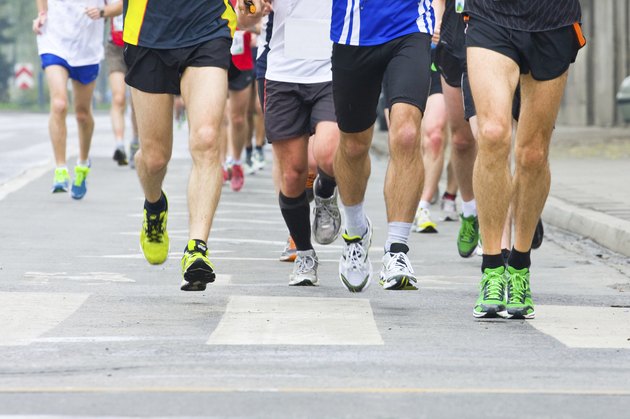 What Glycogen Does
The untrained individual typically holds about 400 g of glycogen stored in both the muscles and the liver, while a trained athlete can hold double that amount. This is enough glycogen to last several hours of exercise without replenishment. During exercise, the body will convert glycogen into glucose, which plays an important role in the contraction of muscles, and is the primary fuel source for most organs, such as the brain.
Glycogen Depletion
If glycogen stores are not being replenished with carbohydrates from food or drinks, glycogen stores can run out. Once this occurs, the body will find alternative ways to create more glucose. This process is called gluconeogenesis, or the formation of glucose from new sources. The liver will begin to break down fat and protein to form glucose, which can then be used for energy. However, this process takes longer than glycogenolysis, and is therefore considered a less efficient way of producing energy.
Hypoglycemia
After glycogen stores have been depleted and before gluconeogenesis kicks in, an athlete may experience symptoms of hypoglycemia, which occurs when blood glucose levels are low. During hypoglycemia, a person may feel extreme fatigue and a near complete loss of energy, often referred to as "bonking". When this occurs, it is not uncommon to see athletes collapse from the extreme fatigue. Dizziness and hallucinations may also occur under these conditions.
Hormonal Response to Glycogen Depletion
While in a state of hypoglycemia, the body will begin producing catabolic hormones, such as cortisol. Catabolic hormones break down muscle tissue in order to convert the proteins within to glucose. This will increase blood sugar levels and provide energy to continue exercising, however, cortisol also suppresses the immune system. Also, the act of breaking down muscle tissue for immediate energy during exercise can contribute to muscle atrophy, which is a decrease in muscle mass.