Carbohydrates provide energy for the body, making them one of the main dietary components. Most people should take in 40 percent to 60 percent of their total calories from carbohydrates, reports MedlinePlus, but if you consume more carbohydrates than you burn, those extra calories can convert to fat and are stored in the body. The conversion of excess carbohydrates to fat is a complex process and occurs primarily when you frequently take in too many total calories in your daily diet.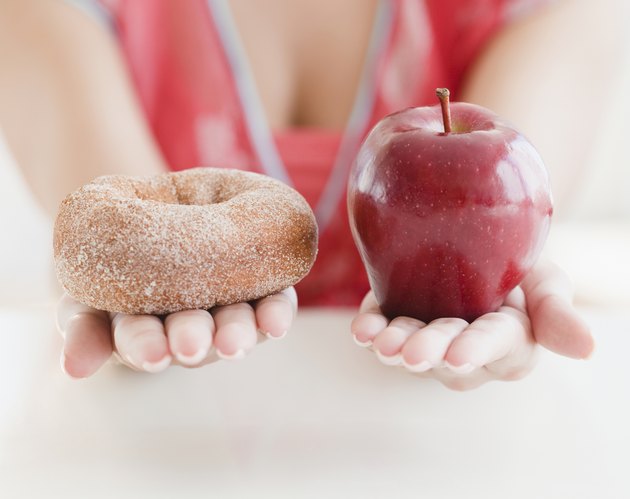 Carbohydrates Preferentially Broken Down
Because the body can only store carbohydrates in limited quantities, they provide the main fuel source for the body in normal conditions. Simple carbohydrates such as sugar, candy and syrups are broken down into glucose, which is then released in your bloodstream and used for energy. Complex carbohydrates such as legumes, vegetables, and whole-grain breads and cereals take longer to break down due to their complex structures. The body uses an enzyme, amylase, to break down both simple and complex carbohydrates to simple glucose for energy.
Stored Carbohydrates
If you're eating more carbohydrates than burning for energy, your body stores excess in the form of glycogen. Glycogen is not fat but actually a type of compact glucose that may be stored either in your muscles or liver. Because your blood sugar levels drop when you haven't eaten for a few hours, your body's stores of glycogen provide a boost of energy when needed. The liver and muscle can only store a small amount of glycogen, however, so if you continue to take in more carbohydrates than needed, your body will then convert any excess carbohydrates to fat.
Carbohydrates Converted to Fat
Tat tissue is actually responsible for converting excess carbohydrates into fat cells. The process of conversion occurs when adipose or fat tissue forms a compound known as acetyl CoA from glucose. Acetyl CoA molecules are then linked together to form triglyceride molecules, a type of fat that can either be stored or released into the bloodstream. Because converting carbohydrates to fat requires more energy, your body prefers to use carbohydrates for energy or stores them as glycogen.
Triglyceride Uses
Triglycerides may either be made from fats or carbohydrates in your diet, but this molecule accounts for the majority of fat in your body. When energy stores run low, the body starts to break down triglycerides to use for energy. Triglycerides are converted back into glucose by your liver when you have not taken in adequate calories or during exercise. While a low level of triglycerides is not dangerous, too many in your bloodstream increase your risk of developing heart disease. To avoid converting dietary carbohydrates into fat, limit the amount of simple sugars you eat, and get the majority of your carbohydrates from complex sources such as fresh fruits and vegetables, legumes and whole grains.