Freestanding punching bags use a reservoir as a counterweight to simulate the resistance and swing of a hanging bag. Theoretically, you could fill the reservoir with any substance heavier than air. In practice, most users choose to fill it with rock, sand or water. Each material has advantages and disadvantages.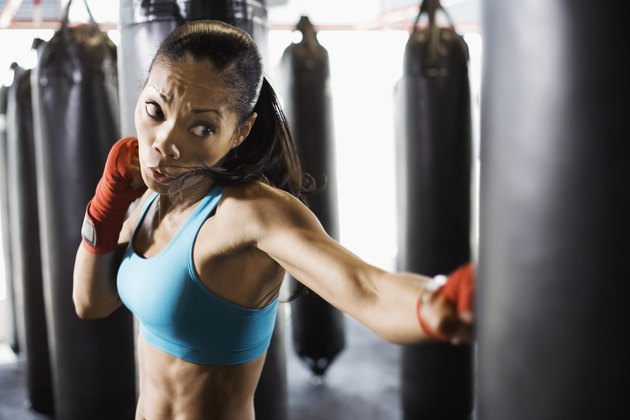 How They Work
A freestanding punching bag consists of a cylindrical foam pad that wraps around a hollow plastic stem. The base of that stem is a wider plastic reservoir. When that reservoir is filled, it provides enough weight to keep the bag in place when struck. Models have a screw cap on or near the top for adding or removing material to provide that weight.
Water
The original intent for freestanding punching bags was to fill the reservoir with water -- which is still a common method. Water's biggest advantage over other options is convenience. It's easy to pour in or out, and you have a source right there at your gym. However, water tends to leak out of the screw cap when the bag is knocked over and forms condensation during cold or humid weather.
Rocks
Rocks are large enough that they won't leak through the screw cap -- or even through cracks in an older bag. They also make a pleasant noise when the bag rattles after a particularly effective punch or kick. However, rocks can be harder to load into or out of the reservoir because they don't flow as well as water does. Using pea gravel instead of irregular stones can help minimize that disadvantage.
Sand
Sand splits the difference between water and rock. It flows into the reservoir easily if dry, but is less likely to leak when the bag is tipped and won't cause condensation. The chief problem with sand -- besides the hassle of going to a landscaping supply shop to get some -- is its tendency to settle. If moisture gets inside the reservoir, sand can set into a form not much softer than concrete. This can make it very difficult to empty your bag to move to a new location.