In the classic American boxing movie, Rocky, the main character trains with minimal equipment. He chases chickens around for agility, uses hanging meat for a heavy bag and runs up the steps of Philadelphia's Art Museum. All of this creates the image of the man who came from nothing, uses hard work but no fancy equipment and becomes a world champion.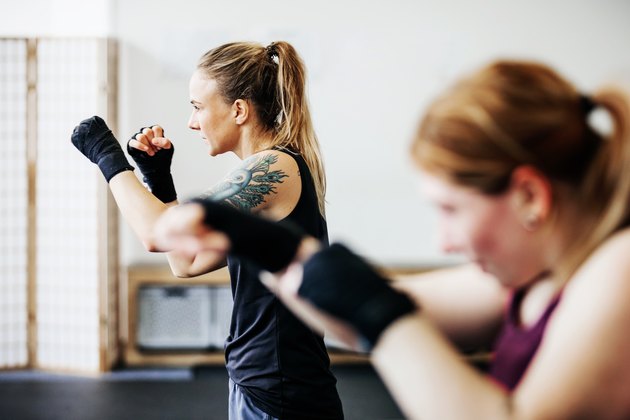 You can create your own Rocky story at home, learning to box with no equipment. Learn the technique for your punches and boxing theory from reading books, watching instructional DVDs and learning the basic movements.
Shadow Boxing
Fortunately, boxing only requires your fists and some room to move. Your two hands can throw different styles of punches to create a myriad of combinations. Practice defensive boxing moves on your own. Without equipment, this method of boxing training is known as shadow boxing (essentially, punching the air).
When shadow boxing, you need some room to move around and preferably a mirror. Watch yourself in the mirror to see what your form is like and if it needs any adjustments. Chances are you'll catch yourself making technical errors. Learning how to correct them on the fly will make you a much better boxer.
And if you're just starting out, you may need a little bit more instruction, so try an app like Aaptiv, which can walk you through basic boxing technique and even has shadowboxing classes that you can listen to you while you practice.
1. Movement
While shadow boxing, practice footwork, punches and basic defensive moves. For footwork, your non-dominant foot should always be in front. If you're a righty, your left foot should take the lead and the right foot should be behind and slightly to the side.
Try to keep your feet shoulder-width apart, says the USA Boxing manual. As you move around in boxing, never cross your feet because you lose punching power and could trip.
2. Punches
The basic punches start with the jab. You jab with your lead hand, which is the non-dominant side. A jab is a straight punch, meaning you punch straight out and back. The cross is a straight punch with your power hand, the rear hand.
Hooks are looping punches that you can throw with either hand. You can also throw an uppercut from either hand, by squatting down and then standing up as you punch up vertically.
3. Defense
From your boxing stance, work on basic defensive moves. The bob is when you simply squat down and stand back up. In slips, you lean your upper body either to the left or right. A bob and weave is when you squat down and step either to the left or right before standing back up.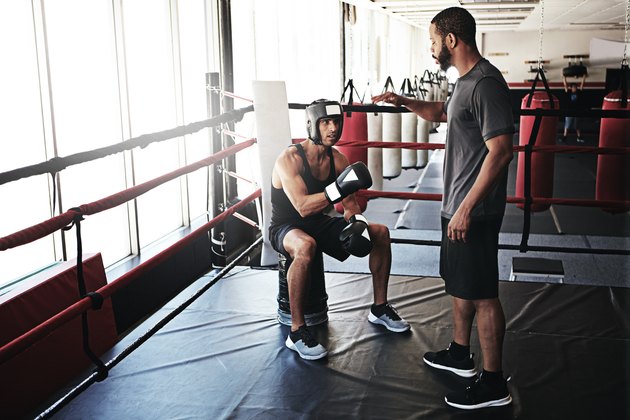 Boxing DVDs
Follow along with an instructional DVD to learn the basic moves and even some advanced techniques.
1. Becoming a Better Boxer
This three-DVD set is taught by Kenny Weldon, a former professional fighter turned coach who trained the famous boxer Evander Holyfield. You'll learn how to do various boxing workouts and practice fundamental technique. He walks you through the punches and, when the actors use boxing equipment, you can just punch into the air while practicing technique.
2. Ultimate Boxing Lessons
There are eight DVDs in this box set, packed with informational content. The teacher, Christ Getz, has a background in boxing and has been coaching for over a decade. In the DVDs, he goes over boxing technique, teaching you how to throw powerful and effective punches. He also goes over defensive boxing moves and how to hold your own in a boxing ring.
Boxing Books
Even though boxing is such an active sport you can still learn a thing or two from reading a book.
1. Box Like the Pros
One of Muhammad Ali's greatest rivals, Joe Frazier, co-wrote this instructional boxing book. He goes over tricks and tips from his own experience as a legendary boxer. He'll teach you about the rules of the game, how to punch and defend yourself, give you a boxing history lesson and even include some tips on actual matches.
2. Boxing
This boxing manual was compiled by the U.S. Naval Institute to teach World War II soldiers how to fight. They interviewed some top boxers of the time and synthesized their tips into one book. It covers the psychology of fighting and the technique of different punches and defense maneuvers.