When you're ready to buy a machine to use for your home-based workout, several machines are suitable. Elliptical machines and exercise bikes have advantages and disadvantages, such as the number of calories burned during the workout, ease of use, the "boredom" factor and even the cost. Consider taking advantage of a free gym membership so you can try each machine before you buy one. No matter which piece of equipment you purchase, use it on a regular basis to ensure long-lasting health advantages.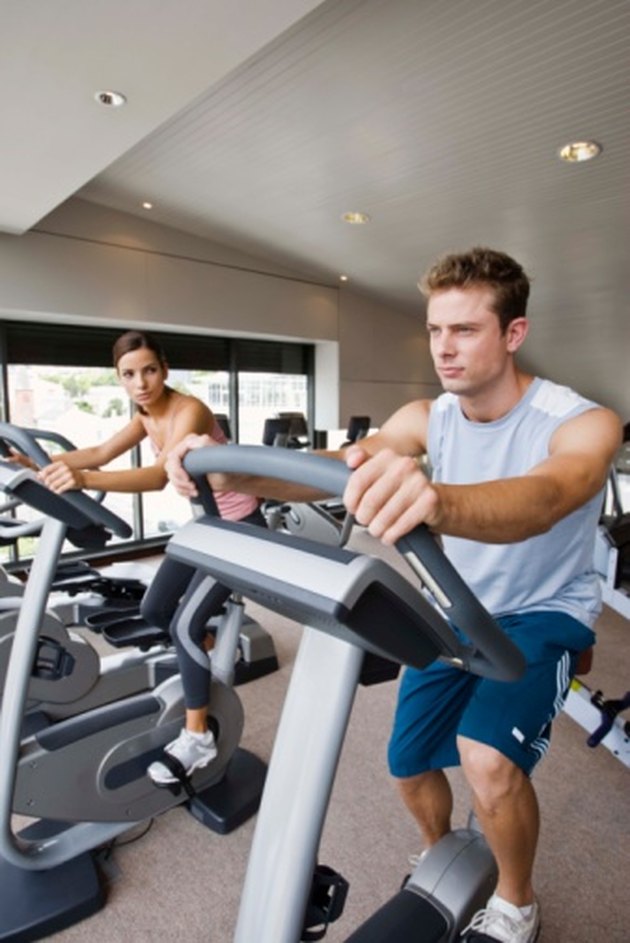 Calorie Burning
Elliptical machines and exercise bikes provide a high calorie burn, provided you use the machine at an elevated pace. You'll burn slightly more calories during a workout on the exercise bike. Harvard Medical School's calorie-burn website notes vigorously pedaling an exercise bike burns calories quicker than using an elliptical machine. A person who weighs 155 pounds will burn 391 and 335 calories, respectively, during 30 minutes of using each machine.
Overcoming Workout Boredom
It is much easier to read or watch TV while you are using an exercise bike because your movements are controlled and the machine creates less noise, notes the American College of Sports Medicine. Entertaining your brain while you work out your body for 30 minutes is essential to preventing workout burnout.
Differences in Intensity
An exercise bike is an effective way to warm up before a more intense cardio or weight-training routine. Ride the machine for 10 minutes to warm up your body and elevate your heart rate. By contrast, an elliptical machine is a workout in itself, involving both upper and lower body. If you have weight equipment at home, adding an exercise bike boosts your workout results for very little money.
Space Saving Features
If you plan to invest in a cardio machine so you can work out at home, an exercise bike can eventually be of better value than an elliptical machine, depending on your available storage space. Stationary bikes are often compact, have fewer moving parts so they break less often, and are incredibly easy to use -- just climb on, flip the switch and go. Stationary bikes take up less room than other machines, too, so if space is at a premium, look for a compact machine.
Effective Cardio Workout
The American College of Sports Medicine reports that exercise bikes are ideal for those with joint or back pain because the exercise is non-weight-bearing, and elliptical trainers are ideal for runners looking for an intense cross-training program. Neither the exercise bike nor the elliptical trainer is a weight machine. When you use these machines, you're getting an aerobic workout involving your heart and lungs. Always complement your cardio workout with strength-training exercises.