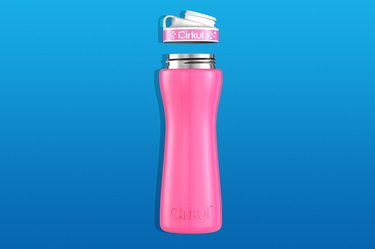 Hitting your daily water intake goals can be a challenge. Let's face it, water isn't the most exciting drink to have when there's so many other flavorful beverages out there. Juice, tea, coffee, soda — the options are seemingly endless.
Thankfully there's no need for water to be tasteless: Enter Cirkul, an innovative water bottle that gives you customized flavor in every sip. It has no sugar or artificial colors, zero calories and all-natural flavoring to make it the latest flavored water competitor on the market.
Unlike other flavored water products, Cirkul isn't a packet of powder or droplets you put into water to make it taste good. Instead, there are flavor cartridges to choose what taste your bottle of water will be.
When I opened my package from Cirkul, I found two bottles inside: one stainless steel and one plastic. The brand also prides itself on being sustainable: Each flavor cartridge cuts down on plastic waste by 84 percent compared to buying bottled drinks, according to the Cirkul website.
There were no formal instructions included in the package, so I had to do some Googling to figure out how to put the bottle and filters together. I received a variety of flavor cartridges to choose from, including orange tangerine, strawberry kiwi, cucumber lime and iced teas. Each filter is supposed to last for up to six refills, depending on how often it's used.
I decided to try the the orange tangerine flavor first, and once I inserted the filter it was time to decide how strong I wanted it to taste. The taste settings have a flavor scale of one to 10, one being the lowest amount of flavor and 10 being as sweet as possible.
There's a dial on the water bottle (see below) that can be adjusted anytime to allow you to control the flavor as you sip. I found I liked my flavor level at a four. It was the perfect amount of fruit flavor without being too overpowering or sweet.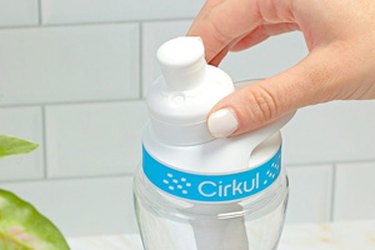 As I adjusted to my new hydration sidekick, it quickly became a household favorite. My husband decided to try it too and loved how refreshing it tasted after a workout, especially with ice. Even my 3-year-old toddler loved the bottle, often stealing mine throughout the day.
When it came time to switch flavors, I wasn't sure how much flavor was left in each cartridge. Cirkul says each cartridge can be used up to six times, but there are no instructions on how to properly store flavor cartridges if I want to switch my flavor before finishing it. ‌[Editor's note: Cirkul has a $20 accessory called Sip Safe that allows you to store opened flavor cartridges.]‌
That being said, I enjoyed trying the variety of flavors — some were caffeinated, others had electrolytes and B vitamins to fuel my day. I personally enjoyed the fruity flavors like orange tangerine and strawberry kiwi more than the teas.
Add Cirkul to Your Hydration Line-Up
You might be wondering about the cost of this hydration innovation. The price depends on the size and type of bottle. Cirkul offers stainless steel water bottles that are 12, 22, 32 and 42 ounces, ranging from $25 to $40.
For an even more affordable option, you can go with a plastic water bottle that costs between $15 and $20. Each flavor cartridge is $3.75 — that's cheaper than a latte, and lasts for up to six refills! Cirkul is also offering savings for first-time customers: You can get 35 percent off your first order when you purchase online.
If you like flavored water and you're looking to substitute juice or sodas, Cirkul is a great option. It's also a tasty drink to curb your sweet tooth, and there are so many flavors to chose from, you're guaranteed to find something you like. Overall, I think Cirkul is a convenient, affordable and eco-friendly way to crush my hydration goals.
Shop Cirkul Products Here