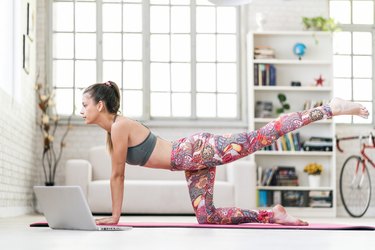 You don't have to leave your house to do your favorite barre, indoor cycling or boot-camp class. With live-stream workouts, the studio comes to you!
"People have [busy] schedules and families but still want to stay healthy," Christi Marraccini, CPT, head of production for the online fitness platform NEOU, tells LIVESTRONG.com.
They want to be able to sweat wherever, whenever works for them — and brands are responding to that demand, Matt O'Connor, general manager of Flywheel Sports' Fly On Demand, tells LIVESTRONG.com.
While some companies — like Peloton — tie their live-stream workout classes mainly to the fancy at-home equipment they sell, other digital-only platforms — like NEOU and obé — make studio-style classes available to anyone with a smart phone, computer or smart TV who pays for a membership.
4 Live-Stream Workouts to Try for Yourself
Wading through your options can be tiresome, so I tried out the best and most popular options. Here are five of my favorites and how to find the one that's right for you.
One of the OGs of live-stream workouts, Peloton offers loads of ways to join in on their ever-expanding offering of boutique fitness classes. If you have a Peoloton bike ($2,245) or treadmill ($4,925), you can access thousands of workouts from the built-in tablet, including live and archived classes from studios around the country.
Even without the snazzy, expensive hardware, you can still tap into a treasure trove of live and on-demand classes (including indoor cycling, running, strength training and yoga) with a Peloton app membership.
With so many class options (even meditation, walking, and stretching), Peloton has something for just about everyone. The variety can be a bit overwhelming (30-minute HIIT ride? Hour-long endurance ride? '90s hip hop-themed ride?), but you can filter by length, class type and instructor to make make the decision easier.
​Writer review:​ I opted to try a low-impact spin class with popular instructor Emma Lovewell. Since I don't have a bike of my own, I hit up my gym and propped my phone across the handlebars of a stationary bike there to get in on the action.
Not having my stats (like my resistance and RPMs) readily available bummed me out a bit, but I did my best to follow along. I could hear Lovewell — and her poppy playlist — loud and clear. And, luckily, the app offers so many other no-equipment-necessary classes I can tune into from my gym or living room.
Though I didn't get any shout-outs from Lovewell, she cheering on other riders, giving them kudos on their performance — and even wishing one guy a happy birthday. I finished my ride — a series of challenging hills — satisfied (and eager to incorporate more of Peloton's live-stream classes into my routine). Despite my tiny iPhone screen, I felt like I'd been ​in​ the studio with Lovewell and the other riders.
A newcomer to the digital fitness scene, NEOU produces a variety of different fitness classes for live and on-demand viewing from its hub in New York City. Chock-full of funky workout concepts — like Aoki Bootcamp (where you work out to Steve Aoki mixes) and Bells Up (a kettlebell workout) — and trending trainers (like Lacee Lazoff and Jen Widerstrom), NEOU is perfect for those easily bored by traditional fitness classes.
A subscription gives you access to more than 1,400 workouts from 60 different class types across about a dozen categories. Though there aren't a ton of live classes (it averages about two a day, typically at 7:00 a.m. EST and 6:30 p.m. EST), you can browse the extensive library for an on-demand sweat.
On major perk of the platform: If you find a live class you want to check out, you can add an appointment and reminder to your calendar!
​Writer review:​ I tuned into a morning yoga workout called "MOVE with Brittany Byfield," a 30-minute, intermediate, full-body yoga flow set to chill pop music (and equipment-free!). It was easy to jump into and clearly created with the digital experience in mind.
I could see and hear Byfield — and the music — clearly. Every once in a while, the camera occasionally panned to a few dimly-lit live exercisers, which definitely contributed to the live class feel. Otherwise, not much else about the class felt like a live-stream, perhaps because Byfield's instruction and flow were (as far as I could tell) flawless.
Given NEOU's variety of boredom-proof workouts — and how easily you can filter through them based on the equipment or time you have — it seems well-worth the subscription for all sorts of exercisers who crave a more convenient sweat.
​Try it:​ NEOUFitness.com; ​Price:​ $12.99/month or $49.99/year + 30-day free trial
Possibly the friendliest digital fitness platform in the game, obé offers both live and on-demand fitness classes — all 28 minutes (or less) and within three categories: Define, Sweat, and Flow. Within each category, you can pick from a handful of different class types, based on the vibe and difficulty level you're after. (Define, for example, is all about strength and includes workouts ranging from pilates to dumbbell circuits.)
The obé platform is particularly beginner-friendly, its website encouraging users to modify moves as needed and hold themselves accountable to their routine by aiming for five workouts each week. The ability to add live classes to your calendar makes staying on-track ​way​ easier — as do the platform's 10-minute Express classes. To level up your workouts, you can purchase gear like ankle weights and resistance bands within the platform.
​Writer review:​ I tuned into a morning Dance HIIT class with instructor Katie and found the class matched the platform's fun, lighthearted vibes. Standing in what looks like a bright, pastel-colored box, Katie gleefully lead viewers through a high-energy dance cardio routine that felt as much like a party as it did a workout. She frequently shouted-out exercisers in the class with "Get it, Katie!" and "Let's go, Mandy!"
With more than a dozen life classes on a given day — and hundreds of pages of existing workouts to filter through — obé makes getting in on the fun easy. Plus, it's a great option for busy beginners looking to squeeze in a fun, candy-colored sweat session at home.
Another newer addition to the world of live-stream and on-demand fitness, FORTË equips boutique fitness studios across the company with the tech necessary to stream their classes on the FORTË platform and straight into your living room.
With a subscription, you get access to classes from about two dozen studios across the country, including barre, HIIT and kickboxing. On the app, you can check out trending archived classes, jump into a live-streaming class or reserve a spot in an upcoming live-stream class. The library is fairly extensive and you can easily filter and search the various types of classes.
​Writer review:​ I opted for a Ripped All Over class from a New York City studio called Ripped Fitness, intrigued by its description as an intense full-body workout that combines treadmill and weighted work.
I checked out a few minutes of a previously recorded class to figure out what I'd need and set up a few dumbbells and a plyo bench. (Would I have made this experiment easier on myself if I'd opted for all equipment-free workouts? Yeah, probably.)
Unlike some of the other classes where I felt like a central participant, I felt more like a fly on the wall with this service. The video and audio quality were a little rougher, and it took a a bit more effort to follow along as the instructor (Brian Ripka) coached half the class through a floor circuit and the other half through treadmill intervals. My view of the class cycled between views from two overhead cameras that appeared to be attached to the studio walls.
I enjoyed the class (which reminded me of Barry's Bootcamp or Orangetheory), though, frankly, the instructors ​constant​ f-bombs distracted me. Given the production quality and sense that the live-stream aspect of the class was an afterthought, I'm not sure I'd spring for the subscription.
​Try it:​ FORTE.fit; ​Price:​ $15 day pass, $39/month or $99/month + 30-day free trial