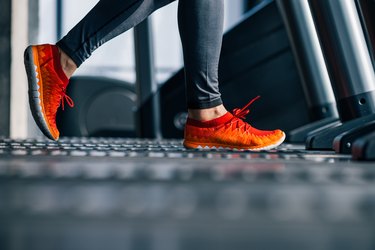 The best fold away exercise equipment varies based on your fitness goals. There are many options available that are compact and can fit in very tight spaces. If you are low on space, but want to get fit, these are some of the best options to choose from.
Picking Folded Fitness Equipment
The first step in picking the best fold away exercise equipment is determining what your fitness goals are and what you need. The Centers for Disease Control and Prevention (CDC) and American Heart Association both recommend that an adult get about 150 minutes of cardio exercise each week. This time can be broken up over several days, for example 30 minutes each day for 5 days.
According to a study published in Clinical Epidemiology in January 2018, researchers concluded that even light physical activity, such as standing, household chores and walking, are more beneficial than previously thought. Researchers found that even increasing activity to 10 to 30 minutes a day decreases your risk of developing cardiovascular disease.
The American Heart Association and CDC also both recommend adding strength training to your weekly routine. The American Heart Association recommends at least 2 days of weight or resistance training. These guidelines can help you choose the best fold away exercise equipment to help you meet your needs and stay healthy.
Folding Cardio Machines
If you are in need of cardio equipment, there are a lot of options available. When choosing a folding cardio machine, you should consider price, the space you have to store it and your preference with regard to form of exercise.
Also, you should consider your individual health. For example, some equipment is better suited for people with arthritis. According to the Arthritis Foundation, some of the best cardio equipment for your home gym includes:
Elliptical machines: There are a wide range of fold away elliptical machines available, from expensive machines with lots of extra features like the ProForm SMART Strider 895 CSE, to the budget friendly Gazelle elliptical.
Rowing machine: Look for machines with a single bar and those that use a fluid or air chamber to create resistance. Also, if space is a concern, look for ones that can easily fold, like The Space Saving Adjustable Rower, to reduce the amount of space it takes up when not in use.
Stationary bike: Look for bikes with cushioned seats and variable controls, and that easily fold, like Exerpeutic Folding Magnetic Upright Exercise Bike with Pulse.
The ACE also recommends treadmills, ellipticals, stationary bikes and stair climbers for at-home use. Again, you should look for equipment that can fold up against the wall, or that you can easily tuck under the bed or into a closet.
Resistance Training at Home
Resistance training is also important for your overall health and vitality. Resistance training can help improve your muscle strength, decrease loss of mass and help improve bone health and strength.
One problem of resistance training at home is the space that machines, or even free weights, take up. In many smaller spaces, lifting machines may not be practical. Even smaller, compact machines tend to take up a lot of space. Smaller machines are often quite expensive as well, such as the NordicTrack Fusion CST, but fit in relatively small spaces.
You can also work out with resistance bands. Resistance bands are similar to free weights, in that they provide various degrees of resistance based on the size of the band. They also fit easily in small spaces. When picking out resistance bands, the Arthritis Foundation recommends looking for bands with handles in a variety of different resistance levels.
Finally, if you are interested in using your body weight for resistance training, you can look for equipment such as push up and chin up bars. You should look for versions that you can fold up and slide under your bed or into a closet.