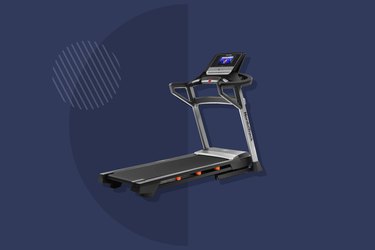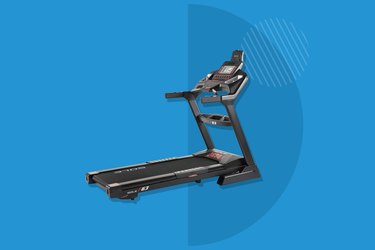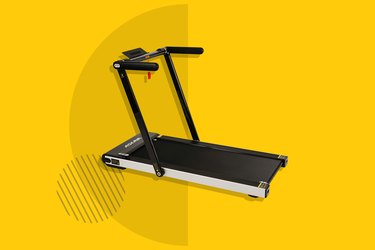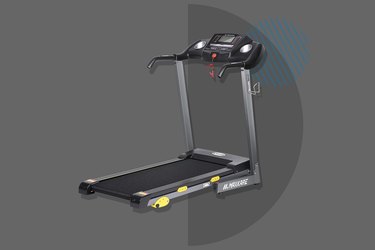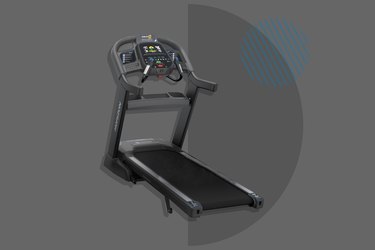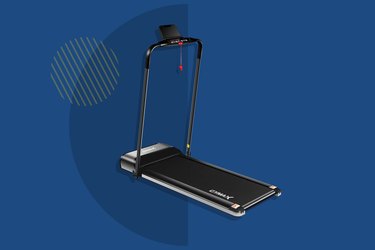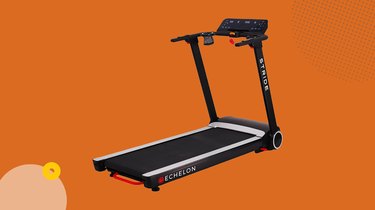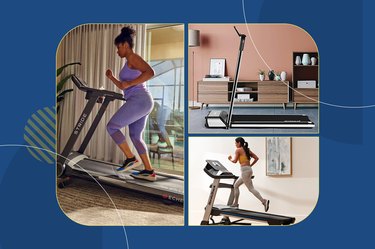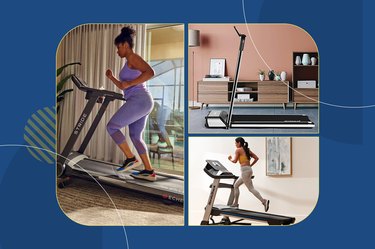 There's no time like the present to build an at-home gym. But treadmills can take up a lot of space, and not everyone can spare the square footage. Luckily, there's at least one solution — folding, under-the-bed treadmills.
"Having a treadmill at home gives you the guarantee that you can 'get your run in' regardless of any other outside forces," Luke Lombardo, CPT, a personal trainer and Road Runners Club of America (RRCA) coach, tells LIVESTRONG.com. And foldable exercise equipment functions just like standard treadmills, but they can be stored under your bed or in a closet to save space.
Ready to maximize your indoor running or walking workouts? Here are some of the best, highly reviewed, foldable treadmills that you can store under your bed, in a closet or wherever else you need.
The Best Under-the-Bed Treadmills
To help us narrow down our list of under-bed treadmills, we turned to running coaches and personal trainers for advice on what to look for, as well as their top picks. We also found a few other options that met their criteria in the following areas. You can learn more about how we cover products here.
Size
Ease of folding
Features
Price
User ratings
1. Echelon Stride Auto-Fold Treadmill
When you need a sturdy, nearly gym-quality treadmill in your home that you can also store under your bed, check out the Echelon Stride.
The top console displays your speed, incline, calories burned, distance and altitude covered and more. Plus, you can rest a tablet or smartphone so that you can stream classes from Echelon instructors starting at $39.99 a month. Alternatively, you can use one of the machines pre-programmed workouts.
This machine goes from 0.5 to 12 mph and up to a 10-percent incline (12 levels total) and can support up to 300 pounds. You can adjust speed and incline through both the touchscreen console or the handrails. And don't forget about the convenient cup and smartphone holders.
When you're done, fold the top console and handrails down, then use the lever on the bottom of the machine to activate the auto-folding mechanism. Easy peasy! Did we mention it folds to just 10 inches in height?
This machine from NordicTrack has built-in FlexSelect cushioning to provide a lower-impact experience, which your joints will appreciate. And it's easy to adjust the speed (0 to 12 MPH) or incline (0 to 12 percent), thanks to the quick-change buttons on the sides of the 10-inch HD touchscreen.
But our favorite part of this folding treadmill is that it comes with one-year iFit membership, which allows you to stream on-demand classes and join live ones via your treadmill screen.
"An app that provides some guidance in structuring runs or workouts contingent on one's goals is a great feature of this treadmill," Lombardo says. You can even let the instructor leading the class auto-adjust your speed and incline if you want.
When you're finished using it, simply fold the belt upward and push it into the corner of the room for space-saving storage.
3. Sole Fitness F63 Treadmill
With a top speed of 12 MPH and an incline that ranges from 0 to 15 percent, this treadmill is perfect for walkers and runners alike. If you decide you want to adjust either mid-workout, the smooth transition won't interrupt your routine.
The treadmill deck is well-padded, with enough cushioning to reduce the impact to your joints. That means a softer, smoother run — or walk — for all. Then, use the folding assist to help store the treadmill against the wall on your own when you're done using it.
"This treadmill is a good option for a city dweller who lives alone with little space because it can store away easily," Lombardo says.
4. Sunny Health and Fitness Asuna Space Saving Treadmill
If you're tight on space and need a treadmill that folds as flat as possible, consider this more basic option. It goes up to 8 MPH and allows you to track stats like distance, time, speed and calories burned on the display.
You can watch your phone or tablet while walking or running by placing your device on the holder. You can also connect your phone to the machine and workout to your favorite playlist. Note: The maximum user weight of this machine is 220 pounds.
While it might take some maneuvering to get it under a bed or a couch, it's space-saving feature that users enjoy.
One five-star reviewer wrote, "It beats having my old huge treadmill that took up a lot of space. I can still store it under my couch, I just have to move my couch back and forth, instead of the treadmill itself. You can also store it standing up in a closet, and it does have wheels so you can roll it around easily while its standing up, so that was a nice option if I needed."
5. MaxKare Folding Treadmill
You can't beat the price of this affordable folding treadmill that supports up to 220 pounds. The machine comes with 15 pre-set programs, and you can track your speed, time, calories burned, distance and heart rate on the backlit display as you walk or run.
The treadmill has a max speed of 8.5 MPH, and the anti-shock belt will help take some of the pressure off your knees, hips and ankles. Wheels on the base make it easy to move the treadmill to wherever you want to store it when you're not using it.
A five-star reviewer loves how easily it can be folded and left in the corner of a room, writing, "Easy to assemble. It locks automatically when you raise the bottom part. Has a kick spot to drop it. It goes down nice and slow, so it doesn't need you to hold it."
6. Horizon Fitness 7.8 AT Treadmill
This machine — rated 4.5 out of 5 stars — syncs with your favorite live and on-demand workout classes. Download your favorite workout app, connect your device via Bluetooth and place your device on the treadmill's holder. Or, try the machine's one pre-programmed high-intensity interval training workout, "Sprint 8."
The large display on this machine lets you track all your stats (like calories burned, heart rate, time, distance, speed and more). There are also two sets of handlebars, and the easy-to-use dials on the inner handles allow you to quickly adjust the speed or incline.
"The incline on this machine is a good way to mirror hill runs or hill repeats indoors," Lombardo says. Five-star reviewers also comment on how quiet the motor is. Plus, it can be folded up when not in use and stored against a wall or in a corner of the room.
7. GYMAX Electric Folding Treadmill
If you're a beginner or looking for a more entry-level machine, consider this option with a lower price point. The treadmill goes up to 5 MPH, so it's best for those who like walking or jogging.
A four-star reviewer wrote, "I love the sleek design. It stores underneath my chair in [the] bedroom. The speed goes up to 5 MPH, which is difficult to find in this size, and maybe impossible to find for this price."
The non-sip rubber deck can support up to 220 pounds, and the LCD screen keeps track of time, distance and calories. Ensure your safety by connecting the red key to a part of your clothing, and it will stop the treadmill in an emergency. Set your phone or tablet on the machine's holder to provide some entertainment while you work out.
3 Things to Consider When Buying a Folding Treadmill
Before buying, search customer reviews for "stability," and if you get a treadmill home only to find the experience on it rocky, return it ASAP.
How hearty do you need your machine to be? Make sure the product's weight capacity works for all potential users, and that it's sturdy enough to handle however many miles you plan to log on it.
"If you're hoping to supplement the majority of your marathon training on a treadmill, you'll want to make sure it can handle that load [probably with a non-folding option]," Dircksen says. "If you're looking for an incline walk or just some easy miles, then these treadmills should do the job nicely."
Under-the-bed treadmills tend to offer a lot more high-tech features than they used to, but many options are still pretty basic to help save on space, Dircksen says.
Questions to ask yourself: Does the treadmill go fast enough for you to run sprints, and can you easily toggle between paces for intervals? Can you climb hills or are you stuck on flat ground? Do you want to stream virtual classes or do you just want something to track your mileage? There's no right or wrong answer as long as it fits your needs.
Shop More Small-Space Fitness Equipment