Making time for a workout is hard enough. Once you throw in the high fees for gyms and studio memberships and commuting time to make sweat happen, it makes the challenge even greater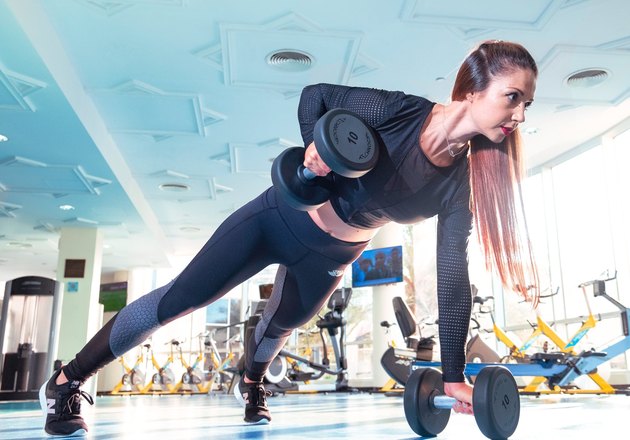 A quick fix? Streaming workout apps. Elect to subscribe monthly to a virtual workout service, and you suddenly have an entire library of fitness options right at your fingertips. Not to mention, the convenience and lower price tag that you've been longing for. Still, with so many options out there — from dance and barre to HIIT and boxing — choosing the right streaming service for you could feel overwhelming.
Not to worry, we've got your back. Here are 10 top fitness streaming apps to check out now — many of which offer a free, week-long trial to get you started.
1. My Fitness by Jillian Michaels
There's no denying that Michaels knows how to whip you into shape. In her app, you'll find 25-minute HIIT, yoga, kickboxing and 5K and 10K training plans for all fitness levels, some of which require weights and others that don't. The app also provides customizable meal plans, coaching from Jillian and grocery lists, so you can focus on the nutritional aspect for max results. An in-app instant favorite: the selfie tracker — which helps you stay on track, see your progress and connect with the greater community so you can root one another on.
2. Beachbody on Demand
"I'm partial to this one, as I have personally gone through several of their programs, most notably Shaun T's Insanity series," says Chris Brantner, founder of StreamingObserver.com. You'll find popular workouts like Insanity, P90X and 21-Day Fix as a part of the Beachbody library. You can get a balanced workout by mixing and matching videos that are cardio intensive and strength training focused. There are also diet plans and workout calendars to keep you on track and make sure there's a set structure that's easy to follow.
Plus, there are a lot of time options here. Whether you've got 20 minutes or 45, you can get in a solid workout packed with a brief warm-up along with cardio and strength moves. Newer workout videos also offer modifications to help beginners adjust. And if you're ready to commit to something for longer, there are plans with deep discounts if you're willing to stick it out. There's also an annual option for $99 with a 30-day cancellation period.
3. DDP Yoga Now
"This app is yoga, but not like what you're used to," says Brantner. "It's a yoga program created by a retired professional wrestler that's geared to all fitness levels."
Sound a little crazy? Hey, we don't disagree. This great low-impact, big-on-cardio is created by Diamond Dallas Page, a retired wrestler, and aims to get your heart rate up without too much pounding on your joints. Stream this workout for an active recovery or lower intensity day to give your body a break from HIIT and indoor cycling. The program also syncs with a heart rate monitor to keep you in the proper zone. Bonus: a plethora of delicious, nutritious recipes.
4. Daily Burn
"This is the best workout streaming subscription for anyone who easily gets bored with their workouts," says Caleb Backe, certified trainer and health expert for Maple Holistics. "It's by far the most versatile option to prevent you from hitting a plateau in your fitness journey." You can choose from yoga, kickboxing, HIIT and more to keep shocking your body and trying new things. Right when you sign up, users fill out a questionnaire and then they're matched to workouts that fit their needs and interests. With Dailyburn 365, users also gain access to new, streamed content every single day.
5. NEOU Fitness
NEOU is an excellent option if you're looking to anything from dance and swing kettlebells to strength-based workouts. A super fun one? Banana Skirt Dance Fitness, which is great for any music lovers who want to go from club to home gym. You can burn 400 to 800 calories and dance to choreography from your favorites, like Beyoncé, J..Lo, Cardi B, Lady Gaga, Madonna and more.
Looking for something a little more challenging? Bells Up by New York City-based kettlebell expert Lacee Lazoff offers up challenging sequences with a smile, guaranteed to make you that good kind of sore the next day.
6. Freeletics
If you only have time for quick bursts in the day, Freeletics is the streaming program for you. The app offers daily "challenges," — like doing ten single-arm push-ups — so if you love taking on new feats, it's a great way to stay on top of training and test yourself. There are also leaderboards to track points and workouts to stay better accountable.
7. BBG Sweat
Kayla Itsines is a rockstar, and her Bikini Body Guides (BBG) inside the Sweat app include different levels of workouts using both resistance training and cardio. Workouts are 28 minutes long and there are tons of themes ranging from power and build to post-pregnancy and body and mind. If you need that empowering female push, definitely try Itsines' fitness program.
8. Bar Online
If you can't make it to the studio, Bar Online is the next best thing to taking a barre class. "You get the same highly trained teachers, motivating music and variety of workouts with the convenience of an at-home (or on vacay) workout," says Kate Grove, The Bar Method master trainer and head of learning and development.
Members get unlimited access to a library of classes ranging from 20 to 60 minutes, all of which include a quick warm up, weights and push-ups to define your arms and shoulders and legs. There's also seat work — which targets your glutes — and floor work to focus on the core. To get going, you'll need a few props including small weights (up to 5 pounds), mats and a ball. You can easily substitute those with a sturdy chair, firm pillows, and a towel.
9. Fhitting Room on Demand
For the HIIT junkie who hates the high price tag of classes, try Fhitting Room on Demand. It has a content library that's updated weekly with total body workouts for different durations and intensities. You can do a full-length 30-minute class, make your own "playlist" of a workout using bits and pieces of moves to build something between 4 to 30 minutes long, or check out themed sessions in the app, like Beach Burn or Hotel Workout
10. Peloton
With the Peloton app, you get access to cycling and running workouts, HIIT classes, bootcamp, yoga and more. Not ready to buy a bike or treadmill to take their livestream or on-demand classes at home? That's OK. The brand offers loads of options that require little-to-no equipment, and you can get your sweat on wherever you want.