It's no secret that a workout buddy can do your routine wonders, especially for beginners — a 2016 study in the journal Obesity found that spending time with fit friends demonstrably encourages exercisers to sweat off more weight.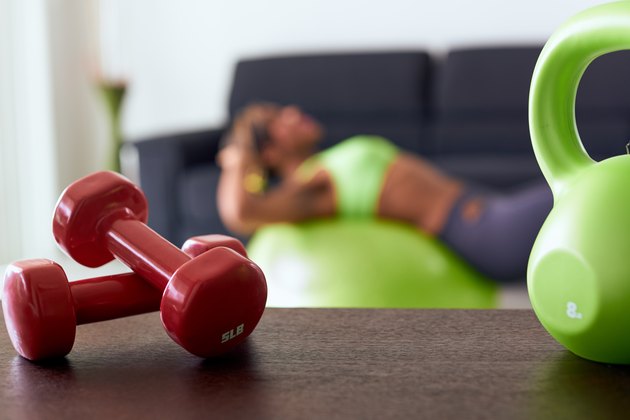 Just one problem: You don't always have a fitness partner at arm's reach. However, while instructional exercise media has made a quick transition to YouTube and streaming platforms, the fitness DVD market is still plenty healthy. The pros recommend this starter pack to keep you motivated and save you money on those eye-popping gym membership fees.
Frankie Essex — Weight Loss Workouts
Released in 2016, this DVD features Certified Personal Trainer Lisa Nash taking the titular UK star through workout routines that really hit the fat-burning bases. Running 72 minutes, Frankie's DVD features three 20-minute programs, including a high-impact interval training workout, a cardio box segment focused burning calories and a sculpting and toning routine for tightening up.
As the Evening Standard puts it, this one has the range that beginners need. "Whether you're in the mood for unleashing your inner beast with boxing or working your abs with mountain climbers, this DVD has got what it takes to make you sweat. [...] The creative combos certainly made the workouts more enjoyable."
Tara Stiles: This Is Yoga
Part of a four-DVD series, Tara Stiles' introductory video aims to ease beginners into daily yoga with her quirky and welcoming technique, which promises improved core strength and balance alongside weight reduction and a healthy dose of daily de-stressing.
In addition to 60-minutes of newbie-friendly yoga, this extra-long disc features 30 minutes of a Relax Flow routine that helps center the mind as Tara centers your core. Not only does Deepak Chopra follow Stiles' wisdom, Oprah.com calls this DVD set just as "accessible" as it is "encyclopedic."
Jillian Michaels: 30-Day Shred
If you're a results-oriented newbie who wants something a little more intense, take it from the fitness reviewers at Woman's Day in 2018: "After hearing so much hype, Jillian [Michaels] delivered. Each workout kicked my butt and I noticed results in terms of strength improvement after just one week."
"30-Day Shred" uses Jillian's 3-2-1 Interval System to combine strength, cardio and abdominal training, focusing on building muscle as you burn fat. This 60-minute disc from the famously tough trainer is one of the best-selling fitness DVDs on Amazon, and features three workouts that build gradually, featuring accessible classics like pushups, reps with small weights, cardio and more.
According to Michaels, "you can lose up to 20 pounds in 30 days" by following her 20-minute shred routine.