Remember the days of popping in a Richard Simmons VHS tape so you could sweat to the oldies? Or maybe you were more of a Jane Fonda or Denise Austin fan. While the delivery method of at-home workouts changed from VHS to DVD (and now even streaming online), you can still get a fantastic workout right from your living room.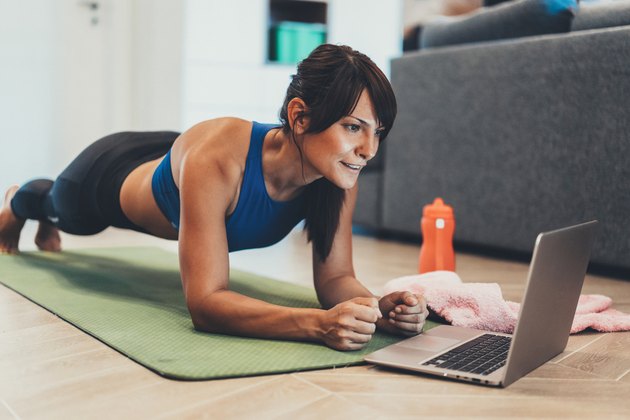 But if you're overwhelmed by the sheer number of options available to you, the pros recommend this starter pack to keep you motivated and save you money on eye-popping gym membership fees.
1. Weight Loss Workouts With Frankie Essex
This DVD features certified personal trainer Lisa Nash leading UK TV personality Frankie Essex through three workout routines, including high-intensity interval training (HIIT), a cardio boxing session and a dumbbell muscular sculpting and toning sequence.
As the Evening Standard puts it, this one has the range that beginners need. "Whether you're in the mood for unleashing your inner beast with boxing or working your abs with mountain climbers, this DVD has got what it takes to make you sweat."
2. This Is Yoga With Tara Stiles
This Is Yoga is a four-disc set led by yoga instructor Tara Stiles. Stiles eases beginners into a daily yoga routine with her quirky and welcoming technique, promising improved core strength and balance, as well as potential weight loss (when combined with a healthy, reduced-calorie diet, of course) and a dose of daily de-stressing.
Not only does Deepak Chopra follow Stiles' wisdom, Oprah.com calls this DVD set just as "accessible" for new yogis as it is "encyclopedic" for longer practitioners.
3. 30-Day Shred With Jillian Michaels
4. RIPT90 With Jody Hendrix
If Jody Hendrix's, a top CrossFit athlete, physique isn't enough to convince you to try this program, the training detail and variety will. RIPT90 consists of 14 DVDs, a training guide, nutrition guide and training calendar, promising users a leaner and stronger build after only 90 days.
Available on Amazon, each RIPT90 DVD emphasizes different training forms and objectives, including every minute on the minute workouts, plyometric exercise, functional training and metabolic conditioning, a form of high work rate training that maximizes calorie burn post workout.
5. The Signature Classes With Simone De La Rue
With studios in New York, California and the UK, Body By Simone is a popular dance cardio program led by Simone De La Rue, a former professional Broadway and West End dancer.
The Signature Classes DVD, available on the Body By Simone website, is designed for all fitness levels and features two signature workouts that combine cardio and interval training techniques. What makes it great for beginners is that it requires minimal equipment workout — just a mat, towel and three- or five-pound dumbbells.
6. Beach Babe With Katrina Scott and Karena Dawn
Katrina Scott and Karena Dawn, founders of Tone It Up, are two familiar faces in the fitness industry, attracting crowds of people at a single workout event (and an impressive social media following as well). The pair popularized their DVD series, Beach Babe.
With two discs and seven workouts, Beach Babe is a full-body workout regimen, including HIIT training, yoga routines and core-focused workouts. Beach Babe workouts don't require any equipment and can be done anywhere from your home to the beach.
7. Precision Sculpt With Stephen Pasterino
Stephen Pasterino's workout program, p.volve, is known for its popularity among Victoria's Secret models like Blanca Padilla and Nadine Leopold, promising to help build lean muscle. The p.volve method uses a signature p.ball, which rests between your thighs, held in place with an elastic band. Available on the p.volve website (along with the Precision Sculpt DVD), the p.ball targets the inner thighs, while also toning the glutes (a.k.a. your booty).
In creating p.volve, Pasterino wanted to bring an end to grueling, painful workouts. "I'm dedicated to helping women feel strong and confident with exercises that complement and enhance their natural shape," Pasterino says on the site.
8. New Body Pilates: Beginner's Mat Workout With Jennifer Kries
For beginners looking to introduce Pilates into their weekly workout routine, Jennifer Kries' videos are the perfect pace. Available on Amazon, the beginner-friendly mat workout video teaches newbies the fundamentals of Pilates, including proper posture, breathwork and footwork for a challenging exercise that also helps the muscles stretch and rest.
When teaching Pilates, Kries emphasizes back-strengthening techniques and increased range of motion and mobility, which she also weaves into each of her instructional DVDs.