Workout DVDs overrun the shelves at the store. There are DVD routines that tone abs, rear end or whole body. These videos can be an efficient workout for busy people, who don't have time to make it to the gym. With so many choices, however, it is not easy to pick the right video. With a little help, the perfect workout video can be at one's fingertips; these top 10 stand the test of time.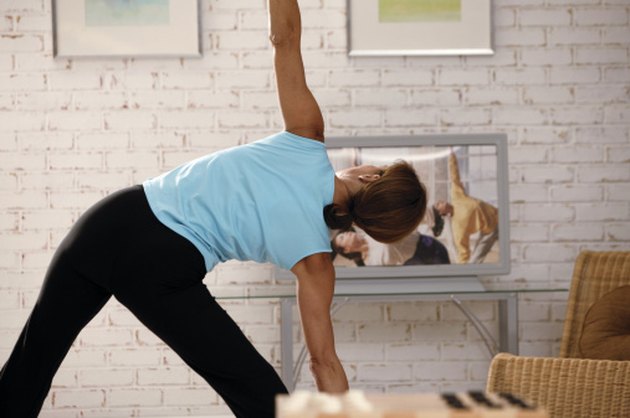 10 Minute Solution
This DVD allows you to choose from 5 different programs. You can either combine the five programs for a 50 minute workout, or just work on one area for a 10 minute workout.
Billy Blanks: Tae Bo Amped
Billy Blanks provides the most successful workout for burning calories. Blanks was a pioneer in the Tae Bo workout video field. His Tae Bo Amped five disk set combines Tae Kwon Do, Kickboxing and aerobics. According to Consumer Search, this video set will get your heart rate up and burn calories.
Brazil Butt Lift
Leandro Carvalho shares his secrets on sculpting the butt. Super models use this video to avoid surgery. It is effective for creating a firm rear end.
Denise Austin: Boot Camp Total Body Blast
This DVD is perfect for the time-crunched individual. According to Fitness Magazine, each workout burns approximately 350 calories. It provides three workouts in 30 minutes or less, including cardio, strength and stretching. The short sessions, in this video, are just enough time to burn fat and see results.
Insanity Challenge
This DVD provides drills, intervals and strength training in one-hour increments. Shaun T utilizes MAX Interval Training so that the participant can get an awesome body in 60 days.
Jane Fonda: The Workout
The Workout works your whole body, by combining low impact and high intensity movements. According to the Jane Fonda website, it is the highest-selling workout video of all time.
Jillian Michaels: The Complete Workout for Beginners
According to "Fitness Magazine", Jillian Michaels created the most efficient back to basics workout. This program focuses on circuit training and toning the body. The format is facilitative and easy to follow.
Richard Simmons: Sweatin' to the Oldies
Richard Simmons' video Sweatin' to the Oldies is the best video for making you sweat. The video features classic music that you can enjoy while working up a sweat.
Tony Horton's P90X
The P90X is the greatest workout for building muscle mass. It is a 90-day extreme challenge. By never allowing muscles to get used to a workout, it builds muscle. An intense and highly recommended workout to bulk up.
Turbo Jam
Turbo Jam is the most effective video for having fun. According to Beachbody, it blends cardio, kickboxing, body sculpting and dance so that you can enjoy working out.