If you want to get into Pilates but don't have the time to make it to class, then exercise videos are where it's at. Pilates workout videos offer breakdowns of popular routines consisting of low-impact exercises in a series of slow, precise movements.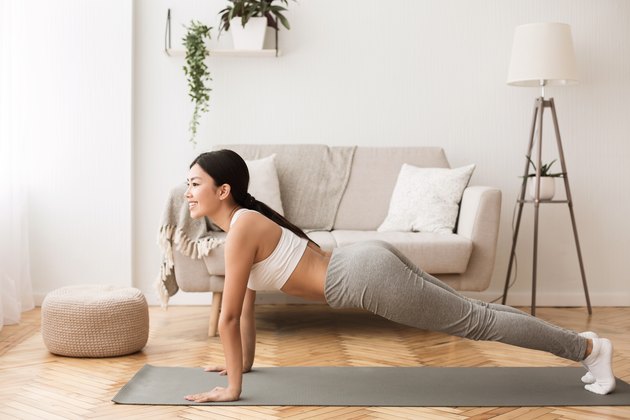 Similar in style to yoga — in that it concentrates on flexibility, posture and balance — Pilates emphasizes core work that will make you hurt so good post-sweat. Other benefits of Pilates include better posture, improved flexibility, better balance and increased body awareness. Since poses can be modified, it's a great option for individuals who are recovering from an injury or who are new to fitness. It's also a cross-training alternative for fitness lovers looking to spice up their routines or target one specific area of their body.
Ready to get moving? Here are 11 Pilates videos to get you in the groove. The best part: Most of them are absolutely free.
1. Fat Burn Machine: Full-Length 30-Minute PIIT28 Workout
This full-body video by Cassey Ho, founder of Blogilates, offers a warm-up followed by six moves — 45 seconds on, 15 seconds off. After four rounds, you'll end with an ab series. You'll get an all-over workout right from the comfort of your living room. Plus, no equipment is necessary.
Time commitment: 35 minutes
Recommended by: Kimberly Spencer, Pilates expert and founder of CrownYourself.com, a life coaching, business mindset and digital education company.
"My high-achieving clients like Pilates that not only emphasizes form, but that also kicks your butt in all the best ways," she says. "When I closed my private studio to build my online coaching community, Blogilates was the number one recommendation."
2. 30-Minute Mat Pilates Workout
This mat workout, led by Trifecta Pilates, focuses on rotating the spine for deeper oblique activation. You'll go through a series of slow, steady poses to help strengthen your core without putting stress on your back. You'll finish feeling stronger and challenged, and a mat is the only thing you'll need.
Time commitment: 28 minutes
3. 20-Minute Standing Pilates Fusion Abs Workout
If you're tight on time and space, this ab workout contains no floor work and can be done in bare feet. Jessica Smith, who created it, combines elements of core training, barre, Pilates, yoga and more. The moves are to be done at a steady pace with no breaks, which also provides a mild cardio effect. If you're a fan of this video, you can purchase Smith's Feel Good Fusion DVD, an 82-minute program with no floor work, for $14.98.
Time commitment: 22 minutes
4. 10-Minute Total-Body Pilates
This simple, mat-based routine by Los Angeles-based Pilates instructor The Live Fit Girl targets your abs, legs and arms. You'll be guided through each move, which makes it a great option for beginners. Most of the moves are done while lying on your back — the last move will be a series of push-ups.
Time commitment: 10 minutes
Recommended by: Caleb Backe, a certified personal trainer and health expert for Maple Holistics, loves this total-body video. "This workout targets every limb. She guides you through the exercises with clear instructions that help you to tone your arms, abs and legs for an easy-to-follow, powerful Pilates workout to increase strength," says Backe.
5. Pilates Intense Mat Workout
If you're looking to take your Pilates practice to the next level, this 20-minute video is for you. This floor workout, created by Boho Beautiful, targets and tones different areas of your body, including your core, obliques, glutes and hamstrings. You'll be calmly guided through a series of challenging poses that will leave you feeling like a warrior who can take on anything.
Time commitment: 20 minutes
6. Denise Austin: Shrink Your Fat Zones Pilates
Denise Austin is one of the most popular fitness experts in the game who has been creating at-home workouts for over two decades. This Pilates DVD will help you quickly shed fat while simultaneously toning your muscles. Austin offers three separate 15-minute sessions that each target a different area of your body, including abs, upper body and butt and thighs.
Time commitment: 15 minutes
7. Relaxing Pilates Yoga Blend
This slower-paced workout by FitnessBlender is great for those days when you aren't in the mood for more intense exercise or are feeling stressed. The 15-minute video will focus on strength and flexibility by taking you through a series of yoga and Pilates movements. You'll do one round with a varying amount of reps. An exercise mat is optional.
Time commitment: 15 minutes
8. Beginner Pilates Mat Exercises
In this 30-minute video, Jessica Valant takes you through the foundations of Pilates while giving you a great workout. Her encouraging tone makes it a great option for beginners or individuals returning from an injury. She also spends time explaining each move and why it's important.
Time commitment: 30 minutes
9. 5 Pilates Exercises for Pelvic Floor Muscles
Looking to strengthen your pelvic floor? In this seven-minute video, Olya Kornienko showcases the five most effective Pilates exercises to strengthen these muscles. Before doing this workout, it's important to understand how to activate both your transverse abdominis and pelvic floor.
Time commitment: 7 minutes
10. Pilates For Beginners and Beyond
This box set contains three Pilates videos with everything you need to begin learning the practice and to progress at your own pace. The first DVD contains more than 15 routines to help improve your flexibility. The second DVD offers over 20 workouts to help sculpt and tone your body, with some of the exercises requiring a ball and weights. The final DVD has more than 15 customized mat routines to help you burn fat and build muscle.
Time commitment: 30 minutes
11. Sculpt and Sweat — A Full Body Pilates Circle Workout
If you're looking to work up a sweat, check out this DVD from Pilates teachers Kristen Matthews and Andrea Speir. This full-body, sculpting session uses a Pilates magic circle to challenge your body in new ways and help guide you toward proper form. You'll get four multi-level routines, offering an intermediate-advanced version and modified variations.
Time commitment: 10 to 20 minutes