Resistance exercise tones and strengthens muscles. Exercises for the shoulders are especially beneficial for developing good posture, releasing tension and increasing blood flow to the upper torso and head. The difference between a basic military press and a behind-the-neck press may seem small, but their positions differ and they offer different benefits.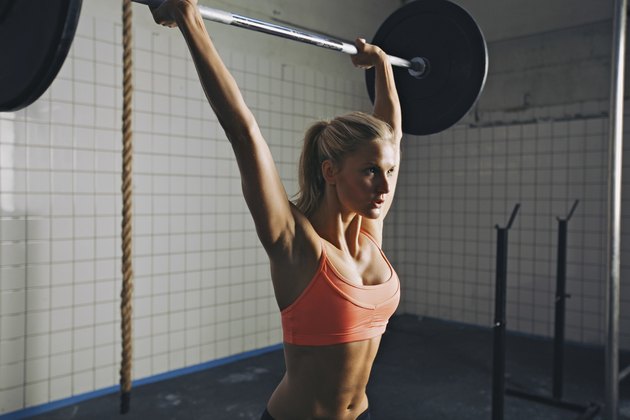 Military Press
You can perform a military press with either free weights or a barbell. When you do a military press you bend your arms and hold your wrists at shoulder-level and you press the weights straight up and over your head. The grip for the overhead military press is closer to the center of your body than for the behind-the-neck press, with the hands close to the shoulders in front of the body.
Behind-the-Neck Press
A behind-the-neck press is easiest to perform with a weighted barbell. Bend your arms and lift the barbell over your head resting it on your shoulders behind your neck. The grip for this exercise is wider, with your hands placed approximately 5 to 6 inches to the side of your shoulder for better stability and support. When lifting, you need to tilt your body slightly forward so you don't bang the bar against the back of your head, and your arms have a more limited range of motion than with the military-style overhead press. The behind-the-neck press places additional strain on the rotator cuff muscles of the shoulder joint, so start with low weight to determine your strength before moving on to larger and heavier weights.
Body Position
You can perform a military press either sitting or standing. When standing, place one foot slightly ahead of the other for stability and balance. Keep your lower abdominal muscles pulled inward and exhale while lifting. You can perform the behind-the-neck exercise sitting or standing, but you need to pull your abs in and straighten your back during the exercise. It's important to stand or sit in a straight position when performing the behind-the-neck lifting move for spine support.
Muscles Worked
The military overhead press and the behind-the-neck press work slightly different muscles. While both work the major muscles in the shoulder such as the anterior or front portion of the deltoid muscles and the lower and middle portion of the trapezius, the military press also works the front portion of the chest muscle called the pectoralis major. It also works the muscles surrounding the clavicle or collar bone. The behind-the-neck press works the supraspinatus muscles, located at the top of the shoulder blades.