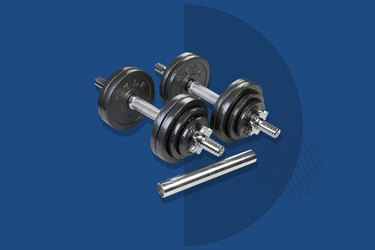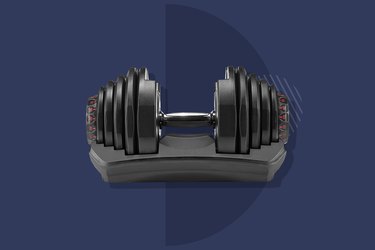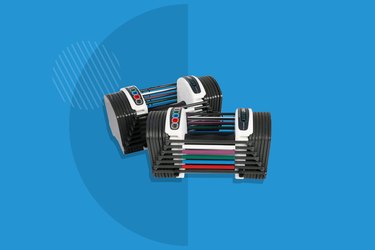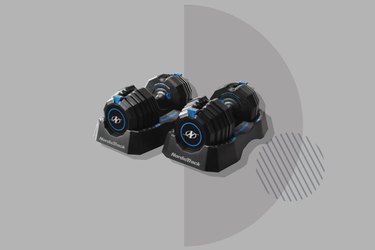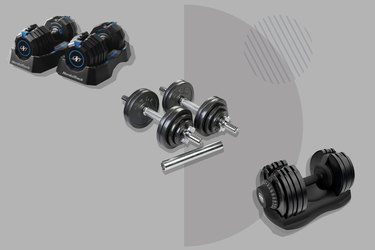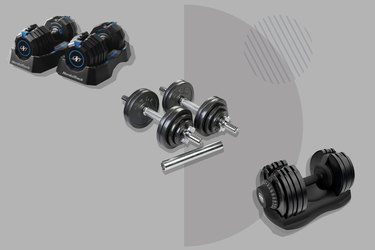 If you're tight on space, adjustable dumbbells are at-home workout lifesavers. These versatile weights help you save room by allowing you to switch out the plates on the same bar by simply turning a dial or unscrewing the plates.
This way you're not stacking one dumbbell on top of another, but stashing just one pair. After all, your living room or garage is meant to have other furniture.
"Before quarantine, I bought so many weights that I basically have a full gym in my spare bedroom — but they take up a ton of space that I don't have," says Gerren Liles, CPT, master instructor at Equinox and founding trainer of the Mirror. "Adjustable dumbbells present a great convenience when it comes to smaller workout areas."
Here are some trainer-approved adjustable dumbbells for all different weight ranges and price points. Plus, get tips on what to look for when you're shopping.
The Best Adjustable Dumbbells
We chatted with personal trainers and fitness experts to find out what features they look for in the best adjustable dumbbells. With their advice in mind, we rounded up several options based on the following criteria. You can learn more about how we cover products here.
1. Best Overall: Bowflex SelectTech Adjustable Weights
As one of the most beloved pairs of adjustable dumbbells among trainers, these Bowflex weights adjust with the turn of a dial, so you don't have to worry about changing out the plates manually after each set. Each dumbbell starts at 10 pounds and can go up to 90 pounds.
"They've got the traditional dumbbell shape and feel good in your hands," says Adam Rosante, CPT, trainer and founder of Wild Strength Club in Amagansett, New York. "They're a little long at lower weight loads, which is a bit odd, but the weight balance is perfect."
Use them to do everything from biceps curls to overhead triceps extensions, weighted lunges and squats.
"They're also durable, but I ask clients not to drop them as I'm concerned the locking mechanisms might break," Rosante says. Instead, just place them back in the secure base.
2. Best Light Weights: PowerBlock SportBlock 24 Adjustable Dumbbells
You can adjust these PowerBlock dumbbells from 3 pounds up to 24 in 3-pound increments. But what sets these dumbbells apart is that they're more compact than other adjustable options, and the padded handles make them easy to grip.
"The PowerBlocks are easy to adjust, they're durable and the square frame provides a solid base for push-ups and various plank row exercises," says Rob Sulaver, CSCS, certified strength and conditioning specialist, founding trainer of Rumble and CEO of Bandana Training.
"They're incredibly durable and have a really nice hand feel," Rosante adds. "My only issue with these is that they're tricky to use for dumbbell goblet squats as there's no real 'head' to hold. You can maneuver into position with them, but they're not as easy for that particular move."
3. Best for Quick Adjustments: NordicTrack Select-a-Weight Dumbbells
Adjusting these weights is a breeze, which makes them great to use for supersets when you quickly need to switch from one weight for an overhead press to another for a front squat, for example. Simply lift the blue selector on the dumbbells and slide it to the amount of weight you're looking to use.
"They have the traditional dumbbell shape, which makes things like goblet squats easy to perform," Rosante says.
The weights adjust in 10-pound increments, and within that range, you can choose to use the circular micro-adjuster to increase or decrease by either 2.5 or 5 pounds.
"This is a solid pair of weights that ticks a number of boxes," Liles says. "They're sturdily made, where you can plank while holding them. And the range from 10 to 55 pounds makes them useful for people of diverse levels of strength."
4. Best on a Budget: Ativafit Adjustable Dumbbell GT528 27.5lbs
You'll get the equivalent of 12 sets of weights in one with this pair of adjustable dumbbells — and for under $300. "This is a good range in weight for beginners to more experienced individuals — not too many people outgrow 71.5 pounds," says Chris Parnell, a NASM-certified personal trainer at Equinox and Soho Strength Lab in New York City.
Turn the dial to adjust the weights in 5.5-pound increments. Rosante also notes that the handles are padded with rubber for a comfortable grip.
One downside to consider: "The way the weight is indicated on the dumbbell is kind of odd," Rosante says. "If you do the math, it's easy to see that the weight is listed in pounds up to 30 and switches to kilograms up from there. I'm sure they have a reason for that, but I think it's probably a bit confusing for most at-home fitness consumers."
Tip
If you want to convert kilograms into pounds, divide the number by 2.2.
5. Best for Straight-Set Workouts: TELK Adjustable Dumbbells
This rust-proof pair of dumbbells may feel like a throwback with their screw-on collar design, and how you physically load plates to adjust the weights. You can add weight in 1.25-, 2.5- and 5-pound increments, and it comes with a connector rod, so you can convert the two dumbbells into one barbell.
"These remind me of the old-school weight set my dad had in our basement growing up," Sulaver says. "I appreciate their nostalgic vibe, but I will say these take a bit longer to adjust. It really comes down to how you use them."
That said, if you're using these weights in your workout, make sure that you're choosing exercises that you can generally use the same weights for so you don't have to constantly change them.
"These would be great if you want a single set of dumbbells for various people in your family to use — you can easily adjust the weight between workouts. They'd be less great if you're constantly adjusting weights within a single circuit or workout," Sulaver says.
You'll also want to make sure you tighten the collars so the plates don't move as you're lifting.
"Some versions of these products have collars that loosen over repeated use in a workout, causing the dumbbells to become noisy with the constant clanging of the plates, so make sure the collars are securely screwed in," Liles says. "With a practical exercise sequencing that doesn't involve constant changes in weight, these dumbbells could be a solid tool in your workouts."
4 Tips for Buying the Best Adjustable Dumbbells
Before you pick up any pair of adjustable dumbbells, there are a few things you should know.
1. Choose a Proper Weight Range
Consider the minimum and maximum weight available for the pair of adjustable dumbbells.
"Look for a weight range that'll allow you to progress in your training over time. If possible, go for a pair that starts low — 5 pounds — and increases in 5-pound increments," Rosante says. "Some of them move up in 10-pound increments, which is a pretty significant jump depending on the exercise and your level of strength."
2. Consider Size and Efficiency
Adjustable dumbbells are a bit bigger and bulkier than single-size dumbbells, so you may have to adapt some of the movements and exercises that you do with them.
"Take into consideration the ease of switching from one weight to another, and the range of exercises that can be done smoothly and efficiently with them," Liles says.
3. Invest in High-Quality Weights
"You don't want to spend money on equipment that you hope will be a long-term investment, only to have it start falling apart soon after purchasing it," Parnell says. "You want to feel safe pressing weight knowing it won't fall on your face!"
That said, you want to be a bit more delicate when training with adjustable dumbbells than you might otherwise be with traditional weights, Sulaver says. "They're designed to be sturdy — and they are — but there are plenty of moving parts, so they don't take too kindly to being dropped or thrown around if that's your style."
To ensure you're buying something that will last, Rosante recommends reading reviews from other online shoppers. "It sounds obvious, but read reviews on the pair you're considering buying," he says. "If you see too many people complaining about the same thing, that's a red flag. They're dumbbells. You shouldn't have to treat them like fine china."
Because you're getting a wide range of weight with just one set of dumbbells, they will cost a decent amount of money.
"The more vast the range of weight and the heavier the dumbbells can go, the lighter your pockets will be after the purchase," Parnell says. "While you should consider your budget and fitness plan, you also want to be sure you're getting a quality product, which could mean you have to spend a little more upfront."
If you have the opportunity to go to a store and try out some options, you could get a better sense of how easily the pair you're considering adjusts, how bulky they feel and how well you can grip them, which could affect your decision, Sulaver says.