It's easy to get a little jealous of all the amazing, decked-out, high-tech at-home gyms you see on Instagram. But Rome wasn't built in a day and the same goes for your workout space. Creating a space to sweat it out in your living room, basement or spare bedroom doesn't have to break the bank, either.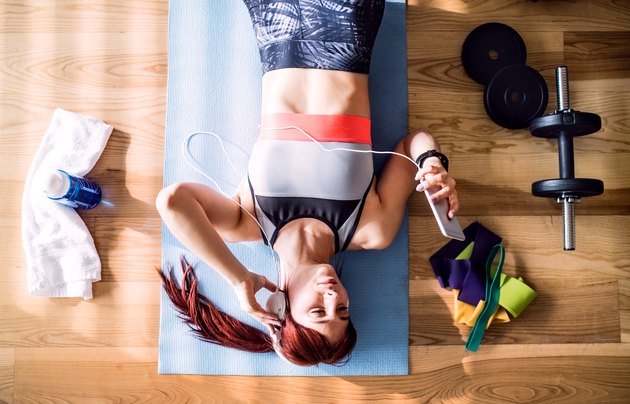 You can build up your at-home exercise equipment stash with just a few key pieces of equipment that are both relatively inexpensive and endlessly versatile. These five pieces of workout equipment — recommended by Maillard Howell, owner of CrossFit Prospect Heights and founder of The Beta Way, and Meghan Takacs, certified personal trainer at Performix House and founder of the app #RunWithMeg — will equip you for pretty much any at-home workout.
Start With Resistance Bands
Once you master the basics, Howell and Takacs suggest getting a little experimental with this run-of-the-mill piece of equipment. While you can use the bands for glute and hamstring work, you can also use them to strengthen your upper body, Takacs says. Longer bands are great for upright rows or overhead presses, Howell says. You can also use the longer sized bands for biceps curls or lateral raises.
They're an inexpensive option that can be stored just about anywhere. And you can opt for a package that includes a variety of bands in different sizes and resistance levels.
Then Add Dumbbells
Both Howell and Takacs strongly suggest you consider investing in a few sets of dumbbells for at-home strength training. Like resistance bands, dumbbells are a versatile, easy-to-use piece of equipment that can be added to just about any exercise for some muscle-building benefit.
Need some fresh ideas? Takacs recommends scrolling through Instagram for some inspiration. "Search for hashtags in what you are interested in doing like '#dumbbellworkouts' and you will be able to create your own routine with a ton of movements you probably didn't even know existed!"
One thing to keep in mind when purchasing a set (or two): Err on the lighter side if you're not sure which weight is best for you, Howell says. After all, you can always add more reps, then upgrade once you've mastered your set.
Graduate to Kettlebells
Trainers can't praise kettlebell training enough. Essentially a cannonball with a handle, kettlebells can be used for strength and muscle building, as well as boosting your aerobic capacity.
According to research sponsored by the American Council on Exercise (ACE), participants who completed eight weeks of kettlebell-focused workouts experienced a 13.8 percent increase in aerobic capacity, in addition to improvements in balance and increases in core strength.
As with dumbbells, err on the lighter side. "Do not ego buy," he says. In other words, don't let your ego drive you towards the heavier weight. If you're new to kettlebells, he recommends starting with a 26-pound weight. However, if this piece of equipment is nothing new to your workout routine, you can go for a 35-pound weight.
You can do traditional kettlebell exercises like kettlebell swings and cleans. Or you can get creative and use them as a barbell alternative for deadlifts or squats.
Play Around With Sliders
Sliders (a.k.a. gliders) are a largely dreaded piece of equipment, but they're great for full-body workouts, Takacs says. Especially your abs. If you're having trouble visualizing this piece of equipment, they're two small disks you can place under your feet or hands to glide smoothly on the floor.
Like resistance bands, sliders are a relatively inexpensive piece of equipment and can be easily stored just about anywhere. Not to mention, they offer a lot of versatility for such a small tool, Takacs says.
Experiment with slider-enhanced mountain climbers, placing the disks under your feet as you perform the exercise. Or you can try a seal walk, placing the sliders under your feet, using your hands to pull your body across the room, ACE recommends.
But you don't need to keep the sliders confined to your abs. Place the disks under your hands during push-ups, bringing one arm out in front of you at the bottom of the move, Takacs says. Or use them to glide along the ground for reverse lunges.
Challenge Yourself With a Doorway Pull-Up Bar
Even though it's a bit more of an advance piece of at-home workout equipment, a doorway pull-up bar is easy to assemble and install and is great to increase your chest and shoulder strength, Howell says.
Chin-ups and pull-ups are a challenging exercise and require a good amount of strength and mobility. If you don't have this exercise down yet, it's a good thing you have resistance bands in your at-home stash! Use these for band-assisted chin-ups and pull-ups.
But your exercises aren't limited to pull-ups and chin-ups (although these are great compound exercises). Howell recommends hanging from the bar and firing up your core with some hanging knee raises or tuck holds.