Chin-ups are an extremely difficult exercise, especially for someone new to exercise. In fact, it often takes most Marine Corps cadets up to six months to do their first pull-up, according to Military.com.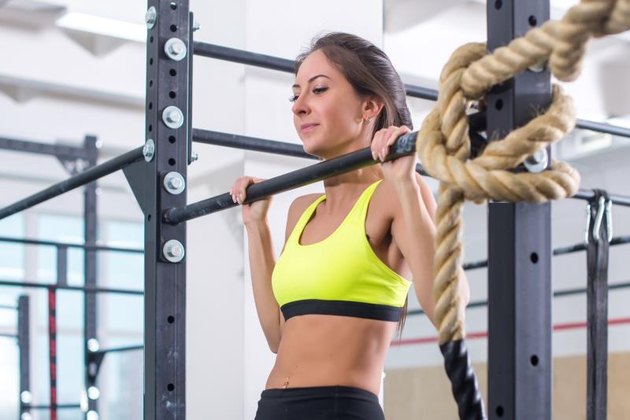 What makes this exercise so difficult? The simple fact that you have to lift your entire bodyweight using only a few upper-body muscles. Therefore, some people might want to find an alternative to build strength before trying a pull-up again.
An alternative exercise can help bridge the gap in muscle strength from where you currently are to the level you need to reach to do a full pull-up or chin-up. The difficulty lies in finding a way to mimic the movement of a pull-up.
Both the chin-up and pull-up are vertical pulling movements. The only difference between the two is the way that you grip the bar you use to pull yourself up. For a chin-up, your palms should face you.
Similar Exercises
In order to find an alternative to these exercises, you need to find another way to do a vertical pulling movement. One of the best ways to mimic these exercises and still make them easier is to tie a resistance band around the pull-up bar and put your knee in the band.
This band assists you on the way up and makes the exercise more manageable. The only drawback, according to strength and conditioning specialist Bret Contreras, is that the band doesn't help you very much at the bottom of the movement.
You can also do a cable or resistance band pulldown. The point of these exercises is to use a much lighter weight than your bodyweight and slowly build up your back, arm and chest muscles. Pulldowns are also vertical pulling motions, which means that they work the same muscles as pull-ups and chin-ups.
1. Band-Assisted Chin-Up
This is a more accessible alternative the standard chin-up or pull-up.
HOW TO DO IT: Loop a band around a pull-up or chin-up bar. Bend your right leg and put the band under your knee, right above your shin bone. Grab the bar and pull yourself up as high as you can. If you can't pull yourself up, use a thicker band that has more resistance.
2. Cable Pulldown
This alternative allows you to select exactly how much weight you use, making it ideal for beginners.
HOW TO DO IT: Grip the bar attached to the cable machine with you hands either facing toward or away from you, about shoulder-width apart. Sit down on the seat and squeeze your legs under the pad that sits above the seat.
Pull the bar down and touch your chest. You may lean back slightly as you pull down, but try to remain as upright as possible. Slowly let the weight pull your arms back up until your elbows are straight.
3. Half-Kneeling Band Pulldown
If you don't have access to a cable pulldown machine, this is the next best option.
HOW TO DO IT: Loop a band around a pull-up bar or another fixed object to hang it. Kneel down on the ground with one knee. Plant your other foot in front of you, so that your front knee is at a 90-degree angle.
Grab the band with your hands a few inches apart and your knuckles facing toward you. Pull the band down until your wrists touch the outside of your chest muscles. As you pull down, pinch your shoulder blades together and stick your chest out. Slowly let the band pull your arms back up until your elbows are straight.