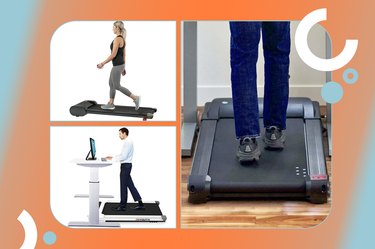 It's a common dilemma: You know you need to move more throughout the day, but getting out for even a quick walk can feel like an insurmountable task.
That's where under-desk treadmills (treadmills that fit under a standing desk as opposed to treadmill desks that come with a workstation attached) come into play. Thanks to their low-profile designs, high-quality construction and improved features, like noise-reducing motors and walking belts, these machines are making it easy to squeeze in heart-healthy cardio while working.
To help you get more movement, we gathered the five best under-desk treadmills of 2023. Upgrade your workspace with one of these top picks.
The Best Under-Desk Treadmill Desks
To help us narrow down our list of under-desk treadmills, we turned to Karena Wu, DPT, a board-certified orthopedic specialist at ActiveCare Physical Therapy in New York City. We chose our top picks based on the following criteria. You can learn more about how we cover products here.
Features
Price
User ratings
1. Best Overall: GOYOUTH 2-in-1 Under Desk Treadmill
‌Dimensions: ‌50.59" length x 22.44" width x 5.51" height
‌Folding: ‌No
‌Weight max: ‌220 pounds
‌Speed limit: ‌6 mph
‌Incline: ‌No
‌Wheels: ‌Yes
With a maximum speed of 6 miles per hour (mph), you can walk and jog on this under-desk treadmill. And you can easily adjust your pace with the included remote control or choose from one of 12 pre-set programs designed to improve your cardio fitness.
The LED display on the base of the treadmill shows your activity stats, including time, distance, speed and calories burned. And this is one of the quietest under-desk treadmills. Thanks to the silent motor and shock-absorbing, noise-reducing treadmill belt, you don't have to press pause during work calls.
2. Best Budget: Goplus 2-in-1 Folding Treadmill
‌Dimensions: ‌49" length x 27" width x 42" height
‌Folding: ‌Yes
‌Weight max: ‌265 pounds
‌Speed limit: ‌7.5 mph
‌Incline: ‌No
‌Wheels: ‌Yes
You'll get a lot of bang for your buck with this folding under-desk treadmill.
This treadmill goes up to 7.5 mph when you raise the handrail, so you can truly take a run, Wu says. The handrail also has a device holder, perfect for watching movies or taking a call while you exercise.
You can check your time, speed, distance and calories burned using the LED display at the base of the machine. Or, monitor your progress and control the treadmill on the machine's Smart app, which is free to download.
It also has a compact, foldable design with built-in transport wheels, allowing easy movement and storage.
3. Best for Small Spaces: Sunny Health and Fitness Walk Station
‌Dimensions: ‌50" length x 21.5" width x 6.5" height
‌Folding: ‌No
‌Weight max: ‌220 pounds
‌Speed limit: ‌3.75 mph
‌Incline: ‌No
Wheels: Yes
Wu likes this option for small spaces, thanks to the thin, space-saving design that's free of handrails and a bulky console. You can change the speed with the included remote control and check your time, speed, calories, distance and steps on the display at the base of the machine.
This small under-desk treadmill also has safety technology that detects activity and automatically pauses after 5 seconds when not in use. Plus, power-saving tech puts the treadmill on sleep mode if it's idle for more than 10 minutes.
At 55.1 pounds, this treadmill is also very lightweight, making it easy to pick up and roll away when needed. Plus, it arrives fully assembled!
4. Best Folding: WalkingPad A1 Pro Treadmill
‌Dimensions: ‌47" length x 16.5" width x 5" height; 32.5" length x 21.5" width x 5" height (folded);
‌Folding: ‌Yes
‌Weight max: ‌220 pounds
‌Speed limit: ‌3.7 mph
‌Incline: ‌No
‌Wheels: ‌Yes
If saving space is a must, Wu thinks this walking pad treadmill is worth the splurge.
What sets this under-desk treadmill apart from the pack? For one, it has a seamless design (no handrails or display) and patented folding mechanism in the middle of the belt, enabling you to pack it down for easy storage.
Track your time, speed, distance, steps and calories burned in the KS Fit app. And you can change your speed with the included remote or set the treadmill to "A" mode, which allows you to control the pace with your feet.
5. Best Splurge: LifeSpan TR1000 GlowUp Under Desk Treadmill
‌Dimensions: ‌58" length x 28.5" width x 7.25" height
‌Folding: ‌No
‌Weight max: ‌250 pounds
‌Speed limit: ‌4 mph
‌Incline: ‌No
‌Wheels: ‌Yes
While this under-desk treadmill is pricier than other options, it comes with an impressive list of features.
This machine arrives fully assembled and has internal power cord storage to keep your workspace free of pesky chargers.
Another bonus: integrated safety technology that tracks your movement. In other words, the treadmill only operates if you're actively walking, while the quiet motor and impact-absorbing belt keep noise to a minimum.
Plus, this treadmill offers a portable console that's small enough to fit on your desktop but allows you to control speed and provides a readout for steps, time, distance, calories and pace.
6. Best for Safety: Urevo 2-In-1 Under-Desk Treadmill
‌Dimensions: ‌54.7" depth x 26.4" width x 5.1" height
‌Folding: ‌Yes
‌Weight max: ‌265 pounds
‌Speed limit: ‌7.6 mph
‌Incline: ‌No
‌Wheels: ‌Yes
This under-desk treadmill comes with a remote control so you can easily adjust the speed or stop the machine altogether and has a foldable design that makes it perfect for moving around and storing.
Whether you're looking to clock in more steps throughout the day or burn off some energy with a powerful run, this treadmill allows you to run up to 7.6 mph and walk up to 3.8 mph.
The best part is it already comes assembled so you can use it immediately. And it has a handlebar for extra safety as you step.
4 Factors to Consider When Shopping for an Under-Desk Treadmill
Ideally, your under-the-desk treadmill should fit seamlessly into your workspace when you're walking or working at your desk. So, before you buy, measure the space beneath and around your table and compare it to the treadmill's size in the product info.
Look for a foldable treadmill that's lightweight and easy to move. That way, you can easily store your machine when you're ready to sit down.
Consider how quickly you like to walk and whether you plan to use your treadmill for running, too. Many under-desk treadmills offer a speed range of 0.5 mph to nearly 4 mph, though some can go up to higher running speeds.
Also, many models don't come with handles to hold, which can make brisk walking and running a challenge for some people. Those worried about losing balance should opt for an under-desk treadmill with folding handles.
Many under-desk treadmills are small and don't have a very high weight capacity. It's important to make sure the machine you choose can support your full body weight — for both your own safety and to protect the equipment.
Always check the weight capacity in the product info before purchasing.
Multi-tasking can be hazardous on a treadmill. Consider models with folding handrails and safety features like safety keys and step detection, which automatically pauses the belt when you step off.
Also, think about how you want to control your speed, as some treadmills use a remote control while others are adjustable on a center console. There are even some app-friendly options out there. Choose the method that feels most natural and comfortable for you.