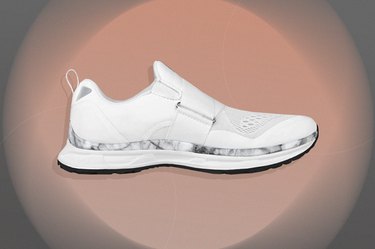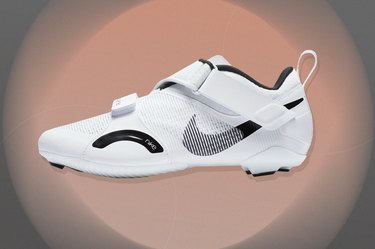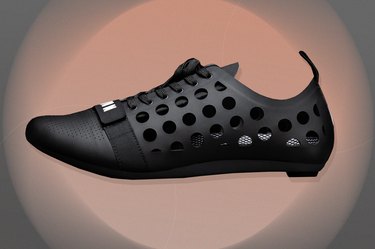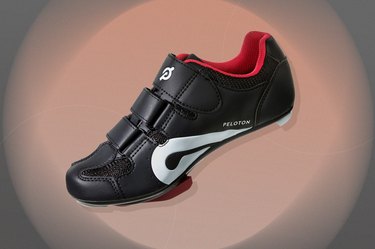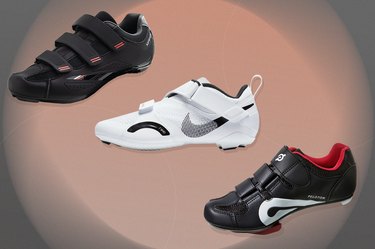 When it comes to most workout shoes, finding the right fit is ​relatively​ simple process. You try on a pair, it feels comfortable and most of the work is done. But indoor cycling shoes are another story.
Sure, comfort is still a priority with indoor bike shoes, but there are a lot of other factors (like cleat types and bike compatibility) you need to consider.
That why we called up Lisa Niren, CPT, a certified personal trainer and indoor cycling instructor, to find out exactly how to find your best pair of indoor cycling shoes. Plus, the five pairs she recommends for every rider and style.
While some manufacturers market shoes according to gender, some shoes are designed to be gender neutral. So we have listed both women's and men's picks below, where it applies.
However, the main difference between most men's and women's shoes lies in the shoe width and size. In some cases, men's shoes are built to support greater weights. So people with bigger bodies may want to opt for men's versions, whereas people with smaller bodies may prefer women's versions.
1. TIEM Slipstream Indoor Cycling Shoes
SPD compatible (cleats sold separately)
Can be worn on and off the bike
Breathable mesh upper
TIEM's shoes are shaped more or less like a typical sneaker, allowing you from your bike to your car seamlessly, Niren says. (Most indoor bike shoes have a hard bottom that can become damaged when walking.)
Adding to their comfort, the mesh fabric in the upper also allows your feet to breathe during class, she says. Plus, they come in a variety of colors and styles.
SPD and Delta compatible (cleats sold separately)
Velcro fastening
30-day return policy
The best part about Nike's indoor cycling shoes? They have secure Velcro straps that make it easy to adjust in the middle of an indoor cycling workout when you need to pedal with a little more intensity, Niren says. Whether you like a tighter or looser fit on your shoe, Velcro makes customization easy.
Coming in a close second is their cleat compatibility. The SuperRep Cycle works with both SPD and Delta cleats and fit most any indoor bike you'll come across. (More on cleat types below.)
3. NOBULL Black Cycling Shoe
Delta compatible (cleats not included)
Ventilated upper with wide holes
Lace and Velcro fastening
When it comes to breathability, NOBULL's cycling shoes are definitely the winner. These lightweight shoes have wide holes in the upper, giving your feet all the ventilation they need during a tough hill climb.
Niren also loves the nylon and carbon fiber bottom because it makes the shoes extra sturdy and supportive. And the Velcro strap and lace system keeps your feet and ankles secure for the entire ride.
"I like that they come with two pairs of laces, which make me feel like I'm getting a good bang for my buck," she says. "In my opinion, the comfort level of these surpasses many in this category and their durability does, too, making them worth the price."
Delta compatible (cleats included)
Lightweight design
Velcro fastening
For those who prioritize convenience, Peloton's biking shoes are a good choice, Niren says. These have Delta cleats already installed, meaning you can hop right on your bike after you unbox your shoes.
Although these are Peloton brand, they work with any bike that's Delta-cleat compatible. Plus, they're lightweight and have a secure Velcro strap to keep your foot securely in place as you pedal.
5. Best for a Budget: Tommaso Strada 100 Dual Cleat
SPD and Delta compatible (cleats not included)
Moisture-wicking fabric
Velcro fastening
Struggle with sweaty feet? You're guaranteed to love the moisture-wicking interior of the Tommaso cleat, according to Niren. These are a sturdy, reliable pair of shoes at an affordable price point. And they work with both SPD and Delta cleats, so you get plenty of versatility.
Although the manufacturer recommends you buy your regular size, some Amazon buyers have preferred to go larger. So, if you're between sizes, consider going up.
3 Tips for Finding Your Best Indoor Cycling Shoes
You may already know your typical shoe size. But the size you need for indoor cycling is likely smaller, according to Niren.
That's because when you run or walk, your foot rolls along the ground from heel to toe and presses your toes closer to the front of the shoe. So you need a decent amount of room between your toes and the shoe.
However, when you cycle, your foot stays in the same position with each pedal stroke. So you really only want a few millimeters of extra space in the front of the shoe, she says. Ideally, your cleats should fit pretty snug.
Before you order a pair of cleats, measure your foot at home (you can use a piece of paper and ruler) and compare it to the product size chart for the shoe you choose.
2. Choose Your Favorite Locking System
Most indoor bike shoes secure with laces, Velcro straps or a combination of the two. One is not necessarily more secure than the other, but the feel can be different, Niren says.
Velcro straps are easier to secure and adjust in the middle of a ride. They're also a little more convenient if you need to slip in and out of your shoess really quickly.
Laces are a little more precise, though, If you like a more snug fit around the middle of your foot and a wider fit in the toe box, you can tighten the front laces and loosen the back.
3. Determine If You Need SPD or Delta Cleats
Cleat type: This is where things can get really confusing. Don't worry. We'll break everything down.
Cycling shoes secure to your bike with metal cleats that "clip" your shoes into your pedals. These doodads screw into the holes in the bottom of your shoes and come in two main types: SPD and Delta.
Most indoor studio bikes are compatible with SPD cleats. However, many cycling studios do have bikes that are compatible with Delta cleats. At-home stationary bikes are similarly compatible with one or the other cleat type. And outdoor bikes — which, yes, you can ride inside with a stationary mount — typically designed to work with Delta cleats.
It's important that your shoes are compatible with the cleat type that works on the bike or bikes you plan to use.
Before buying shoes, look at your bike's product info to find which cleat works with it. And if you prefer to do your indoor cycling classes at a studio, you can call the front desk and ask which cleats are compatible with its bikes.
When browsing shoes, make sure the one you pick is compatible with the same type of cleat. The product description will list this information (and we've included it above). You can also tell cleat type by looking at the bottom of your shoes. SPD-compatible shoes have two holes in the bottom and Delta-compatible ones have three holes.
Some shoes have both sets of holes to work with both types of cleats.
Typically, you have to buy these cleats separately, but some shoes (like the Peloton shoes above) come with the cleats included.
SPD vs. Delta Cleats
| | ​Shoe Holes​ | ​Feature​ | ​Use​ |
| --- | --- | --- | --- |
| ​SPD​ | 2 | Smaller cleat and easier to walk in | Most common in studios |
| ​Delta​ | 3 | Larger cleat and easier to clip in | Slightly less common in studios, but most common with outdoor bikes |