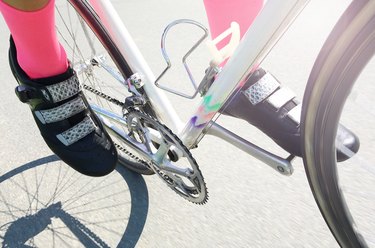 Whether you pedal on roads, up mountainsides or in an indoor class, your feet don't touch the ground much when you're cycling. Still, what you wear for your rides can make a big difference in your workout.
Cycling shoes typically have rigid soles, clips or cleats that attach directly to your bike pedals, plus breathable uppers. You might find cycling shoes difficult to adjust to at first, but over time, they'll feel more natural and enable you to ride more swiftly and comfortably, says Keli Roberts, a personal trainer and competitive cyclist based in the Los Angeles area.
The Difference Between Cycling Shoes and Other Shoes
One big difference between cycling shoes and other types of sports shoes? The stiffness of the sole. This inflexible bottom acts as a lever that optimizes your energy.
"Athletic shoes are flexible to allow the foot to move, but cycling shoes are the opposite," says Roberts. "They're designed to keep the foot rigid, so there's no power lost through your feet and all the power from your legs goes directly into your pedal stroke."
For this reason, cycling shoes aren't usually good for any other activity, including extended periods of walking.
How — and Why — to Clip In
Most cycling shoes snap directly into your pedals, a lot like the way a ski boot locks into a ski. They'll have holes drilled into the soles where you can attach cleats, which then fit into corresponding holes in the pedals.
Ironically, the parts of this interlocking system are called "clipless" pedals. That's because before their use became widespread, cyclists had to buy separate toe cages or clips to affix to flat pedals, which you could wear with any type of shoe. Combining them into one offers aerodynamic advantages, says Jen Rulon, a San Antonio-based triathlon coach.
"Having your foot attached to the pedal helps smooth out your stroke and improve your pedaling efficiency," says Roberts. You'll be able to move more powerfully through your entire pedal stroke, from the pushing motion you make with your hamstrings to the pulling motion that comes from the hip flexor muscles on the front of your pelvis.
Being clipped in, especially on tough terrain such as mountain biking, can seem scary at first. And it's true that when you first try it, you're probably going to take a tumble or two, Roberts says. "You'll tip — everyone does."
Soon, though, you'll learn how to unclip quickly with one foot when you approach a red light or another imminent stop. You can practice by leaning up against a wall and repeatedly clipping in and clipping out quickly, Roberts says.
The Right Shoe for Your Ride
Cycling shoes come in several specific models designed to meet the needs of different types of riding.
Road biking shoes typically have two to four cleats, which protrude from the sole. They're exceptionally rigid — made from materials such as carbon fiber — and as light as possible to support speed, with cleats made of plastic that wear out quickly. They also have little traction, making them extra difficult to walk in, Roberts says.
Meanwhile, mountain biking shoes are often a bit larger and heavier, with two-hole cleats commonly called "SPD cleats." Their cleats are made of longer-lasting metal, and they're a bit more comfortable to walk in. Many people use mountain biking shoes for more recreational riding or indoor cycling as well, Roberts says.
So, what about indoor cycling classes? Once you've decided you like them and plan to attend regularly, it's worth investing in cycling shoes, Roberts says. The foot straps that otherwise affix your fee to the pedals often apply uncomfortable pressure, especially when the instructor calls for you to stand.
There are also some hybrid and less common types of cycling shoes. City bike shoes allow you to clip in but have recessed cleats that are more flexible and comfortable for walking. Triathlon shoes are like road cycling shoes but have simpler fastening mechanisms that allow you to take them on and off quickly during the race.
Finally, some mountain biking shoes for downhillers eschew clips and instead use platform or flat pedals, like the kind you probably had on your bike as a kid. They're still stiff, but don't have cleats.
Whichever type you choose, cycling shoes typically run narrow, so if your foot's wide, make sure you try them on to ensure they're not too snug rather than ordering them online, Roberts says. Pick a pair that allows your toes to wiggle, but not your heel to slide up and down.
The Best Cycling Shoes Online
For mountain biking shoes, try the Giro Empire VR90, which are lightweight but durable with a stiff carbon sole. (Not looking to make quite that big of an investment? The Giro Privateer R MTB model is a good value.)
Road warrior? The Giro Treble II comes with a universal cleat system, compatible with two- or three-bolt pedals.
If spinning is more your speed, take the TIEM Slipstream indoor cycling spin shoe to your next class for a fashion-forward look. The recessed cleat makes it easier to walk around the studio, and they have a simple slip-on design.
Triathletes can pedal in the Louis Garneau Tri X-Speed 3 without worrying that pressure points from their kicks will slow them down on the run later. A single velcro strap makes them a cinch to remove.