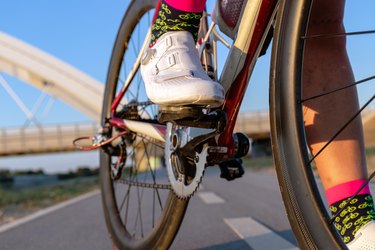 When you're cycling — be it on roads, up mountainsides or in indoor classes — your feet don't touch the ground much. Still, the shoes you wear can make a pretty big difference.
Cycling shoes are designed specifically for the sport, and they can improve your performance and overall biking experience, indoors or out, explains Keli Roberts, CPT, a California-based personal trainer and competitive cyclist.
But you may be wondering, "Do cycling shoes ‌really‌ make difference?" Like, one worth spending your money on? We chatted with several competitive cyclists and coaches on all the benefits of cycling shoes and what you need to know to find your perfect pair.
4 Benefits of Cycling Shoes
One of the biggest benefits of cycling shoes is that they clip into the pedals on your bike, a lot like ski boots lock into a ski. Cycling shoes (and stationary bike shoes) have holes drilled into the bottom where you attach cleats (a metal or durable rubber plate) that correspond to the holes on your bike pedals (more on that below).
That way, when biking with spin shoes, you never have to worry about your foot flying out from underneath you.
One thing to keep in mind: The shoes themselves don't clip into the pedals. Instead, you need to buy both shoes and cleats (metal attachments) that mount to your shoes and clip onto your pedals. So, before you buy just any pair of cycling shoes, make sure they're compatible with your bike pedals (more on this below).
2. A Solid Base for Stronger Strokes
Most athletic shoes are flexible, allowing your foot to bend and move. Cycling shoes have a stiff sole that help optimize your energy.
"They're designed to keep your foot rigid, so there's no power lost through your feet and all the power from your legs goes directly into your pedal stroke," Roberts says.
With your feet flat and stable, you can move more powerfully through the entire pedal stroke. Your hamstrings can work through the pushing motion, while your hip flexors (the muscles across your pelvis) can do the pulling, she says. This makes for a faster, more powerful ride.
Attaching your foot to the pedal increases your overall stability and reduces how much your legs have to work to keep your feet in place. Once you get comfortable on the bike, that is. Clipping into a bike can feel a little awkward for beginner bikers. So, practice clipping in and out safely (more on that below).
Over time, you'll get more comfortable and enjoy better biking. Attaching to your bicycle makes your stroke smoother and improves your pedaling efficiency, Roberts says.
4. A More Aerodynamic Position
Another benefit of cycling shoes: Clipping into your bike helps you become more aerodynamic, according to Jen Rulon, a Texas-based triathlon coach and 15-time Ironman triathlete. After all, when you clip in, it's easier to get your torso lower toward the handlebars.
How to Clip in Bike Shoes
Wondering how exactly how to clip in your bike shoes? All you have to do is align the metal plate on the corresponding pedal holes and give a strong push. To unclip, you twist your foot (leading with your heel) away from the bike.
It may sound simple but learning how to clip in and out takes a little practice. Rulon recommends leaning against a wall and practicing clipping in and out before you head onto the road. If all else fails, just unlace the shoe and use your hands to clip off until you learn the motion.
FYI, most spin shoes aren't good for any other activity. But these days, you can buy special sneakers for cycling. They're kind of like a hybrid shoe. These clip into a bike, but are also flexible enough to wear on a walk or jog. Try the TIEM Slipstream Indoor Cycling Shoes ($130, Amazon.com).
How to Find Your Best Cycling Shoes
Now that you know just how beneficial bike shoes can be, you need to learn how to find the best sneakers for bike riding. This depends a lot on the type of pedals on your bike. Different shoes are compatible with different cleats, which correspond to the pedals on your bicycle.
Sound confusing? Here's everything you need to know about cycling shoes, cleats and clips to find your perfect pair.
Each type of shoe is compatible with either an SPD cleat (two holes on the bottom) or Delta cleat (three holes on the bottom), according to Lisa Niren, CPT, a certified personal trainer and indoor cycling instructor.
No one cleat system is better than the other. But it's crucial that you buy the right kind of cleat for your bike pedals. The best way to find out what kind of cleat is best for your bike is to simply look at the pedals or read the product details.
From there, look for a pair of shoes that are compatible with that type of cleat. Read the product info for any pair before you buy them to ensure you're buying the correct shoe, Niren says. Then, all you have to do left is buy the cleat that you need, as most are sold separately from the shoe.
The best indoor cycling shoes work pretty much the same way. The best exercise bike shoes are the ones that clip properly into the specific pedals on your stationary bike. So, if your indoor bike has SPD pedals, SPD compatible shoes are what you need.
But not all bikes have cleat-compatible pedals. If that's the case for you, the best bike shoes for flat pedals are going to be pretty similar to cleat shoes. Look for a pair that has a firm sole so you can more easily push down onto the pedal.
3 of the Best Bike Shoes, by Clip Style
‌SPD: ‌Pearl Izumi Quest Road Cycling Shoes ($100, REI.com or $100, PearlIzumi.com)
‌Delta: ‌Specialized S-Works 7 Vent Road Cycling Shoe ($209.95, Backcountry.com)
‌SPD and Delta: ‌Bontrager Circuit Road Cycling ($107.99, REI.com)
‌Additional Reporting by Bojana Galic‌