Before I became the cycling fan I am today, I never quite understood the purpose of padded bike shorts. I'd been to quite a few indoor cycling classes in the past — how much worse could a bike seat really be? The answer: a lot.
During my first longer bike ride, I quickly realized padded bottoms are an absolute must-have. And I didn't hesitate to jump onto the computer post-painful-ride to order a few pairs.
But unfortunately, the experience wasn't as smooth as I'd hoped. Most shorts were way too long for riding in 90-degree weather and the padding felt bulky and heavy. I love to push my pace on my bike and a chunky pair of bottoms just wouldn't cut it.
After doing a little more browsing and research, I decided to give Pearl Izumi's Sugar Short a try — and now I own three pairs.
A Quick Language Note
We make deliberate choices about the language we use when it comes to sex and gender. While more brands now carry gender-neutral workout clothes, you'll still typically see clothing marketed to men or women.
The main difference between most women's and men's clothing is the fit: Men's versions tend to be roomier and women's versions tend to be tighter. However, fabrics, quality and comfort should be the same between gender-labeled pairs.
We encourage everyone to purchase the products that feel right for them — regardless of what the label says.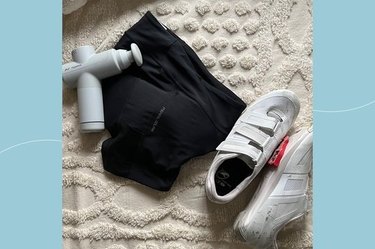 Functionality and Features
Before I dive into specifics, can I just say, I love the name "Sugar Short." Come on, that's so cute. Cycling is a traditionally male-dominated sport, and I dig that more companies are branching out to different gender marketing.
Name aside,I love the length on these Pearl Izumi bottoms. Whereas the average bike short lands at knee height (about 9 inches), these reach the middle of my thigh (about 5 inches). Many cyclists prefer longer pairs because they stay in place, but these have a gel lining around the leg that keeps the shorts in place — and it actually works, I swear.
The waistband design is also extremely clever. Imagine a pedal stroke: Each time you pedal down, your leg practically straightens all the way out, often causing the same side of the waistband to fall down a bit. And considering you're pedaling both legs, that means your waistband starts to sag down completely.
But the waist on these shorts has a subtle V-shaped design. The sides above your hips come up a bit higher than the portion across your stomach. So, each time you pedal, your shorts stay perfectly in place.
When it comes to the padding, these shorts give me just enough cushion without feeling overbearing or bulky. And the shorts (padding included) dry super quickly, which means less friction and less discomfort on my personal parts.
Get Your Perfect Pair of Pearl Izumi Sugar Shorts
After trying a handful of different cycling shorts (from some high-priced brands, might I add), Pearl Izumi's Sugar Shorts are still by far my favorite. Not to mention, their versatile length makes it super easy to run errands or grab coffee after a bike ride.
But don't take my word for it! Grab a pair of your own and hop on your bike to see for yourself. And for my indoor cyclists — don't hesitate to invest. You don't need to be on the road to enjoy a more comfortable ride.
More Cycling Gear We Love