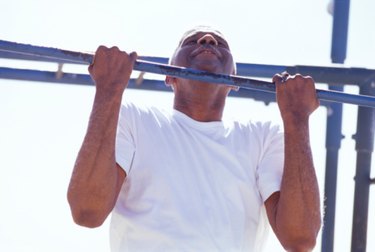 Chin-ups work your arms, shoulders, upper back and even your abs. To do a chin-up, grip the bar underhanded, keep your arms in close and pull yourself up until your chin is above the bar. A pull-up is the same exercise only using an overhand grip. Several options are available when considering a chin-up or pull-up bar for your home, including freestanding, removable and screw-in type bars. The best versions include the popular P90X Chinup Bar, the Iron Gym Pullup Bar, the Weider 200 Power Tower and the Perfect Pullup.
Perfect Pullup
Perfect Pullup comes with a pair of rotating handles that hook over the bar and bring in extra muscles to your workout. To mount the bar, affix two sets of brackets into your door frame, but they do give a simple template for mistake-free hanging. Once attached, the bar fits right into the upper brackets while the elbow of the bar goes into the lower set for swiveling the bar out and down to allow for multiple chin-up and pull-up options. They also offer some additional items to go with the bar such as the ab straps and the Perfect Dip Bar. You can get the bar for $29 and if you include the accessories, you can still get it for under $90, as of February 2011.
P90X Chinup Bar
P90X is a hot workout program as of February 2011, so the products the company offers are moving as well. This chin-up bar has a weight capacity of 300 lb. and includes a variety of handles for use in 12 positions. As of February 2011, you can order this bar for $75 including the shipping charges. Customers gave it good reviews for durability and ease of use. Attaching two small brackets is required above the doorway and the bar hooks up into the brackets and can come right down for storage. To back up its product, Beachbody offers a 30 percent money back guarantee.
Iron Gym
No hardware is required for this chin-up bar; you simply wrap it over the ledge of your door frame and it's set up. The Iron Gym now comes with a set of ab straps and you ensure that it has everything you need because the company offers a 30-day guarantee. For the price of $52, it is the most affordable option on the list and for an additional $13 you can add a complete extra bar and set of ab, straps making this bar by far the most economical option.
Weider 200 Power Tower
The Weider 200 Power Tower is a freestanding chin-up bar. It carries a higher price tag than the doorway bars at $149, but you do get the Weider name and its warranty policy gives you 90 days. This is more than just a chin-up bar. You can also get stations for push-ups, knee-ups and dips.