Muscle mass in men begins to decline around age 30 and bone mass begins to decline around age 40. According to an article from Harvard Health Publishing, muscle loss can anywhere from three to five percent per decade.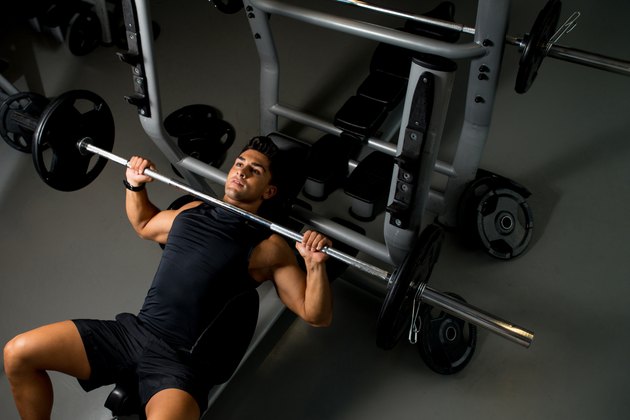 A full-body resistance training routine helps reverse the loss of muscle and bone. Using a full-body routine ensures that you work the major muscle groups of your body, even if you can only workout two days per week.
Intensity, Volume and Frequency
To grow or maintain your bone and muscle tissue, you need to stress your body with weightlifting exercises. The more weight, sets and reps you use, the more stress there is. If you simply want to maintain your status, use moderate weight in which you can complete three sets of 10 to 15 repetitions per exercise.
However, if you want to increase your muscle mass and strength, use primarily heavier weights in which you can complete four to six sets of six to twelve repetitions per exercise.
Workout Flow
It's best to pair two opposing muscles together, maximizing your time and equipment availability. Pick an exercise for your chest and an exercise for your back that you can do in the same space.
For example, do flat barbell bench presses for your chest and dumbbell pullovers for your back; simply bring one or two dumbbells to the bench press area, using the bench for pullovers as well.
Once you've completed all sets for that exercise pair, do a pair of exercises for your legs and shoulders. This gives your biceps and triceps time to rest because they were also slightly engaged when you trained your chest and back.
After that, you can do a pair of exercises for your biceps and triceps together, along with your abdominal muscles.
Chest and Back
The barbell bench press is the ultimate exercise for your chest muscles because you can use heavy weights to fatigue them. Whether you use a flat bench or set it on an incline, you'll be able to put more stress on your chest muscles than you would in a push-up.
Dumbbell bench presses are excellent because they enable you to move through a large range of motion. There's no barbell getting in the way of the movement.
For your back muscles, one-arm dumbbell rows and pulldowns are fundamental because they work the biggest muscles of your back. Dumbbell rows engage your lats, the biggest muscle in your upper body, and your trapezius. Pulldowns activate primarily your lats and biceps.
Chest Exercises
Incline or Flat Barbell Bench Press

Incline or Flat Dumbbell Bench Press

Push-Ups
Back Exercises
Dumbbell Row

Lat Pulldown

Dumbbell Pullovers
Legs, Shoulders and Abdominals
Include squats or lunges in your full-body workout as both exercises engage your glutes, quadriceps, inner thigh muscles and hamstrings. To isolate your hamstrings do leg curls either on a machine or lying on your back with sliders under your heels.
Pairing abdominal and leg exercises together gives your legs a break between sets. Try planks with your forearms on the ground, holding your body straight for as long as possible.
For something more intense, try hanging leg raises. Hold onto a pull-up bar with your arms straight and raise your legs in front of you until they're waist-height.
Pair dumbbell shoulder exercises with a leg exercise because you can do them in the area. Use dumbbell shoulder presses, upright dumbbell rows or dumbbell lateral raises. For instance, pair squats with lateral raises and single-leg deadlifts with hanging abdominal raises.
Leg Exercises
Lunges

Squats

Hamstring Curls

Single-Leg Deadlifts

Shoulder Exercises
Dumbbell Shoulder Presses

Upright Dumbbell Rows

Dumbbell Lateral Raises

Abdominal Exercises
Hanging Abdominal Raises

Planks

Biceps and Triceps
Consider pairing a barbell biceps exercise with a dumbbell triceps exercise, and then switch the following week's workout to a dumbbell biceps exercise with a barbell triceps exercise.
This balances your arm workouts instead of doing only dumbbell exercises or only barbell exercises.
For instance, you may pair EZ barbell curls with one-arm dumbbell triceps extensions for your current routine. Then, change it to triceps barbell presses and alternating dumbbell curls the following week.
Biceps Exercises
EZ Barbell Curls

Alternating Dumbbell Curls

Triceps Exercises
One-Arm Dumbbell Tricep Extensions

TricepsBarbell Presses

Putting Everything Together
There are plenty of exercises to choose from for each bodypart. In fact, there are so many options that it can seem daunting. Try out this sample full-body workout with pairs of exercises that target each muscle group:
First Pair
Start with the heaviest exercises first, while your muscles are fresh and ready to work. Pair squats with planks. The squats tax your quadriceps, hamstrings and glutes. Planks in between provide a respite for your leg muscles while you work on strengthing your core muscles.
Second Pair
Combine the incline bench press with dumbbell rows. Perform three sets of eight repetitions on the bench press. It's a heavy movement, which means that your muscles will fatigue quickly. Then, switch to dumbbell rows after each set and perform three sets of 10 repetitions with each arm.
Third Pair
Now that you've used heavier weights, you can scale back a little and work on more isolated exercises that use lower weights.
Use lunges for your legs. You can hold dumbbells by your side and take 20 lunging steps forward, switching legs each time. Since you're driving forward off one leg, you won't be able to use as much weight as you would in a squat.
Pair the lunges with hanging leg raises. That way your legs can rest while your abs work. Do 10 to 15 hanging leg raises.
Fourth Pair
Moving back to upper body exercises, start with the lat pulldown. Perform three sets of 10 repetitions. Pair that with a dumbbell flat chest press. Since you used heavier weight earlier on the incline bench press, drop the weights lower this time around and aim for 12 to 15 repetitions.
Fifth Pair
By now you've worked most major parts of the body. It's time to finish off your workout by focusing on the smaller muscles of your arms.
Pair alternating dumbbell bicep curls with tricep barbell presses. For the alternating dumbbell curls, perform 10 repetitions with each arm. Curl the weight up on one side, then extend your arm back down before switching sides.
For the barbell tricep presses, perform three sets of 10 repetitions, alternating each set with the dumbbell curls. Use a light weight for the tricep extensions. Lie down on your back with a barbell in your hands and arms extended forward.
Bend your elbows and bring the bar down behind the top of your head, then press it back up. Perform three sets of 10 repetitions for this exercise as well.