Does the idea of grinding out cardio sessions at the gym make you want to hide under your covers forever? You know the benefits of cardio exercise: increased quality of health, improved mood, increased metabolism, increased energy level and a decrease in disease risk.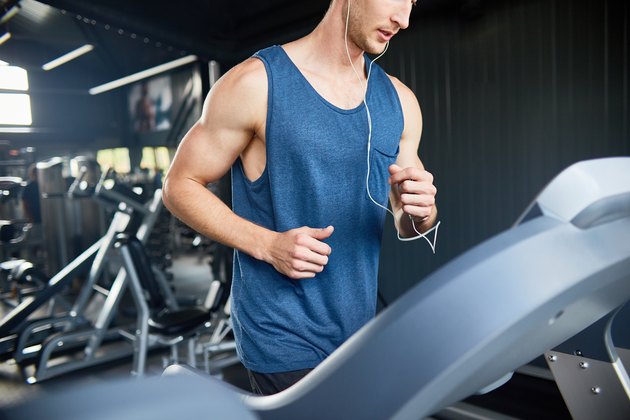 So, with all of the scientific evidence pointing to the reasons why we should be incorporating some aerobic exercising, why do so many of us dread using the treadmill or elliptical?
It might have something to do with the boredom that comes from slaving away on the same cardio machine day in and day out. However, because most gyms are equipped with a variety of equipment, there's no need to get stuck doing the same workout over and over again. Give this five-day cardio workout a try the next time you feel the need to mix it up at the gym.
Day One: Get Excited with Intervals
The first day of any new program usually begins with a healthy dose of enthusiasm followed by a shot of skepticism — that's why today's focus is on getting you excited about exercise. Choose your favorite piece of cardio equipment (treadmill, upright bike, rowing machine, stair climber, or elliptical) and set it to manual. You are going to control the levels by doing an interval training workout.
By alternating between harder bouts of exercise and recovery periods, you can improve aerobic and anaerobic fitness, decrease blood pressure, increase cardiovascular health, improve cholesterol profits, and scorch calories without sacrificing muscle mass.
For this 20-minute workout, you will use a ratio of 1:1 (high intensity to recovery). Begin with a 3-minute warm-up and then go right into your first interval. Perform the exercise at a higher intensity for 3 minutes, followed by a 3-minute recovery (or low intensity) bout. Repeat this combination until you reach 20 minutes.
Day Two: Head for the Hills
Hill workouts are one of the best ways to challenge your aerobic and anaerobic system. You can get just as good of a workout indoors as you do outdoors by simply manipulating the elevation on an elliptical or treadmill.
After you have warmed-up, increase the incline on the elliptical to 5.0 and exercise for 3-minutes. Make another increase on the incline to 8.0 for 3 minutes, 10.0 for 3 minutes and then 12.0 for 3 minutes. Hop off and do 10 push-ups, 10 bodyweight squats and 20 walking lunges (10 each leg). Get back on the elliptical and repeat the circuit unit you reach the desired time (20-40 minutes).
Day Three: Slow and Steady
Steady-state cardio — which means exercising at an intensity that results in a relatively stable heart rate and oxygen consumption — has gotten a bad rap lately. Despite the negative press, though, this form of aerobic exercise still has a place in an overall cardiovascular training program, especially if you are trying to build endurance while decreasing the stress on your body.
Pick your favorite cardio machine and set the time for 45 to 60 minutes. You can use one of the programs or choose the manual option. Shoot for a target heart rate of lower than 55 percent of your maximum heart rate. For most people, this equates to around 145 beats per minute. The goal here is to be consistent with your output, but not over-exert yourself.
Day Four: Run-Walk-Run
If the thought of running on the treadmill has you gripping the handrails for dear life, then this workout's for you. Known as the Run-Walk-Run method, running coach Jeff Galloway's workout can help anyone from seasoned marathoners to wannabe runners take their training to the next level. His method uses a very specific ratio of running (for a predetermined amount of time), followed by a planned walking break (for a predetermined amount of time), and then repeating until your workout is complete — most likely 30 to 60 minutes.
Day Five: Bodyweight Blast
Who says cardio can only happen on a treadmill or elliptical? Bodyweight training that promotes muscular strength may be just as important for health as aerobic activities like jogging and cycling. Pick your two favorite cardio machines that are relatively close to each other. Grab a set of kettlebells, a jump rope and a stability ball and place them by the machine you are starting with and complete this circuit:
Moderate-intensity exercise on cardio machine No. 1: 10 minutes

Bodyweight squats with a pause at the bottom: 10 reps

Push-ups: 10 reps

Planks: 30 to 60 seconds

Jump rope: 1 minute

Rest 30 seconds

High-intensity exercise on cardio machine No. 2: 10 minutes

Walking lunges: 30 seconds (advanced—hold a kettlebell in each hand)

Wall sit: 30 seconds (advanced—hold a kettlebell in each hand)

Superman: 10 reps

For a longer session, repeat the entire workout.