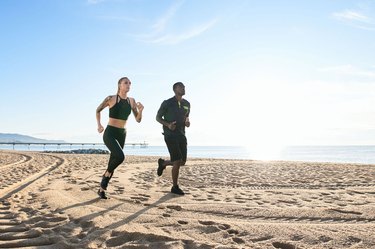 Not to knock gyms, studio classes and living room sweat sessions, but there's nothing quite like the freeing feeling of an outdoor workout. Sunshine, fresh air, varied terrain — you're not going to find all those perks even in the fanciest of boutique gyms.
Outdoor workouts offer all the same physical health benefits you look for in any indoor exercise, but research suggests there's a mental edge to taking your fitness habits outside: We tend to work out harder — without even realizing it — when we break a sweat in Mother Nature. We also reap more mental health benefits, including stress reduction, recovery from mental fatigue and improved mood, self-esteem and perceived health, from outdoor workouts, according to a 2013 review published in Extreme Physiology and Medicine.
"Not only does time seem to go by faster when you train outdoors, it can be more fun and the fresh air boosts energy levels," says celebrity trainer Ramona Braganza. We couldn't agree more. Which is why we're bringing you this comprehensive overview of everything you need to know to find the perfect outdoor workout for you.
Try an Outdoor Bootcamp Workout
Any bootcamp workout promises strength gains, improved cardio fitness and the potential to shed a few extra pounds, but an outdoor bootcamp workout in the invigorating fresh air and sunshine might also perk up your state of mind, according to a 2015 study published in the Proceedings of the National Academy of Sciences.
You can find plenty of outdoor bootcamps held in local parks and other outdoor spaces, or you can DIY your own with a few smart tips and sample workouts from personal trainers and bootcamp instructors to take your fitness game to a whole new level.
Work Out at the Beach
While some people may think a perfect day at the beach is spent relaxing with a good book and some trusty SPF, we think you'll enjoy your seaside me-time even more after getting in a good sweat session first.
Sure, you could go for a run on the sand. But our zero-equipment beach workout will seriously test your strength, balance and stamina from the comfort of your towel. Grab some water and that sunscreen — and know the ocean is there waiting for you when it's time for your cooldown.
Build a Backyard Gym
Working out at home is convenient, but staring at the same-old living room walls, basement clutter or garage cobwebs day after day isn't the most inspiring of workout views.
Setting up a backyard gym could be the solution to your home-fitness ennui — and it's easier and more affordable than you might think. You'll want to consider weatherproofing your space, stocking up on versatile gym equipment and giving yourself enough room to really move.
Work Out Like a Kid
Unleash your inner child (and plenty of sweat) by using your nearest playground for your next workout. It requires some creativity, but you'll soon see swing sets as suspension trainers and picnic tables as weight benches loaded with outdoor exercise potential.
With our tips for making the most of all that playground equipment and more, you'll engage all your muscles and flex your mind in a whole new way. Get started with a dynamic warm-up, especially if it's been a while since you last ran from the swings to the slide and back again.
HIIT It Outside
You can do high-intensity interval training (aka HIIT) just about anywhere, anytime and without equipment — so why not try it outdoors?
Selena Samuela, a tread instructor for Peloton, loves the creativity that comes with using the landscape around you in a sweaty HIIT session. "When designing a HIIT workout of your own outside, take into consideration your surroundings," she says. "Body weight is definitely the easiest and most user-friendly way to work out outside, but I love using nature as props."