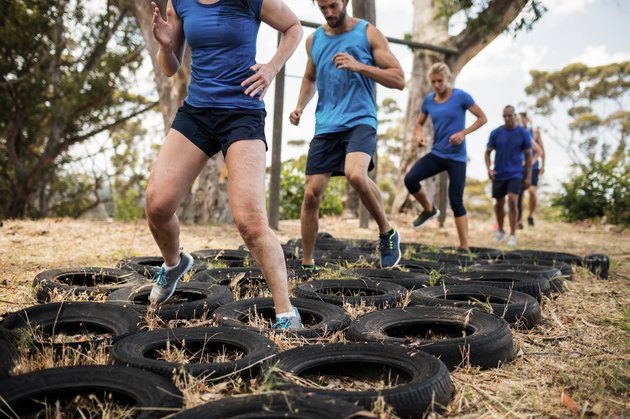 When warm, sunny days head your way, it's the perfect opportunity to check out an outdoor bootcamp or design your own impromptu butt-kicking bootcamp for a group of friends.
Besides the obvious benefits of any bootcamp workout — increased strength, improved cardiovascular fitness and potentially even weight loss — exercising outdoors can also improve your state of mind and overall wellbeing, according to a 2015 study published in the Proceedings of the National Academy of Sciences. (Of course, that depends largely on the weather.)
Not sure how to DIY your own outdoor bootcamp workout? These tips and sample workouts from personal trainers and bootcamp instructors will help you take your fitness game to a whole new level.
Benefits of Outdoor Bootcamp Workouts
If you're like many people, you spend most of your day indoors — most likely at a desk. Then you go from office to gym, potentially getting only a glimpse of sky and sunlight.
"Some people feel like they don't want to work out because that means they have to go to a gym, but exercise can take place in a variety of settings. Participating in a bootcamp class can be a great alternative to core traditional styles of exercise," says Christopher Gagliardi, American Council on Exercise-certified personal trainer and lifestyle and weight management coach.
There's also a certain sense of freedom in exercising outside. No longer are you confined to the four walls of the gym. You can set up an outdoor bootcamp that includes sprint drills or alternate bouts of cross-country running with strength-training exercises.
You can also use varied terrain and features such as park benches or playground equipment to add fun and interesting new challenges that keep your workouts fresh and inventive.
Creative Outdoor Bootcamp Workouts to Try
Whether you're attending an organized bootcamp or putting together your own, you can get an idea of what to expect and how to set one up from personal trainers and group exercise instructors. Here are three sample workouts to dive into.
Upper-Lower Body Bootcamp Workout
This workout is "set up to alternate upper- and lower-body moves and floor-based versus standing," says LA-based strength and conditioning coach and bootcamp instructor Andrew Heffernen. "Exercise order is important."
"Set up your stations in a circuit so you can just move easily from one to the next," says Heffernan. "Put weights in the middle of the circle so you can grab as needed." These moves can also easily be modified for any fitness level.
Equipment: TRX; a medicine ball (6 to 10 pounds); and dumbbells, kettlebells or sandbags
Warm-Up: four rounds of sun salutations, taking one to two breaths per move
Rep Scheme: 30 seconds at each station, doing as many good-form reps as possible, with a 15-second rest between exercises and a 90-second rest between rounds
Rounds: 3 to 4
Alternating reverse lunge
Push-up variation (hands or feet elevated, depending on strength level)
1.5 rep squats (full squat, come up halfway, drop back down, come up all the way)
Power step-up (from a regular step-up, launch as high as possible into the air, switching feet midair)
Medicine ball slam
Back and forth side shuffle (10 yards)
Forearm plank with leg lifts
Dumbbells-Only Bootcamp Workout
In this bootcamp workout designed by Caley Crawford, certified personal trainer and director of education for Row House, all you need is a set of medium-weight dumbbells and a kick-butt attitude. Beware: This workout involves running with decreased duration but increased speed with each round.
Equipment: medium-weight dumbbells (10 to 25 pounds) and a timer
2 rounds, 30 seconds each move
Toy soldiers (straight-leg kicks, touch opposite foot with opposite hand)
Squat stretch
Walkouts
Hand release push-ups (chest all the way to ground, lift hands off the ground, then press up)
0.5-mile run
15 shoulder presses with dumbbells
30 alternating reverse lunges with dumbbells
15 hand release push-ups
30-second side plank with dumbbell hold (left side)
20-second side plank with dumbbell hold (right side)
1-minute rest
0.4-mile run (faster than the last round)
Repeat exercises and rest period from first round
0.3-mile run (faster than the last round)
Repeat exercises and rest period from first round
0.2-mile run (faster than the last round)
Repeat exercises and rest period from first round
0.1-mile run (faster than the last round)
Repeat exercises and rest period from first round
No-Equipment Bootcamp Workout
If you don't have access to any equipment or you just don't feel like the extra workout of lugging it to the park — no sweat. This sample bootcamp from Tony Carvajal, certified CrossFit trainer with RSP Nutrition, only uses body-weight exercises.
But don't make the mistake of thinking it will be easier! This is an EMOM workout, which stands for every minute on the minute. Set an interval timer and perform the required number of reps at the start of every minute. If you finish before the time is up, rest for the remainder of the minute.
30 to 60 seconds of each exercise
Jump squats
Single-leg deadlifts
Side lunges
Reverse lunges
Jumping jacks
5 mountain climbers to jump squat
10 hand release push-ups
15 prisoner squats (hands behind the head)
20 V-ups
20 walking lunges (10 each leg)
30 side luges (15 each side)
5 no-push-up burpees
Rest
Repeat for 5 rounds total
Tips for You Best Bootcamp Workout Ever
Remember to include a cooldown at the end of each workout. Group stretching and mobility work is a great idea, as is a short relaxing yoga sequence. Not only do you want to get a great workout, but you want to stay safe and injury-free, too.
Also keep in mind that the biggest safety concern when exercising outdoors is being ready for the weather. If it's hot out, be sure you have access to water. In certain climates, muggy summer afternoons bring thunderstorms. If there's any sign of an impending storm, don't hesitate to call off the class and seek shelter.
A bootcamp should be about giving it your all, but more importantly, it should be about having fun outside with a group of like-minded people. Go at your own pace, take breaks if you need to and make sure to appreciate "nature's gym" — the great outdoors.