A medicine ball is a weighted ball used for exercise. Modern balls are made of rubber or soft plastic, but they used to be made out of leather and stuffed with felt or horsehair. Medicine balls are very versatile and can be used for several lifting and throwing exercises; however, they can also be expensive and are not always readily available. There are, however, several alternatives you can use.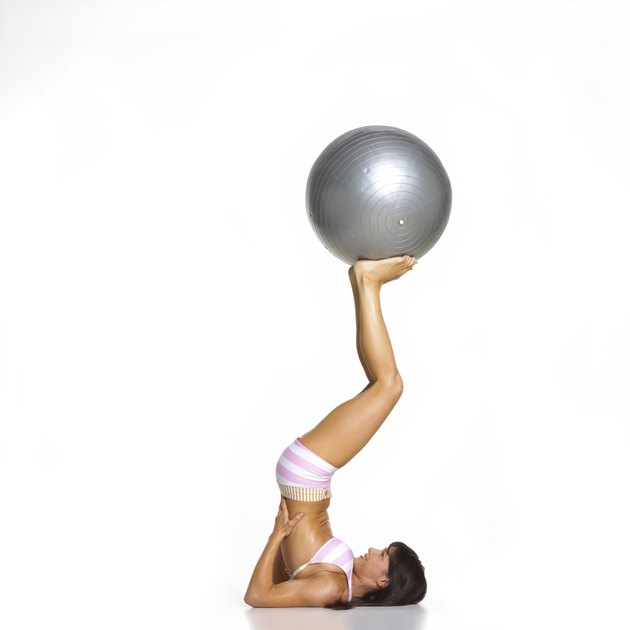 Sandbags
Sandbags can be lifted, thrown and caught like a medicine ball; however, sandbags don't bounce and thus aren't really suitable for medicine ball slams. To make a sandbag, place 3 to 5 pounds of sand in a zippered plastic bag and then seal it with duct tape. Make up a few of these bags and then place them inside a duffel bag. Tie the bag shut and you have a suitable, adjustable alternative to medicine balls.
Rocks
If you train outdoors, you can use a rock in place of a sandbag. For safety reasons, you should never try and catch a rock. For most other medicine ball exercises, such as thrusters, which is a sort of squat-to-press hybrid, a rock is a suitable and free alternative. Choose your rock based on its size and weight and according to your strength level. Take care when lifting your rock above your head.
Kettlebells
Kettlebells are spherical weights with a single U-shaped handle on top. You can use a kettlebell in place of a medicine ball for many exercises including core exercises, overhead presses and twisting lunges. Though kettlebells are not suitable for catching exercises, their solid design means they are okay for throwing, providing they land on a soft surface, such as grass, dirt or sand, and far away from people and property.
Homemade Medicine Balls
You can make your own medicine ball for very little money and without special or expensive tools. Take an old basketball and cut a crescent-shaped slit in it. Pour 3 to 5 pounds of pea gravel or sand into the ball and then glue your incision shut using rubber cement. Adjust the amount of fill you use based on your requirements. Reinforce the cut with duct tape. Once the glue has set, inflate the ball slightly to make it spherical. Although the ball will not survive being slammed, it should withstand most common medicine ball exercises that involve throwing, catching and lifting.