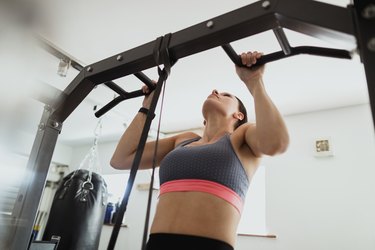 A pull-up bar is a nice addition to any home gym, but it's important to choose the right one so you don't give yourself a reason to not use it. While the most popular type of pull-up bar can be easily installed to the top of a door frame, there are also kinds that can be secured to the wall.
"Pull-up bars are great for home gyms because there are multiple variations of pull-ups and chin-ups that you can do to develop back strength, arm strength and grip strength, core strength and more," says Devon Levesque, personal trainer.
And for Chris and Heidi Powell, Extreme Weight Loss personal training power couple and founders of TransformHQ, a pull-up bar is absolutely essential for optimal training.
"The human body is designed to push, squat, run, jump, crunch and pull. We can effectively explore all of these movements with our own body weight, except for pulling," Chris Powell says. "Nothing will open up a full array of pulling movements like a good old-fashioned pull-up bar."
The Powells recommend looking for bars that are first and foremost durable and strong — and not just the bar itself, but also the mounting mechanism, since the absolute last thing you want to happen is to fall in the middle of a pull-up.
You'll also want to look at grip options. Ideally, the bar you choose with have three different options: narrow grip (hands are shoulder-width apart), wide grip (elbows out to the side and hands are directly above the elbows) and neutral grip (hands just inside shoulder-width with palms facing each other). According to the Powells, there are plenty of quality pull-up bars that don't include neutral grip, so don't consider it a make-or-break feature.
1. Perfect Fitness Multi-Gym Door-Mounted Pull-Up Bar
This versatile pick comes recommended by the Powells. It can be used as a doorframe pull-up bar or taken down and used for sit-ups (to secure your feet), push-ups (to elevate your hands) and triceps dips (to support your hands behind you).
While it might not be the most sturdy in terms of mounting (though the company says it can support up to 300 pounds), it's ideal for basic at-home use or to take on the go.
2. Ken Shamrock Triple Door Gym
Also recommended by the Powells, this three-in-one doorway gym adds a dip bar and handles for body-weight rows, another beneficial pulling movement. It will attach to any standard doorframe within seconds, and it can hold up to 300 pounds.
This stand-up workout station features a multi-grip pull-up station, a push-up station, a vertical knee-raise station and a dip station. The entire station weighs just under 100 pounds, but it's intended for use up to 300 pounds.
Recommended by Levesque, the Batwing bar is one of the best you can get for your home gym. However, you'll need a rack, rig or bridge to bolt it to. With the Batwing bar, you can perform wide- and narrow-grip pull-ups and chin-ups, or use straps, rings or ropes for a more versatile workout.
More Home Pull-Up Bars We Love